Turbochargers are pretty ubiquitous these days, allowing for insane levels of reliable performance and fuel economy, especially when coupled with modern electronics permitting compression ratios that early adopters of boost could only dream of. Modern cars offer flat torque curves and seamless power, but older turbocharged set ups were notorious for lag that felt like you were towing a piano, right up until the turbo finally spooled up and launched you at the horizon. For a brief, glorious period in the 1980s, the Japanese motorcycle manufacturers, all flush with cash from their domination of the world motorcycle market and caught up in the rush towards an exciting, digital future, introduced turbocharging to the motorcycling world. Slapping TURBO badges onto cars was already the cool new thing, so why not bikes? Unfortunately, it wasn't that simple, and the trend died out after a few short years. But it all started here, with Kawasaki's Z1-R TC.
When the Z1-R TC was introduced, turbocharging was considered pretty exotic technology for the most part, and only rarely seen even on production cars. At the time, the Z1-R was at the end of its life cycle, and newer, better, faster things were being offered by other manufacturers, so Kawasaki needed to drum up some interest in their lame-duck model before the introduction of the GPz. What better way to do that than by creating something that would likely kill inexperienced riders? Hey, it worked for their famously lethal two-stroke triples… The new turbocharged version of the bike quickly developed a widowmaker reputation like its predecessors, and for similar reasons: an on/off powerband coupled with primitive handling and marginal brakes. Even passing slower cars and trucks required a bit of precognition, and riders learned to build boost while waiting for a gap in traffic, dragging the rear brake to control speed while holding the throttle open to keep the turbo spooled…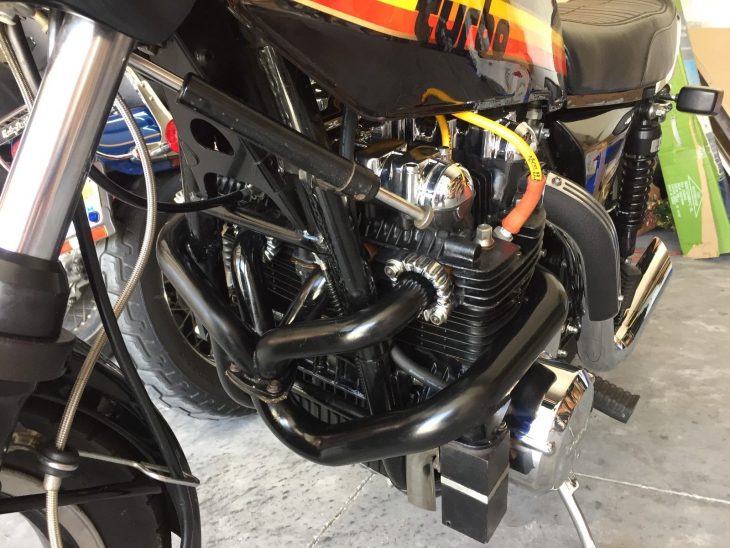 Ultimately, the bike was a hoot, but if TCs didn't kill their riders with their unpredictable power delivery and sketchy handling, they had a tendency to blow up: the Z1-R TC Turbo was basically a stock bike with the addition of an aftermarket turbo package from the Turbo Cycle Company that included a log-style or 4-into-1 header and a boost gauge. Oh sure, you could specify a fully built engine to handle the boost if you wanted to, but how many buyers do you think opted for that when the bike was new? Not too many. And how many new owners do you think ignored the safety sticker instructing them to not, under any circumstances, adjust the wastegate to allow more boost and sweet, sweet performance, basically for free? The answer again? Not too many.
Luckily, this example avoids the whole "four-cylinder grenade between your legs" issue with a built motor that should provide years of trouble-free, if not lag-free, hooliganism. Which just means you're that much more likely to wheelie into a hedge, but at least you'll have a better idea which of the bike's lethal characteristics will most likely kill you.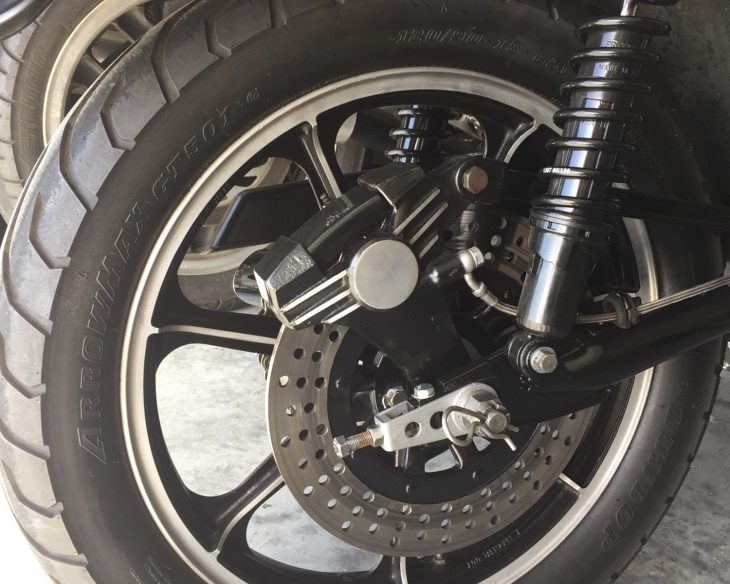 From the original eBay listing: 1978 Kawasaki Z1-R TC for Sale
Here we have a beautiful '78 Z1R-TC Turbo. It has been completely rebuilt and gone through. Engine has a welded crank, fresh MTC turbo piston set with Teflon buttons, valves have been reseated with new seals, all engine seals have been replaced, new clutch, cam chain and guides are new as well, copper head gasket, carb rebuilt, as well as petcock, new o-ring chain and sprockets all brakes rebuilt, new pads, turbo spins freely, opened and inspected, new gaskets, you get the point. tires are Dunlops, tank replaced with a rust free one, no bondo fresh paint with lots of clear, one defect on decal on left front, (if it really bothers you, my painter will fix it, I just wanted to get the bike up for sale now rather than waiting for that, original bike had about 18k on speedo, was growling so it got replaced, boost gauge was cracked, so it got replaced with a Mr. Turbo new old stock.

I did my best to keep it as original as possible, tail pipe is dent free and freshly triple chrome plated. all chrome on engine is brand new triple chromed, (if you hate the chrome, I have a very clean non turbo '78 Z1R that I will swap out the chrome for stock) but it looks incredible with the black engine, exhaust head pipes were badly blued so I chose to paint them with header paint (no sanding, just painted) new owner can choose to rechrome head pipes, but they will blue again. I built this bike to be ridden (welded crank and forged turbo pistons). Without those mods these bikes twisted cranks and melted pistons.

That being said, still has original Bendix/Zenith carb, and stock ignition and advancer for originality, but Nice coils were added. I put some break-in miles on bike, waste gate is set to just seat as for break in I didn't want to boost it, but the sweet sound of the turbo is evident while riding, hoping to put some miles on it before end of auction as well as a little more fine tuning. I was a certified motorcycle mechanic and worked on the big 4 Jap brands through the eighties and nineties, have changed careers since then, so now I truly enjoy working on these old bikes for a hobby, but can't keep them all. I'm sure I forgot something, but be assured, engine is built correctly and bike is really nice. 

I was assured by previous owner it is the real deal, My buddy had it at his shop for a while getting title sorted out and gathering parts for me. He also contacted a Z1R turbo Guru who claimed he could tell you if it was a true Z1R turbo, and he was unable to tell us it wasn't. For what that is worth, wish I had original bill of sale etc. but I don't. Bike does have the correct ATP stuff that only came on true TC Z1-R's, Nice bike, contact me with questions, I have a slight reserve on bike which I may lift if we get close, good luck… Thanks for looking, will try to add more pics,  and update listing as needed, also new battery, and Amsoil, engine cranked over with plugs out to ensure full prime with oil, and oil return from turbo verified before initial fire up of course.
If you're concerned about the bike's authenticity, I know it can be a challenge with TC: if you can source a nice, clean Z1-R and the original parts for the turbo kit, you can build one of your own, since that's pretty much what Kawasaki did with the original. It's nice to see that kind of transparency from a seller, and the fact that the engine has been fully built to survive actual use should go a long way towards helping the bike find a buyer. So a bit of a question mark surrounding the bike's originality might keep the value down slightly, but you can't argue with the build quality so maybe this one will actually get ridden, instead of tucked away in a corner somewhere. Ultimately, the same things that made the TC a lousy motorcycle are the qualities that endear them to collectors today: they're wild, wooly, and savage, a rite of passage more than a practical mode of transportation.
-tad