Warning!
This post is in our archives. Links in this post have been updated to point to similar bikes available to bid on eBay.
"Like any habit that becomes a vice, you think you can handle it.  Just the one.  That's what you tell yourself.  As a man of fortitude and strong character, you can take it or leave it.  But before too long you've crossed a line.  You don't even know where that line was and now you're hooked, unsure of how you got here not sure you even want to go back.   No one ever stops at just one Bimota". – Alan Seeley, Practical Sportbikes, August 2015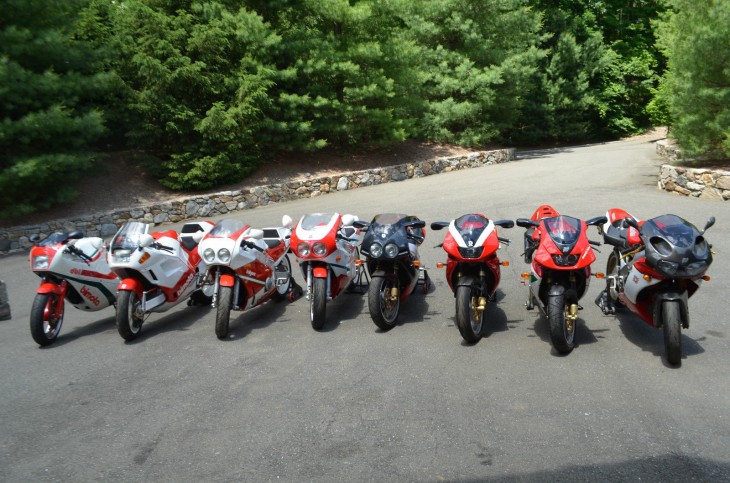 Call it common sense or logic or whatever you want, there is a legitimate argument that says pre-bankruptcy Bimotas aren't worth the money, that modern day sportbikes are better at everything the Rimini factory produced back in the day, and that the company has more misses than hits.  It is true the Rimini firm's pre-bankruptcy operations resulted in some goods bikes (YB4, S8R) and some not-so-great (Mantra, VDue, Tesi 1D) but Bimotas still seem to appeal to a lot of collectors.
For this post, we have a Bimota collector located in Norwalk, Connecticut with a large collection of Bimotas who has decided to let two go; a 1986 Bimota DB1 and a 1998 Bimota YB11.
Note:  The collector indicates that the rest of the collection will be up for sale shortly so I suggest you favorite the seller if a Bimtoa is something you have on your wish list – Marty/Dallaslavowner
The DB1 was notable as the first "all-Italian" Bimota as it was the first effort with a Ducati engine.  While the DB1 came with a 750 cc Ducati powerplant, it was the frame that was a big improvement over the Ducati it was based on. Made of special steel tubing and using a triangulated "Birdcage" design, the frame used the engine as a stressed member.  The DB1 also had trick parts such as a triple-tree/fork top, clip-ons, rear-sets made of aluminum.
Several DB1 models were produced, this one appears to be the standard version with 36 mm carburetors and the quieter exhaust.
Here is a summary of the bike:
One of only 400 DB1's produced
13,000 miles/19,000 kilometers
Custom two-in-one exhaust system
Belt service,and all fluids a few years ago
Special two piece custom wheels.
Few small stress cracks but nothing that would cause me to get the body refinished.
Bike will be sold with a bill of sale, but I believe it can be titled because its over 25 years oldv(never titled).
Opening Bid of $20,000 USD has already been met but reserve is not met.  Previous listings on RSBFS seem to show a price ranging between $35,000 for a used race bike to $45,000 USD for a new-in-the-crate edition.   This DB1 looks to be pristine, so expect the upper end of the range to be required to take this one home.
Now here is the second offering, a 1998 Bimota YB11 Superleggera.
While the the YB 11 had the same engine as the Yahama YZF1000R, the Bimota was 33 pounds (15kg) lighter than the Yamaha, hence the name Superleggera/"Superlight".  The reduced weight gave the YB11 neck cracking acceleration, with a flick of the throttle sending the YB11 ripping towards a top speed of 170mph.  The YB11 also came with a sophisticated Paioli rear shock and a new aluminium rear swingarm.  Overall, the Bimota was more race oriented than the YZR1000R it was based on, with a stretched-out riding position, flat seat and firmer suspension. Only 650 were reported to have been built.
Here is what the seller has to say
Has just over 3,000 miles.
Totally stock, includes the single seat cowl and passenger seat.
Only flaw is a crack in the windshield which I repaired with a high strength epoxy.
The opening bid price of $10,000 USD for this YB11 has not been met.  Previous YB11 listings on RSBFS seem to show a price ranging between $8,000 and $10,000 USD so this one might be priced a bit high but the YB11 is certainly one of the best looking pre-bankruptcy Bimota models.  Also Bimotas tend to depreciate very slowly but I have to say I don't think it will increase in value as a collectors item ala the VDue or Tesi editions.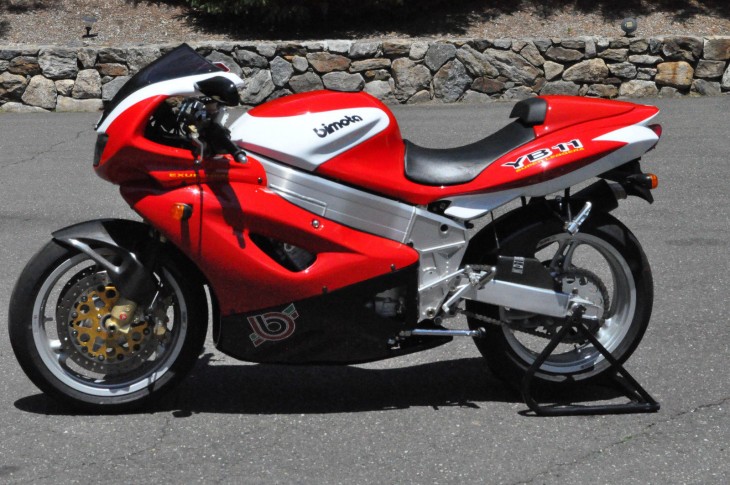 One last note – while these two Bimotas will likely appeal more to someone already experience with Bimotas,  the seller indicates that the rest of his Bimota collection will be up for sale shortly,   If a pre-bankruptcy Bimtoa is something you have on your wish list, I suggest you favorite the eBay auction seller id.
-Marty/Dallaslavowner
Writers Notation/shameless plug for which I will receive no type of compensation: The title of this post and some of the content are based on an article in the latest edition of my favorite magazine, Practical Sportbikes which is published out of the UK.   If you don't have a subscription and are a fan of late 1980's/1990's sportbikes, then you are missing out.   I urge you to get a subscription, you won't regret it – Marty/Dallaslavowner