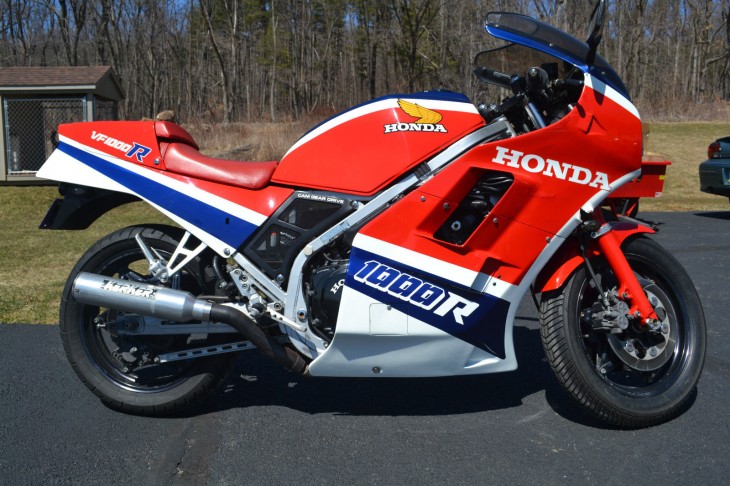 Honda's VF1000R was an evolution of the earlier 1000cc Interceptor (the VF1000F) and it was evident that Honda had it's eyes on the racetrack.  While earlier Interceptors had a half fairing, the VF1000R got a full fairing, lower clipon bars, a larger fuel tank (for endurance racing), rearsets and a faux solo seat.  For a brief period of time it even held the crown as "The World's Fastest Production Motorcycle" topping out at a respectable 150mph.  Unfortunately, much of this was overshadowed by the sheer size of the VF1000R as it was undeniably big and heavy, weighing over 600lbs.  While it might not have been the superbike that Honda was aiming for, they may have inadvertently built the best sport tourer of the 80s.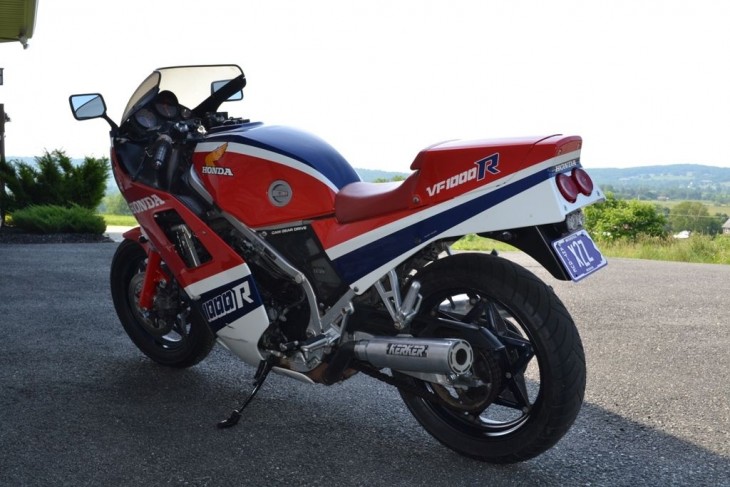 This particular one has it's pros and cons.  The mileage is a respectably low 10,500 however it's not without a few beauty marks.  The seller is upfront about the wear and tear, but is also including a nice stash of spares and extras in the auction.  The eBay auction, as seen here 1985 Honda VF1000R on eBay has a lot of details about the bike and is worth checking out if you're interested.
From the seller:
This bike is 30 years old, it's not a museum piece, but a really nice complete, original rider. It has a little patina, and a few stains and wear marks on the frame. Rear tire has about 10% tread left. The front tire is like new. It doesn't leave any drops on the garage floor. The paint is glossy but there are a few scratches on the fairing, one small crack, and a small piece missing by the right front turn signal from the previous owner dropping it in his garage.  Since the fairing is fiberglass these are easily repairable.  The seat is in great shape.