Set the way-back machine for 1975 and attend EICMA (Esposizione Internazionale Ciclo Motociclo e Accessori) in Milan, there you'll see the original bikini-faired Moto Guzzi 850 Le Mans, the iconic basis for the long line of Le Mans-badged machines.  The torquey long-wheelbase heavyweights were ( and are ) the cornerstone of Guzzi's line-up.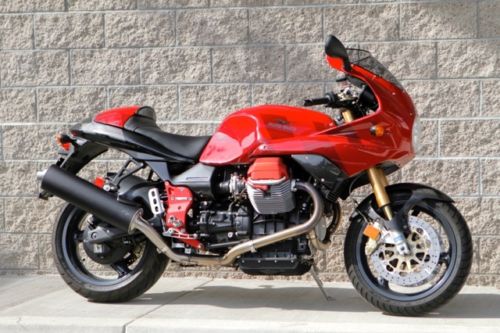 The Racing Red model is part of the V11 series, the most recent to wear the LeMans name, and was produced until 2006.  Before that the 850 Le Mans went through three updates from 1976 – 84, and then the 1000 Le Mans was built until 1991.  All have been based on the 45-degree pushrod V-twin, pushing a single-plate dry clutch and shaft drive, the V11 displacing 1064cc and worthy of 91 hp.
Outstanding components set the more recent Guzzi's apart, Marelli ignition and injection, Ohlins forks and monoshock, Brembo brakes, La Francona exhaust.  All are a little bigger than you might expect but make sense for the long, heavy machine.  The handlebar fairing has grown into the upper part of a sportbike fairing, and complementary monoposto cover reveals a pillion seat.  Exotic red anodized valve covers and frame connectors work well with the fade-out checkered flag paint scheme.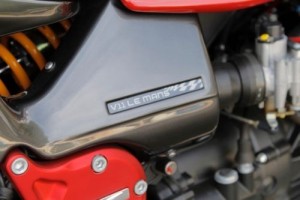 This particular Rosso Corse is basically new, with not even break-in miles.  Hard to pick up any deficiencies in the pictures.  From the eBay auction:
2003 Moto Guzzi V11 Le Mans Rosso Corse  767 miles. Ohlins suspension. Limited production collector quality big twin. Bike was traded to Pro Italia on a new Moto Guzzi. No stories, it's near perfect. Anodized red parts are unfaded. Our shop only needed to fit a fresh battery to make ready for sale.
More of an exclusive cafe' racer than full-on sportbike, the V11 still handles well, shading toward stability more than maneuverability.  Likely to be the only Guzzi and almost certainly the only V11 on your next Sunday ride…
-donn