And Something A Little Different:  1971 Kawasaki Kawasaki A1R Replica Samurai
This is one I post just because the second I saw it I knew it was just plain cool.  We generally don't have many Kawi two strokes come our way and I couldn't pass this one up.  I know it isn't original but you can't deny it is a hell of a restoration.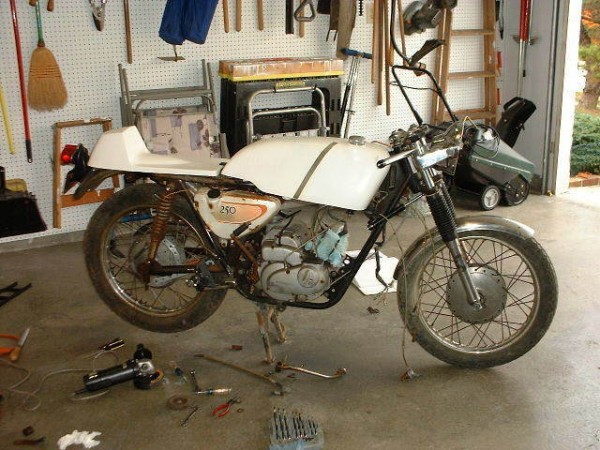 Before…
…..and after.  After lots of work, sweat and $$$.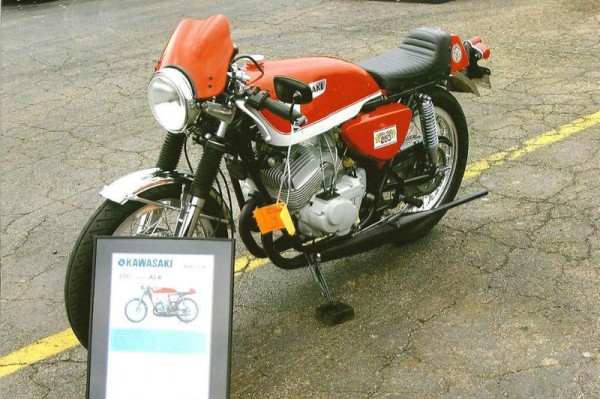 Straight from the seller:
Started life as a 1971 A1.  Found it in a barn in Decatur Illinois in 2005.  I spent three years and over $16,000 collecting parts to turn it into an A1R replica.  This is street legal and is what Kawasaki should have built originally.  This bike took first place at the 2011 National Motorcycle Museum in the vintage class and second place at the Ace Café Vintage Motorcycle Days Café Show in 2008 plus numerous other 1st Places at other shows.  Details below:

·

        

Complete nut and bolt restoration.  No expense was spared.  This bike needs nothing.
·

        

Less than 250 miles since rebuild.  It is not even broke in yet.
·

        

Completely rebuilt engine and transmission with 1st over pistons and crankshaft rebuild by   Damen Kirkland.
·

        

Handmade expansion chambers built to A1R factory road racing specifications.
·

        

Replica A1R bodywork from Classic Motorcycle Fibreglass in Australia.  Painted in factory colors.  Fuel tank is coated with Caswell's Phenol Novolac Epoxy Gas Tank Sealer so that gas with ethanol can be used.
·

        

Excel shouldered rims front and back laced by Buchanan's with stainless steel spokes.
·

        

Suzuki GT 750 four leading shoe (4LS) front brake.
·

        

New period correct Redwing rear shocks.
·

        

Rick Brett rebuilt tachometer.
·

        

Stock oil injection system being used.
·

        

Clear Illinois title.
It is just plain cool.  I can't stop saying that.  The sound from those pipes at full tilt must be killer.  Mufflers, who needs mufflers?  I guess you can see why they call the back section of a two stroke expansion chamber a "stinger".  This bike is the sellers own take on what he thought Kawasaki should have built.  If you'd like to see what they did build for the track check out this little site.  It has some Kawasaki race bikes I bet you've never seen.
Look at those pipes!  I'm not even guessing on value.   It is one of those;  if you love it, you will pay for it bikes.  Enjoy the pictures.  If only we could hear it!  Here she is.
Ian