After a 1-2 team victory for the new Ducati 750 racer at Imola in 1972, designers hatched the idea of a replica super sport which arrived in 1974.  For a new generation of fans, Ducati provided a 2006 commemorative with an equally long silver tank and blue-green chassis.
2006 Ducati Paul Smart 1000 Limited Edition for sale on eBay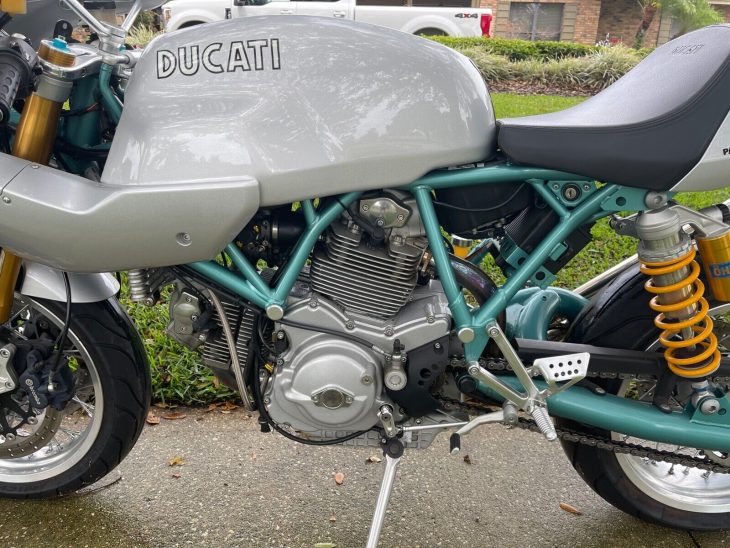 For all their museum appeal and collectibility, the 2006 Paul Smart was built using one of Ducati's best air-cooled engines, the fuel injected 992cc dual spark.  Running gear was also modern, Öhlins all around and big Brembo brakes, though the spoked alloy wheels bow to a vintage vibe.  The green trellis frame picks up the crankcase similar to the '74, and the half-fairing also has more in common with the original commemorative than the actual race bike.
Presented by an Orlando collector, there's very little history to an instant classic with so few miles.  Not sure which exhaust is now installed, but it's certainly an improvement on the gigantic Euro 3 mufflers.  Some care will be required to preserve the collectible signatures, but otherwise it's as new.  Notes from the eBay auction –
Retro styled motorcycle built by Ducati in 2006 to commemorate Paul Smart's win at the Imola 200 race in 1972, a win that helped define Ducati's future approach to racing. The bike is styled in the fashion of the Ducati 750 Imola Desmo race bike that Paul Smart rode to victory, and the 1974 750 SuperSport it originally inspired. It is one of the SportClassic series designed by Pierre Terblanche. This bike is in original condition except for the exhaust system. The miles are original. The bike will not disappoint. The bike is currently registered and titled in Florida.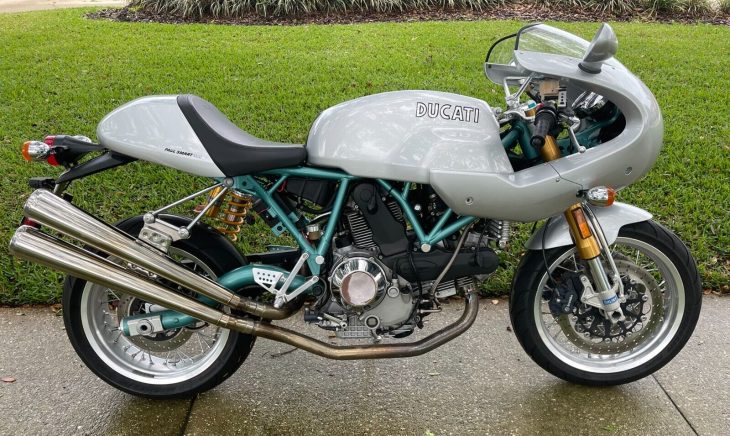 Most Paul Smart LE's have stayed close to home, and like this one, many spend their lives indoors.  Parking such a beauty long term is debatable, but most of those collectors have other rides, probably other desmos.  This owner has developed a nice round ask, but if it doesn't get snapped right up, pretty sure they'll be interested in starting a conversation.
-donn