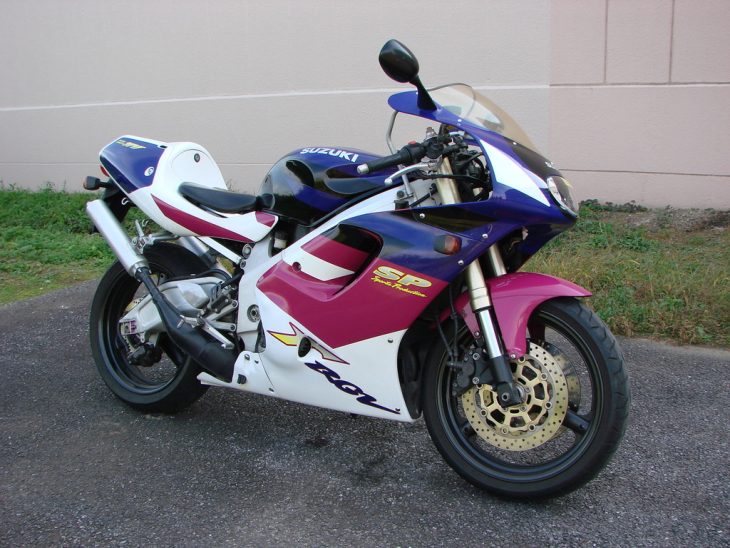 Unlike modern, small-displacement machines like the Ninja 300, the Suzuki RGV250Γ "Gamma" is a high-performance machine in miniature, not a sporty-looking commuter based on a very basic platform. Emissions legislation meant we never officially got any of these little rippers here in the US, but the 250cc class really took off in the mid-to-late 1980s and saw absolutely fierce competition between the four major Japanese manufacturers before interest waned and legislation finally killed the class off by the late 1990s. Other than the Aprilia RS250 that used the very same engine, the 1996 Suzuki RGV250 was basically the end of the line for two-stroke performance motorcycles, as the VJ23 that followed lasted just two years.
This 1996 VJ22 bike was the last year of the 90° v-twin engine, as the short-lived VJ23 that came along in 1997 featured a 70° v-twin that likely improved packaging, although Suzuki claimed improved power as well: 90° is ideal for smoothness, but on a four-stroke it ends up being hard to effectively fit into a compact wheelbase. That's obviously less of a problem for two-strokes with their very compact heads, but performance margins in the class during this very competitive period were razor-thin and changes that gave even a small advantage were taken very seriously.
In any event, Suzuki claimed 60hp from the 249cc twin and the surrounding motorcycle otherwise followed the template set down for the quarter-liter class: aluminum beam frame, six speed gearbox, proprietary power valve technology, expansion chamber-clearing curved swingarm, and sub-300 lb weight. In spite of their power valves the Gammas, like all of the 250cc sportbikes were highly-strung, with narrow powerbands that made heavy use of the slick gearboxes mandatory. The snarling exhaust notes and giant-killing performance left a lasting impression on the motorcycling community, and many of the Japan-only models have become highly venerated by motorcycle enthusiasts who've ridden them, raced them, or only know them by reputation and endless combing of the internet for information to flesh out their two-wheeled fantasies…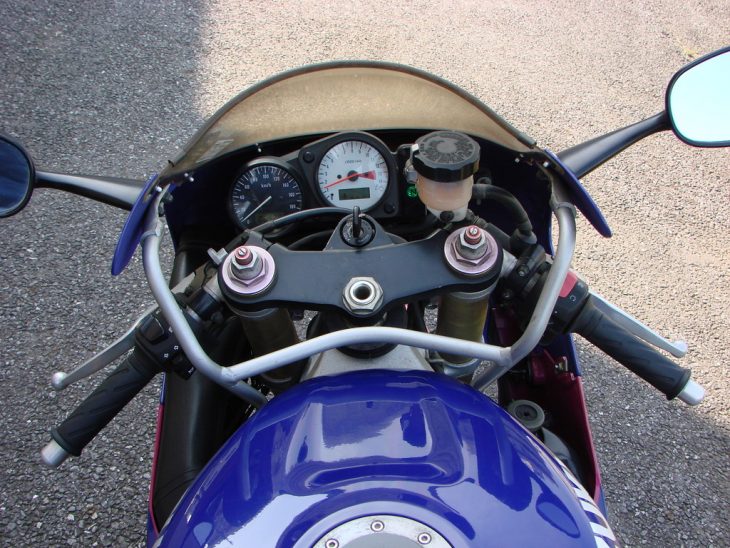 This RGV250Γ is the higher-spec SP model that should feature a close-ratio gearbox and a dry clutch to go with the fully-adjustable suspension at both ends of the bike, although buyers should be sure to do their homework to verify that this is, in fact, the real deal. It looks like you can see the dry clutch peeking out from behind the fairing on the right side of the bike, so that's a good sign.
From the original eBay listing: 1996 Suzuki RGV250SP for Sale
Located in Santa Ana, California. This bike is in very good condition for it's age. Engine runs good, but could use a light carb clean. There are a few minor scratches on the fairing. Bike has only 6529 KM = 3917 Miles on the clock. The solo seat pad will be included with the bike. Also included is a new set of air filters. Bike is sold with a bill of sale only. I don't have a title for the bike. Look at the pictures carefully and ask questions before you bid. This is a USA only auction. Again, this bike is sold with a bill of sale only, no title.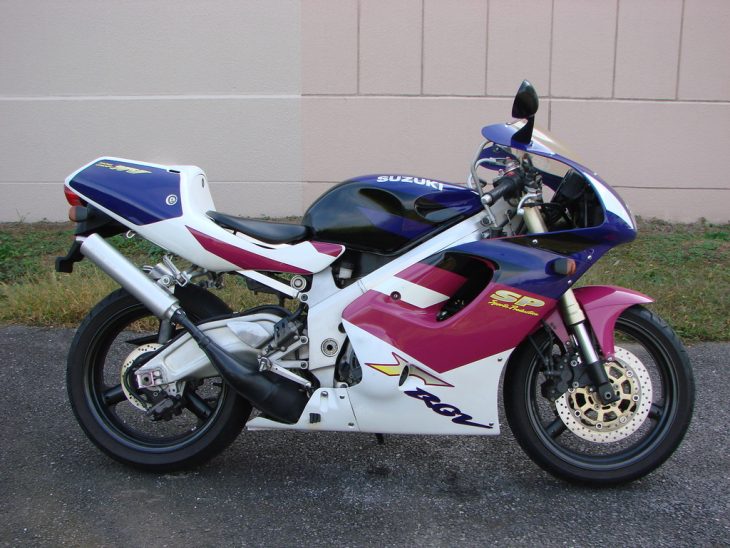 Obviously, the lack of a title will be a problem for many buyers, but as always: your mileage may vary. If you're looking to collect or display, this example isn't perfect, but looks like it could be pretty close with a bit of work and, if you want to build a two-stroke race or track bike, none of that will matter anyway. The later versions of the two-fiddy Gamma, especially ones in SP trim, are pretty rare and desirable here in the US, so I wouldn't be too surprised if this one finds a home without much trouble in spite of potential problems titling and registering it.
-tad