Here is a personal favorite of yours truly, a 1st generation Triumph Daytona T595.  Although these bikes carried a model designation of "T595", the 1st generation of the reborn Daytona actually featured a 955 cc displacement three-cylinder engine designed in part by Lotus.   Along with the other triple-cylinder Triumphs, the Daytona helped to establish the newly reborn Triumph as a real alternative motorcycle manufacturer.
The big Daytona was the first serious big sportbike for the reborn Triumph but it couldn't compete with the best the Japanese had to offer (especially when Yamaha brought out the R1 in 1998).  While the big Daytona wasn't able to match the hardcore sportbikes from Japan, it was big, fast, smooth, comfy, able to do medium level touring while still looking great.  The big triple was often referred to as a British version of the Honda VFR and even though the bike couldn't compete with the hyperbikes appearing out of Japan, reviewers were generally positive.
Here is an excerpt from Viserdown.com:
Judge the bike by its lap times and you'd have to agree; the T595 never matches the Japanese competition but the big Triumph does have two real aces. The first is personality which counts for an awful lot, much more to most of us than shaving fractions of seconds off lap times. In the Daytona's case much of it comes from the Triumph three cylinder engine's rough charm. The second ace is it's a bike which works better on real roads than it does on a racetrack. It's more stable and easy to use than the Japanese competition.
This 1997 Daytona T595 looks amazingly clean with only 9263 miles.  There are a few nicks in the paint but certainly nothing major and no evidence of the bike being down.
Here is what the seller has to say
100% original '97 Triumph Daytona T595 (955cc)
New TORS carbon low exhaust + updated to corresponding tune
Service done in the last 50 miles includes

Valve adjustment
Entire intake tract cleaned. Spotless down to the valves.
Injectors pro cleaned + flow benched
New fuel pump, pressure regulator, fuel filter, hoses, + dry break fittings
Coolant flush + fill w/ engine ice
Flushed brakes
New plugs, air filter, hoses, gaskets, o-rings, grommets, etc.

New AGM battery 1 year ago on float
Only non-triumph parts are the fuel pump + pressure regulator<
Only cosmetic flaws are ichip in the rear lens + few small paint chips on fender and tank.
Bike has been in the family since 1999. Tires should be replaced soon, lot of tread but old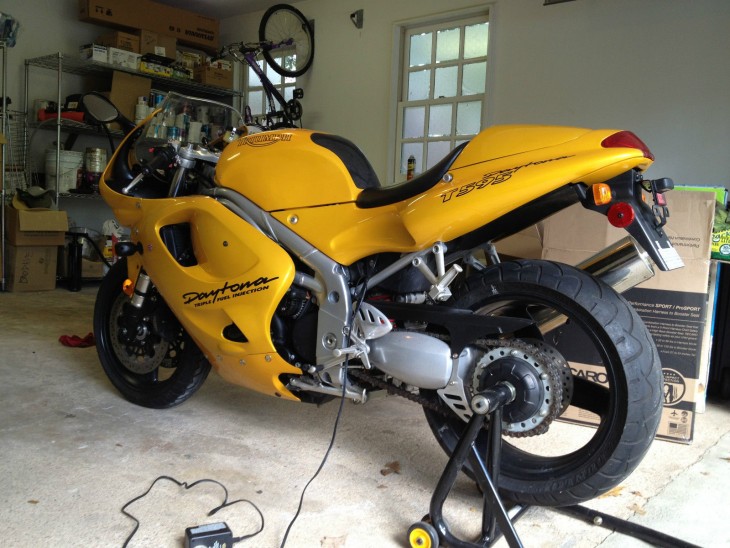 Is this big Daytona worth the $3,800 asking price?  Well while the 1998 version in silver (when it was marked as the 955i) is the most popular among collectors, this is still a hell of a lot of bike for not much money. Overall I think this one is being offered at pretty close to the right price and may be a good opportunity for a "more experienced" rider who still wants a sportbike to have something that can do everything they need.
-Marty/Dallaslavowner