Amazingly, this is the second time we've seen on of the 4 team bikes up for sale. I first posted one of these in 2008. This time we have the other bike Troy rode and this one has been restored according to the seller.
1998 Ducati 996RS For Sale on eBay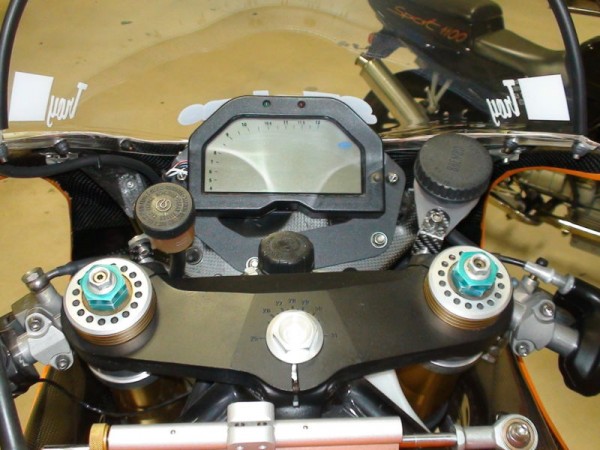 From the seller:
YOU ARE BIDDING ON: A USED / FULLY RESTORED 1998 DUCATI FACTORY 996 BRITISH SUPERBIKE RACE BIKE RIDDEN BY TROY BAYLISS.

This bike was ridden by Troy Bayliss in the GSE/INS 1998 and 1999 British Superbike Championships.

Title: Off Road Use Only / Race Bike

Miles: 10 approx (since restoration)

History:

1998 Raced by Troy Bayliss for GSE/INS British Superbike

1999 Used early in 1999 campaign as team waited on updated factory Corse

2000 Sold to John Ward

2001 Sold to present owner

2002/2003 Restored by John Hackett Performance/Ducati Coventry

The bike described here was used in the 1998 campaign (the campaign preceding Troy's Championship winning year – 1999). Both 98 bikes were re-painted from the original yellow livery to the orange livery for Photo-Shoots to launch the 1999 season (the team was waiting for the 1999 Corses). Additionally, the bike was used for the Misano, Italy test session in February 1999. Other than this, the bike saw no race action in 1999.

Frame and Engine

This bike bears the frame No. TB2 and engine TB3 (Troy Bayliss 3). Both riders on the team had two bikes and 4 engines. Significant differences between the No. 1 and No. 2 bike are that the No. 1 had a Tig-welded frame. During the 1998 campaign, the No. 1 bike had a significant crash, which then may have subsequently caused Troy B. to use the No. 2 frame as his first bike.

Please check pictures, This 1998 996RS Ducati Factory British Superbike is in flawless condition and was fully restored in 2003. JHP Racing provided the bikes for GSE & INS during the 98/99 campaigns and subsequently fully restored the bike. Viewable in the images is Troy Bayliss's signature on the seat.

This is truly a 1 of a kind, museum quality piece, that would be the pinnicle to any collection.
The auction has an opening bid of $45k reserve not met and wears a $50k buy-it-now. With so little details in the post from 2008 I can't be 100% sure this is a different bike, but there are subtle differences from what I can tell, most notably the signature on the tail is different, which leads me to think this is the second bike mentioned in the ad or the signature was redone when the bike was restored.
If you had the scratch to throw down for a bike like this and have it restored, would you have kept the repaint that was done for press or restored it to the original yellow it was raced with?
dc