Santa Rosa, CA – 9,653mi – $5,000 No Reserve
Do you have an itch that only a two-stroke 250 can scratch? Looking for a solid project bike, or something to ride and enjoy without having to worry too much about scratching it? Then take a look at this Suzuki RGV and give it some serious thought. It seems as though most of these mid-sized smokers we see here are NSRs. So its nice to see a Suzuki pop up every now and then.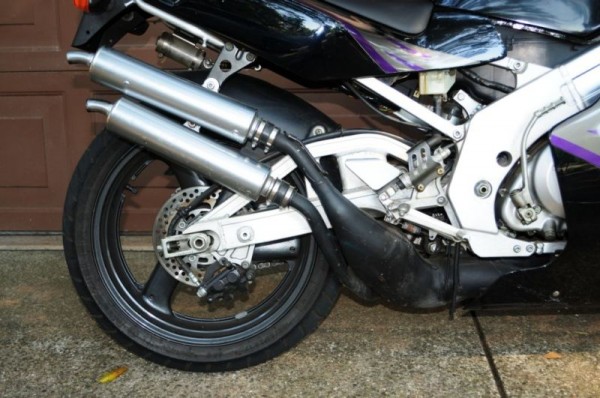 This bike comes to us from California, and currently has a clean CA title and registration. Yes that's right, I said "California Title and Registration". That alone can be worth more than its weight in gold for the two-stroke world. It is however in "non-op" status. I don't know exactly what that means, anyone out there have an insight?
From the seller:
Australian model. Purchased in October, 1993.

I am the original owner.

The bike has 15,569 km (9653 miles) on it.

Note the damage on the LH fairing, LH rear-view mirror and LH front turn signal. This is the result of a low-side, low-speed crash in turn one, at Laguna Seca, on a track day in 1999. There was no other damage to the bike (or me).

This bike was ahead of its time for a street machine. Check out the rear swing-arm design and the upside-down fork configuration. Hot stuff for 1993, and still state of the art.

This bike will out corner just about anything you can name except for another 250cc two-stroke. It weighs 350 pounds with a full gas tank. It simply goes where it is pointed.

The engine is still strong and solid. It starts and runs flawlessly. I have always treated it with care: thoroughly warming it up before putting it under full load or high revs, and carefully cooling it down after every ride. The engine has never had a piston seizure or any other issue or event. It has always been run on REDLINE racing two-stroke oil. The fuel tank is clean and rust free inside.

The brake system and cooling system have been flushed every other year and both still work perfectly.

All systems — including lights, turn signals, horn, side-stand ignition-interlock and rev-limiter — work perfectly.

The only thing on the bike that is not stock is a set of braided, stainless-steel brake lines.

The bike comes with the following extras:

Factory service manual and parts microfiche.

Spare battery (still dry, never activated).

Brand new fuel tank; exactly the same as the one on the bike.

Spare, slightly damaged LH fairing and rear frame cover.

Miscellaneous small bits and parts.

The bike has a clear California title and the registration is in Non-Op status.
Let's start with the Pros; CA title and Registration, One-owner, and well taken care of in the mechanical department. For the Cons; obviously it need some fairing work and the tank has been scratched. This bike would be perfect for a track toy or for someone looking to restore it to its former glory. Bidding is up to $5k and the Reserve is off. I will be keeping a close eye on this one. You can check out the auction here and place your bid as well!
-JS