For sale: 1985 Yamaha RZ500
It's beginning to look a lot like Christmas – two-strokes are abound on RSBFS, and I for one could not be happier. 'Tis the season to use premix – fa la la la la, and all that.
The bike we have for you today is a nice example of a RZ500. It is not completely original (although the seller indicates many original pieces come with the sale). There is only one picture as well. Did you need a reminder of how pretty this bike is?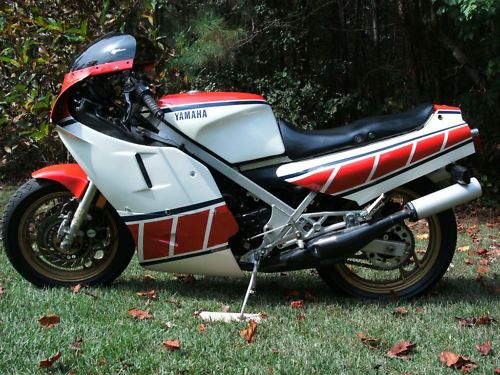 From the seller:
1985 Yamaha RZ500
Very Rare 2 Stroke 500CC Machine
GREAT shape
New Airtech Plastic (professionally painted to match orgiginal schema)
New Tires
New brakes
New Chain and sprockets
Runs fantastic
Original Maintenance manual

I have all of the original OEM plastic and parts as well. Bike has a clear title…
I am usually concerned when there is aftermarket plastic on a bike – makes me wonder why it was changed. Fortunately, the seller indicates he has the originals, and an inquiry into the condition of the OEM plastic might be in order. There is also no VIN listed in the add, but that is neither uncommon or difficult to ask for.
Given that all RZ500s are grey-market bikes here in the US (Yamaha never officially imported them to the States), someone has already done the importing work for you. That is definitely worth something. The seller also notes a clean title – which also adds to the value of the bike.
These GP replicas pop up from time to time on RSBFS. Given our love of these noisy, smoking rockets, they show up more often than you might expect – they are, after all, pretty rare in the US. But the RSBFS staff is a focused lot – it they're out there, we'll find them! If you need more introduction to the RZ500, please check previous posts on RSBFS such as this one, or this one.
I'm dreaming of a white (with red stripes) Christmas… The kind that Eddie and Kenny used to ride. If you are dreaming the same dream, and put a RZ500 under your tree!
MI