While the roadgoing two-stroke era ended here in 1979, it continued for several more years around the globe, a few makers templating their Grand Prix bikes for the showroom.  This example looks under used and has a super-clean stock appearance.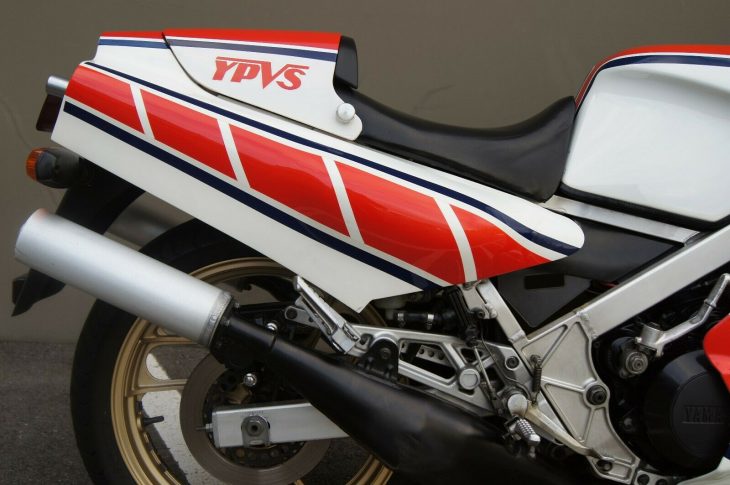 The RZV was destined only for Japan, and differed from the rest-of-world RZ500LC mainly in its alloy chassis.  The compact V4 is actually two upright twins which are geared directly to the clutch, and the lack of a central jackshaft left room for a smoothing counter-balancer.  Two pairs of 26mm Mikuni carburetors look to the sides, and expansion chambers leave from the front and rear of the V.  Forks are air-adjusted, have anti-dive and hold dual 267mm brakes and a 16-inch front wheel, while the 18-inch rear is mounted to an alloy monoshock.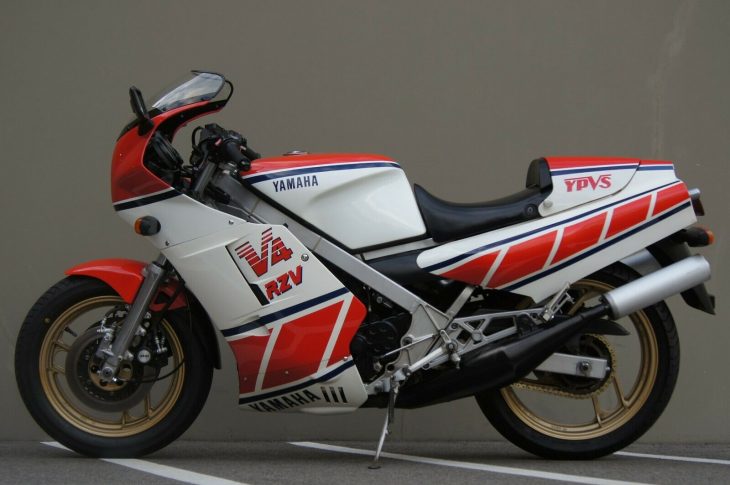 The Seattle dealer showing this RZV500 has had a few other classic sportbikes on eBay ( and RSBFS ) along with a boatload of parts.  The RZV has just under 6,000 miles and looks excellent in several high-resolution photos.  Not sure exactly what to expect in the sticker department on a JDM machine, so expert readers will have to weigh in.  Comments from the eBay auction:
The body work is all original and is in very good condition. The paint work is in nice good condition with no major scratches anywhere, and wheels are in great shape with no major rock chips or corrosion. The frame does not have any corrosion and is nice and clean. The original exhaust is in nice condition with the exception of one dent on the right side muffler as can be seen in the pictures. But overall cosmetically this bike is in very nice condition.

The bike runs and rides perfect, and shifts smoothly through all gears. The carburetor was recently ultrasonically cleaned and adjusted, and a full service tune-up was performed which included new spark plugs, chain, brake pads, oil change, new tires, and all fluids flushed. All of the lighting, switches and electrical components work as they should.
With almost 200 hp per liter ( when de-restricted ), the RZV was too fast to live and production ended in 1988.  Several anachronisms flying in formation, it's a two stroke, kick start, and weighs just over 400 lbs. dry.  Likewise, maybe you are more comfortable in your helmet and knee sliders than business casual, and would like to get in on the bidding.  It's just eclipsed $13K but hasn't yet met the reserve.
-donn