Toward the end of the 998 model's run of 2002-04, the company made a special color edition after a Ducati was used in the 2003 film, Matrix Reloaded.  A non-standard color and with special badges, but otherwise a 998, the final update of Tamburini's legendary 916.  A commemorative as rare as a green Ducati, only around 150 were made.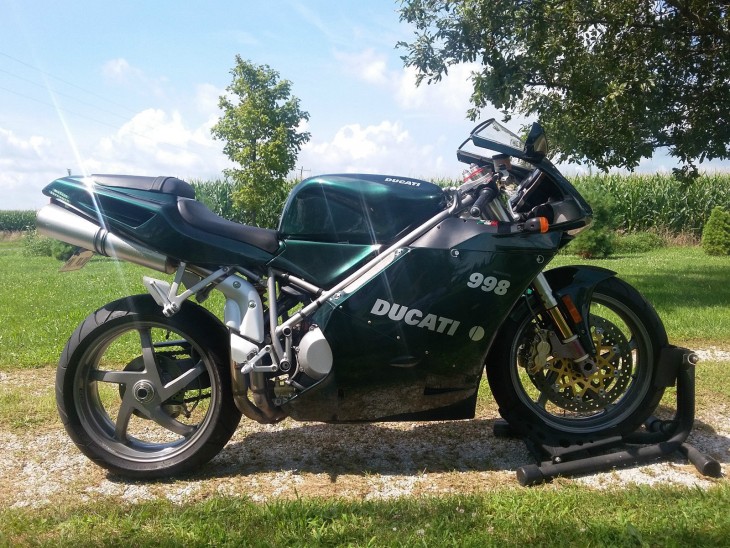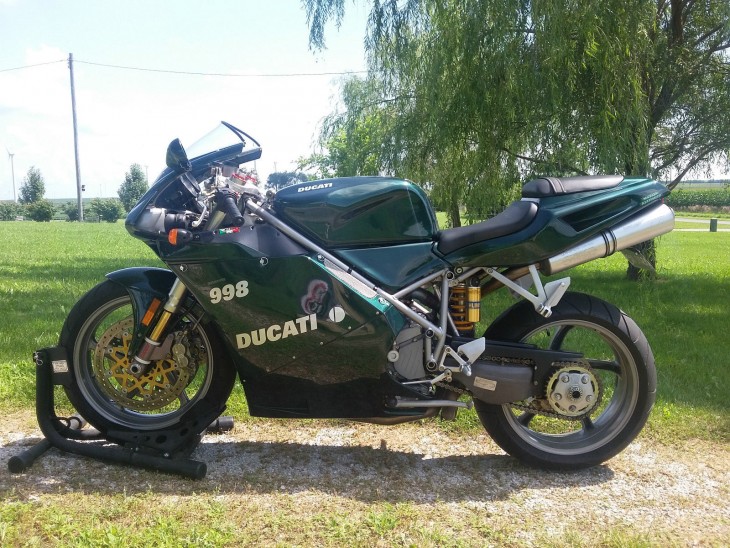 The final version of the 916 generation had 123 hp on tap, thanks to the new testastretta 4-valve heads.  If not on the move all that power can be hard to keep cool.  Contrasting silver trellis frame looks great under the green fairings.  The hydraulically actuated dry clutch might be the best of both worlds.  Not a lightweight at just over 400 lbs, it relies on 320mm front disk brakes and 220mm rear.  Showa supplied adjustable forks and Ohlins the shock for the bike, supporting a sweet cast aluminum single-sided swingarm.  Nice factory steering damper, and Termignoni fabricated the aluminum mufflers.
This 998 looks great and the owner is very proud, and he states in the eBay auction:
This is a 2004-Limited Edition Ducati 998 Matrix Reloaded.  Its in Excellent condition, low miles and always been garaged and on a front wheel chalk block.  It has a clear title and never had any problem.  It has been regularly maintained with tune up.  I have put on brand new rear turn signals that are sequential integrated LEDs and Beautiful!!   When I got the bike it had a 1098 wiring harness on it for the rear lights and was not functioning properly.  The harness was removed and the original wires that were zip corded up, I rewired the original wires.  The rear marker lights work perfect and are very bright!  That was the only issue I have had.  The bike is very well cleaned and I have personally detailed it from top to bottom!  The bike comes with the front chalk block where you can keep the kickstand up and it wont fall over!  Awesome garage feature and a set of new tie-down straps!  I have all the paperwork, maintenance documents, factory 998 book!  Which alone is very RARE!!  The coolant has been ran with anitfreeze and water-wetter to maintain a cooler running temp which works perfectly and on average keeps the bike about 15 degrees cooler.
Looking very stock as the owner states, super-clean and nice low miles, includes free-standing wheel chock.   Though the high minimum bid might be an impediment to some, but except for the -S and -R models, this is the ultimate bike of the 916 generation.  The 998's speed requires special attention to ride on the street, and forget about splitting lanes in head-on traffic – https://www.youtube.com/watch?v=EKmT9D2VwTk – ( a 996 was used in the movie ) – a rare and very distinctive Ducati…
-donn