Warning!
This post is in our archives. Links in this post have been updated to point to similar bikes available to bid on eBay.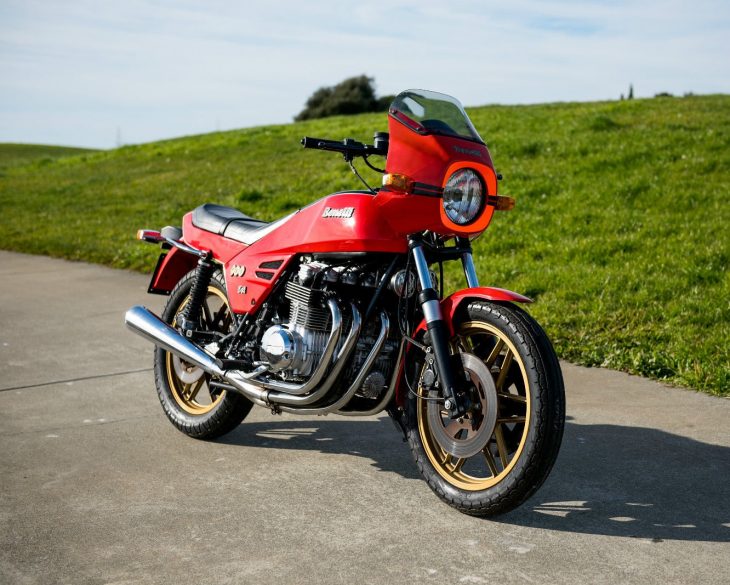 Back in the late 70's and early 1980's most motorcycle manufacturers were focused on one aspect of bike development: power or as the t-shirts used to be emblazoned, "no-replacement-for-moving-fast-down-the-pavement!'   This orientation towards higher and higher top speeds resulted in motorcycle manufacturers trying lots of different configurations, including turbochargers and 6-cylinder engines.  While the large manufacturers could afford to pursue both routes (example:  the Honda turbo CX and 6-cylinder CBX in the same lineup) , smaller manufacturers typically picked one or the other method.  But even with their larger lineups the large companies didn't always end up with the most desirable bike; consider the 6-cylinder Sei range from small Italian manufacturer Benelli.
Benelli was actually the first company to introduce a six-cylinder universal motorcycle way way back in 1972 with the 750 Sei (six in italian).  Somewhat ironically the 750cc Sei was actually conceived as a response to the Honda 500 Four series, except per ownership it had to "go big".  And go big it did, with six 125cc in-line cylinders fed by 3 separate 24mm carburetors. And while other companies 6-cylinder efforts where forced to look somewhat consistent with the rest of the bikes in the company's lineup, the Benelli operated under no such pretense.  The Sei was outfitted like a typical Italian machine of the period with gobs of chrome and dramatic Italian red paint.  Oh and it had one of the best exhaust systems ever produced, consisting of six separate trumpet/cone pipes stacked 3 to a side that made a truly epic sound (check it out here.).   Sadly this unit has the 3-into-1 units on each side which were offered by the company at the time but the triple pipes for each side are apparently available fairly easily.
When the Sei 750 was unveiled in 1972, the press was wowed, calling it "outrageous" and a "flashbike" but the pressure from the cheaper Japanese was unrelenting so in 1979 Benelli upped the displacement to 900cc.   A unique duplex drive chain was added, wire wheels were replaced with gold-colored Campagnolo rims and a rear disc brake replaced the former drum unit.   But even with these changes, the bigger Benelli was still hampered by a limited distribution network and the continuing Japanese onslaught.   By the end of production in 1989, fewer than 2,000 examples of the 900 Sei had been built.  It has been estimated that less than 80 of them made it to the U.S. market. (Motorcycle Classics, May/June 2015) so finding one here in the states in this condition and mileage is not something that will happen often.
As for condition, well the mileage kind of speaks to that.  The seller does include some decent pictures, although some more basic profile shots would have been nice.
Here is a summary of what the seller writes in the ebay listing.
all-original Benelli 900 Sei, never registered, only 80 kilometers total.
perfect chrome, polished alloy and rich Italian Racing Red paintwork, all the original/unique badges are in place and in as-new condition
original Pirelli tires, Campagnolo wheels, dual-link roller chain drive and Brembo brakes all in A1 condition
disc brakes are fitted to both of the gold finished Campagnolo rims
comes with complete Italian documentation
Now we come to the big (no pun intended) question – what is this six cylinder 1970's survivor going to cost you?  Short answer – it's not going to be cheap.  Previous listings on RSBFS for similar Benelli Sei bikes (mostly the 750 series) seem to range between $11,000 USD and $18,000 USD and I would expect this one to be somewhere near the top of that range.   NOTE:  Current bidding is already over $10,000 USD.
Given the limited production run and condition, the value of this one will probably continue to creep up especially if the mileage is kept down.  This pristine 1980's Italian big six will probably appeal mostly to someone seeking an investment/collector bike but I have to admit I would love to hear this one at a bike night, maybe with the triple pipes added and in an exhaust note competition against something like a Ducati Desmosdici…that would be truly amazing.
-Marty/Dallaslavowner