Most 1979-80 GS1000S's we see have beaucoup miles on them – after all, they are eminently rideable.  And though presented in team colors, the model was never officially referred to as a special Wes Cooley edition.  Fans of the bike and rider took care of that for them.  This one has rather low miles and has been subject of a bare frame restoration.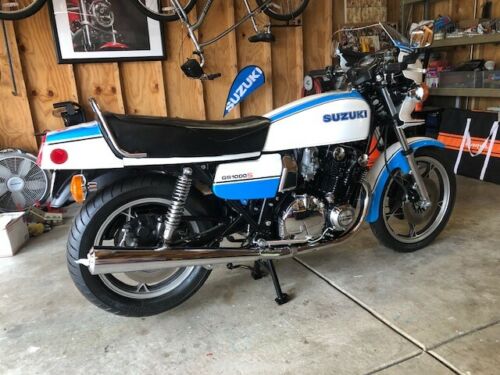 Suzuki used their formula of reliability and light weight on the GS1100S, with a two stage oil pump and large oil cooler as part of their Advanced Cooling System.  The big four pulled 90 hp and 62 ft.-lbs. on the dyno, not leading the class until "Pops" Yoshimura worked his magic.  Air adjustable forks were part of the GS line, but conventional hydraulic rear shocks were easier to adjust.  A second 295mm front disk was added to the -S in anticipation of higher speeds.  Lower handlebars served to keep the rider in the air pocket created by the BMW-esque cockpit fairing.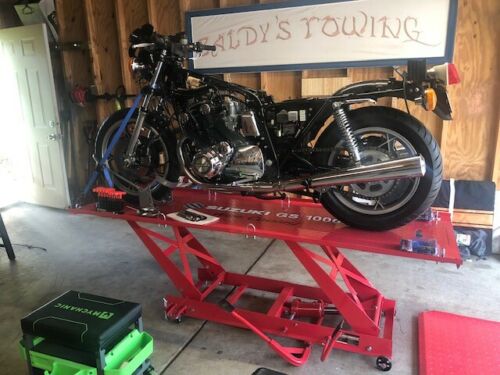 This is about as close to a new 1979 motorcycle as you're likely to find, with every cosmetic and functional issue addressed.  No reason to open the legendary drivetrain at this point.  Higher resolution pictures would've been nice, but the owner's list is comprehensive.  From the eBay auction:
8,000 Original miles. Clean Illinois Title in my name in hand. This Rare Super Bike has been restored beautifully from the frame up!

Frame Powder Coated

All Engine Covers Chromed


S Model Gauge Cluster (Perfect/Flawless)

All Bulbs in Gauge Cluster replaced

All Bulbs throughout Bike replaced

New Duracell Battery

Very Low Miles (8,000)

New Tires (Front & Back)

New Brakes (Front & Back)

Original Air Box (Inner & Outer)

Paint Flawless to Suzuki Factory Spec (3,000.00)

Seat is Perfect (No Tears)

Original Exhaust (Great shape for its age. Minor flaws)

Carburetors rebuilt (could be synchronized/fine tuned a little better)

Brand New Windshield (Have Original. It's in good shape just faded slightly)

Every Gasket, Every Spring & Every Grommet replaced

New Plugs

New Oil & Filter

New Grips

S Model Mirrors (Perfect/Flawless)

Every Nut, Bolt, Washer and Screw replaced (If it wasn't replaced, it was polished)

*Have Rear Foot-pegs (will be installed prior to Sale)

Way to much to list! This is a Concourse Restoration that has left no stone unturned. Nothing was missed. This Bike should be in the Suzuki Museum.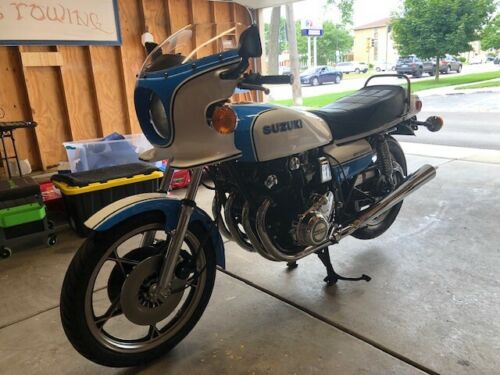 Yoshimura came over to Suzuki for the 1978 AMA season, running Cooley on the tricked out GS1000S.  Despite not winning a Superbike event in 1979, Cooley's podium consistency gave him the championship.  1980 saw a three-way battle between Cooley, Freddie Spencer ( Honda ) and Eddie Lawson ( Kawasaki ), where it was up in the air until two late-season wins gave the Cooley the championship.  Though most owners will say it's one their favorite bikes of all time, it's probably better to find a rider or clone if that's your intent, and save this example for the concours.
-donn