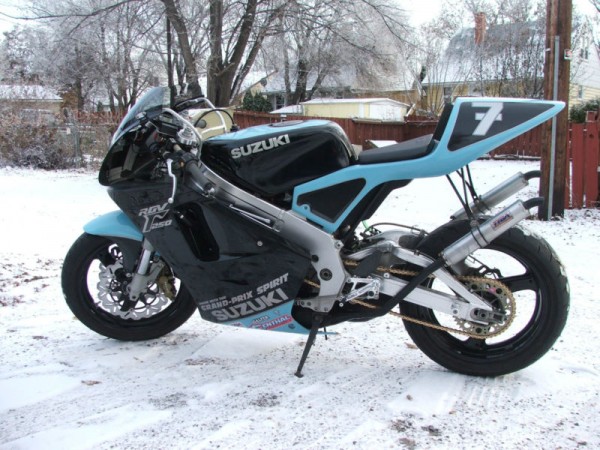 Keep moving if you like them stock as this one is far from it.  On the other hand, if your wish lists includes the majority of after market parts available for the VJ22, well then this might be your bike.  The seller lists this as a 1989 model but if the swing arm is original this is a 90 to 92 VJ22.  The obvious add ons are the the Tyga bodywork and exhaust but there is quit a bit more.  Read on…
Hmm, a lot more modern than your average RGV dash.  So what do we have here?
From the seller:
 electronic programmable ignition, Electronic programmable power valves

Two position switch on handel bars for two ingnition maps,can be changed on the fly
Very interesting and I'd love to know more about what ignition the bike is using and the types of maps.  This is a first for me seeing this on a RGV.  I've never heard of programmable power valves and would love to know how they work.  I hope the seller is a RSBFS reader because damn it, I want to know more!
The forks appear to be the basic JDM units but have been valved and resprung.  Out back the shock has been changed to a Nitron unit.
6 pot calipers are borrowed from a GSXR and the rear has a Brembo caliper.  Accoreding to the seller,  the bike is now sporting Dymag wheels.
Of course there is more to know about the engine:
 Tyga lightweight race pipes, replaceable insert heads, Power valves are 3 piece Cougar Reds'. Engine crank-shaft replaced  last season with less than 500 kms
It sounds like the owner was getting serious at the the track as the transmission has had some gear ratio's changed as well.  You may notice the bike is in full track trim with the kickstarter missing.  The seller does say though, he has all the stock parts.
Well I'm intrigued.  For the crowd that likes to see how fast they can get around a track I would think this bike would have some appeal.  It has had the full after market catalog thrown at it and does have Canadian paperwork.  I'm guessing the Canadian location might limit the market for the bike though.  The seller has an auction going and a BIN of $6,900 which is higher than your average VJ22 has been selling for.  If you consider the amount of upgrades to the bike and if it is all well sorted that $6,900 doesn't sound too bad at all.
Ian