Warning!
This post is in our archives. Links in this post have been updated to point to similar bikes available to bid on eBay.
Every post will be sent right to your inbox every morning when new posts are made. We will never sell our list or spam you. Plus you can click links to bid or buy right from the email and skip the site entirely. Subscribe to Rare SportBikes For Sale today!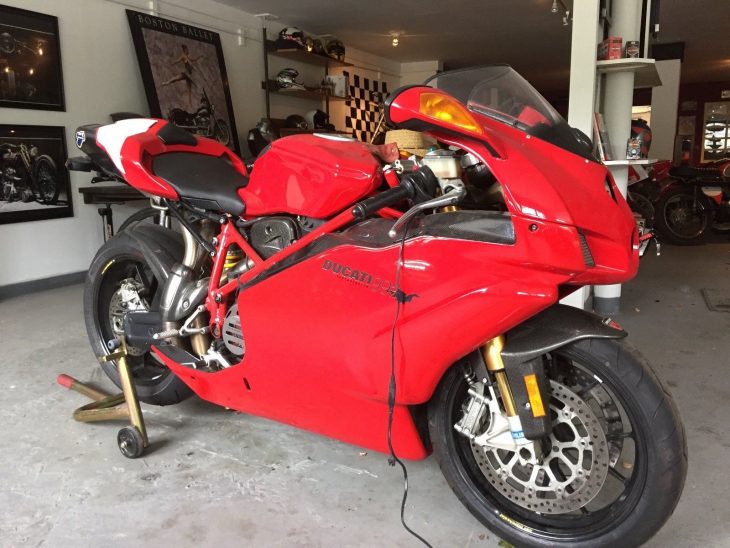 Since the 916 series, Ducati superbike ownership has been about tiers. There's generally a "base" model for the hoi polloi, although those still feature adjustable suspension front and rear and a fire-breathing four-valve v-twin. Above that is generally the "S" version, with some bolt-on carbon that saves a few ounces on a 400lb-plus machine, a couple additional horses, and some bling-y suspension that likely offers minimal improvement in handling for the thousands extra it costs. But if you're serious about your Ducatis, it's the "R" model you generally want, at least post-SP5, SPO, and SPS, and the reasons for that are abundantly clear when you look closely at bikes like today's 999R.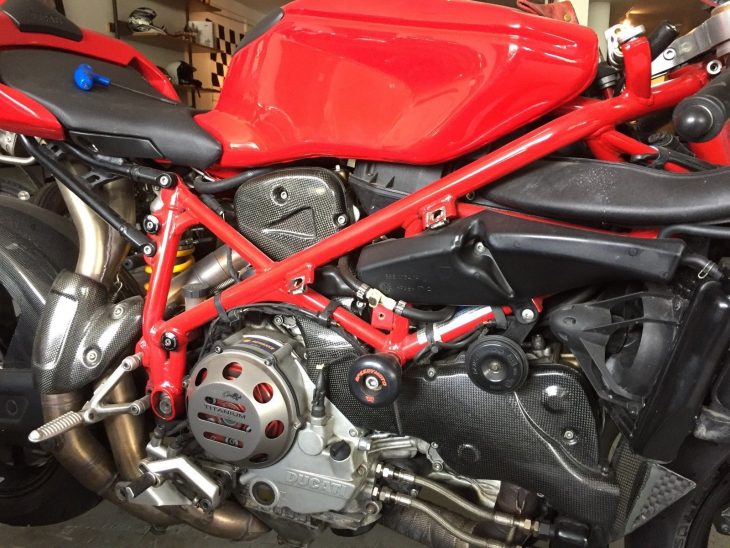 Designed to compete in production-based AMA Superbike racing, the 999R was blessed with high-performance titanium valves and connecting rods, along with an entirely new cylinder head design. The internal dimensions are completely different compared to the standard and S models, with a bore and stroke of 104mm × 58.8mm versus the regular 999's 100mm × 63.5mm. Interestingly, the 999R actually displaces exactly 999cc, whereas the regular 999 makes do with just 998…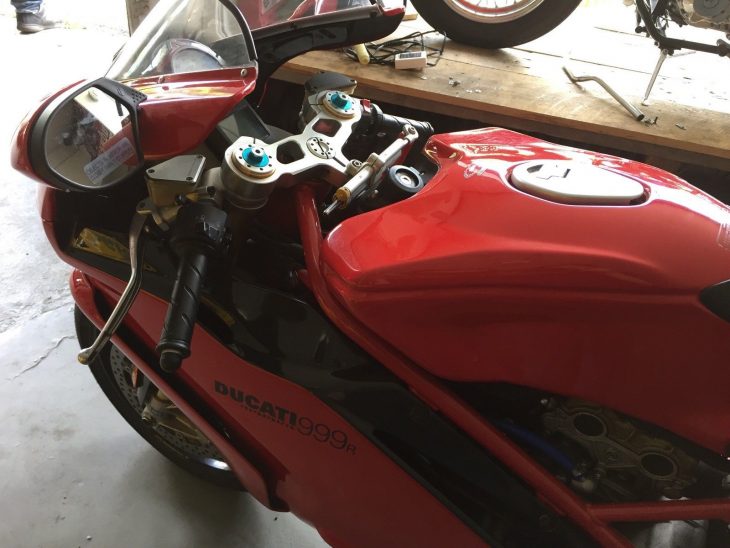 A 12.5:1 compression ratio, titanium rods and valves and a knife-edged crankshaft inside sand-cast cases meant the R was good for 134hp measured at the rear wheel, with 76.6 lb-ft of torque to punch the bike out of corners. Keep in mind: in some cases, a bike with wildly different and very rare engine internals might require shorter maintenance intervals e and parts could prove to be much more expensive as well, so keep that in mind if you plan to actually pile the miles on your bit of Italian exotica.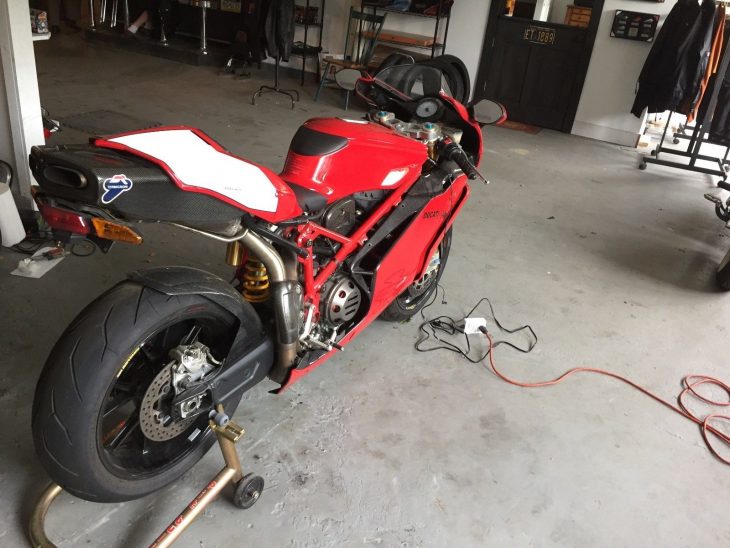 From the original eBay listing: 2005 Ducati 999R for Sale
(Multiple collectors are interested but I'm looking for the best deal.)

Wikipedia regarding the 999S:  "2005 Ducati 999S won the Maxisport category for the prestigious international Masterbike 2005 … received critical acclaim … MCN … 'simply the best V-Twin on the planet'… Motorbikestoday.com, … 'the most desirable, most exciting roadbike on the planet' in 2004. MotorcycleUSA.com … 'stupendous' … 'the epitome of V-Twin power.' Motorcyclist Online: "The 2005 Ducati 999, in particular, would represent the nameplate's height of critical acclaim."

This is not the 999S.  This is the superior, racing version, the 999R.

This is a piece of Motorcycle history.  Considered by some to be the finest bike EVER made.

The 2005 999R had a production run of 200 units.  That means there are only 200 of these bikes on the planet!  (The minimum number required to qualify the bike for use in production superbike races.)  This one has been kept in excellent condition by an experienced motorcycle enthusiast with multiple Ducatis.

The 999R model of the 2005 Ducati 999 has the most powerful Testastretta engine. It pumps out 150 horsepower and 86 lb-ft of torque; and it has larger intake valves, longer bore and shorter stroke. Each engine on the 2005 Ducati 999 is hooked up to a six-speed manual transmission. Due to its racing orientation, it is lighter than the other two models: 11 lbs. lighter, to be more precise. Each 2005 Triple Nine has a fuel tank that can hold up to 4.1 gallons (15.5 liters) with a 0.8-gallon (3-liter) reserve. With the 999S or 999R variants, the 2005 999 can go from zero to 62 miles per hour (mph) in under 3 seconds, and it can achieve a top speed of over 170 mph.

The 999R uses titanium valves both on intake and exhaust, as well as titanium connecting rods, and requiring Ducati to use special valve seats and guides.  This saves considerable weight.  Numerous changes have been made to every part of the bike making this model lighter, faster, and more powerful.  Forged aluminum alloy wheels, more sophisticated engine ECU, and much more.  From Ducati's press manual: "The Testastretta engine of the 999R ['05 because of the lighter weight]… MEP value… exceeds 14 bar.  Information is available for Serious Buyers."

My 75 yr old father who can no longer ride it after surgery says "this model is a lot revvier because of the titanium, and shortly after this year, Ducati started increasing the engine displacement of their superbikes, so this is one of the last of the 1000cc series."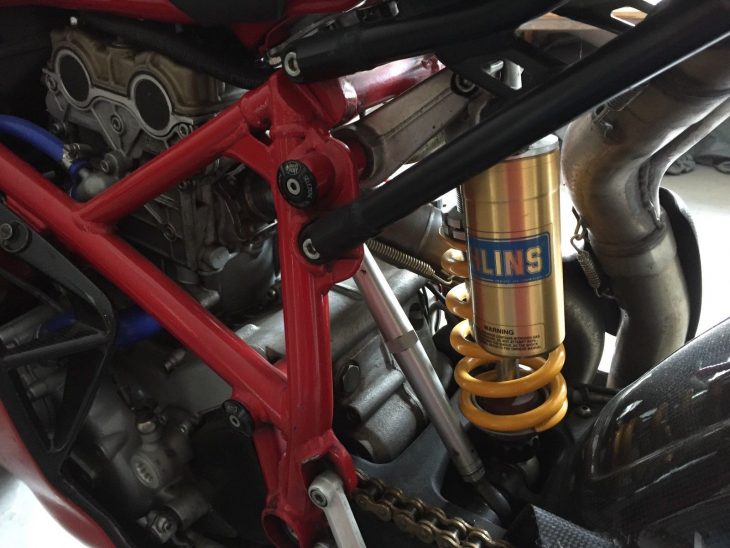 I'm sure someone does consider the 999R the "finest bike EVER made" but that's a very crowded field. Hey, there's plenty of competition even if we're just talking about the finest Ducati ever made. Hyperbole aside, the R is a pretty trick piece of kit, and after languishing in the suberbike bargain basement for years, values for the 999 are rising across the board. Have they risen to the point where the seller's $24,000 asking price makes sense? We'll have to wait and see if the bike actually sells. The style may be polarizing, but the 999 is an excellent motorcycle, and an improvement in almost every way over the 998 that preceded it.
-tad