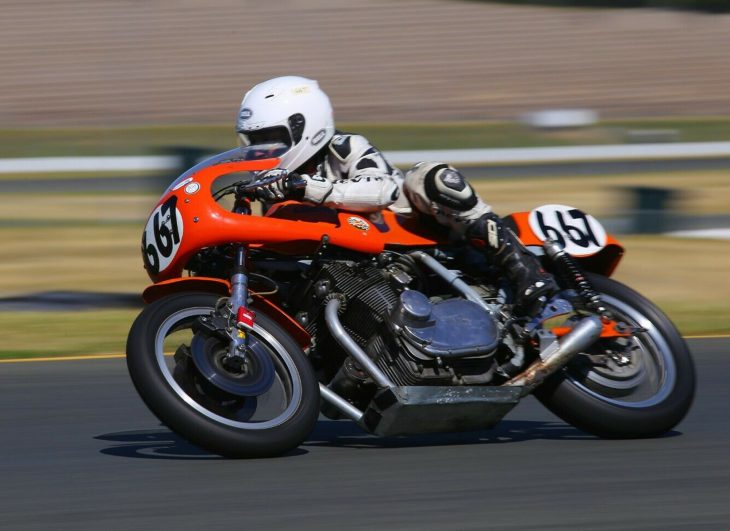 This is an unusual opportunity to buy a rough-and-tumble, forged-in-fire vintage racing Laverda. If you're searching for a display piece to adorn your Manhattan loft, you should probably look elsewhere. This SFC-spec SF2 was made to run, and run hard. It's all killer and no filler, built to race. Period. The original SFC is one of the most desirable and iconic sportbikes of the 1970s, with a stylish half-fairing, bright orange paint, and solo tail. The 744cc parallel twin was supposedly heavily influenced by Honda's CB77 Superhawk engine, and Laverda built their bikes to last, with five main bearings in the engine, electrical components from Nippon-Denso, ignition components from Bosch, and a Verlicchi frame, and suspension from Marzocchi.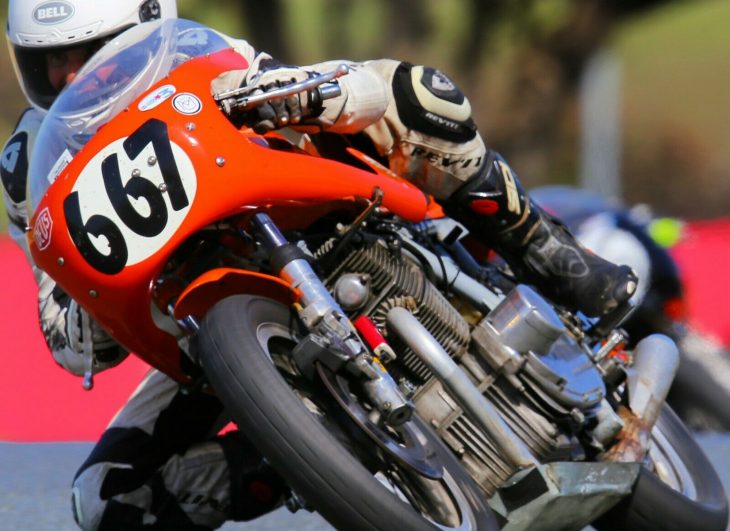 The result was the perfect basis for an endurance racer, and Laverda whipped up a hand-built factory special to capitalize on that potential. The SFC or "Super Freni Competizione," which translates to "Super Competition Brakes." The engine featured the usual race-oriented updates: a lighter crank, polished connecting rods, bigger valves, and high-comp pistons. 36mm carbs fed the high-performance engine and produced as much as 80hp, depending on the year, while a two-into-one exhaust made sure everyone within miles could count every one of them.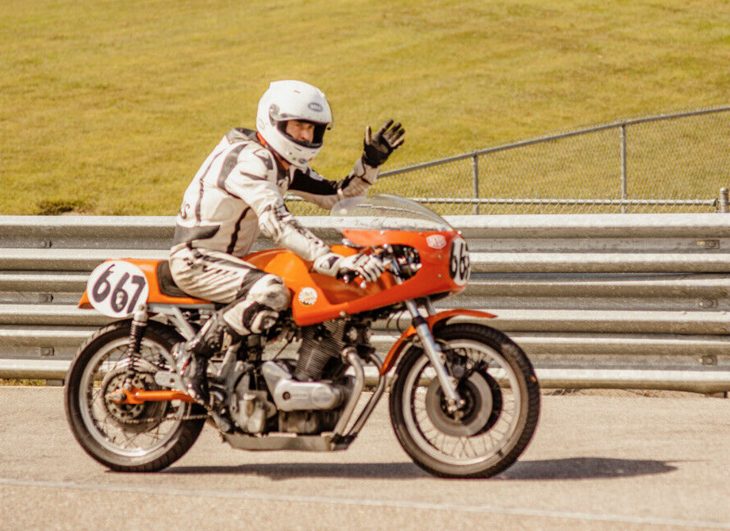 The original SFC was technically a road-legal bike, but it was stiffly-sprung, over-carbureted, and generally temperamental. Many that have come up for sale have their road-legal parts in a box that comes with the bike, since they really were a bit of an afterthought anyway. Even that solo tail is specifically shaped to include a round numberplate, as you can see. The bike was a literal "racebike for the road" in a way that you just don't really see anymore. Or maybe it's just that all serious sportbikes are racebikes for the road, but they're just not really all that much of a compromise now, with 200hp, a gel touring seat, and heated grips…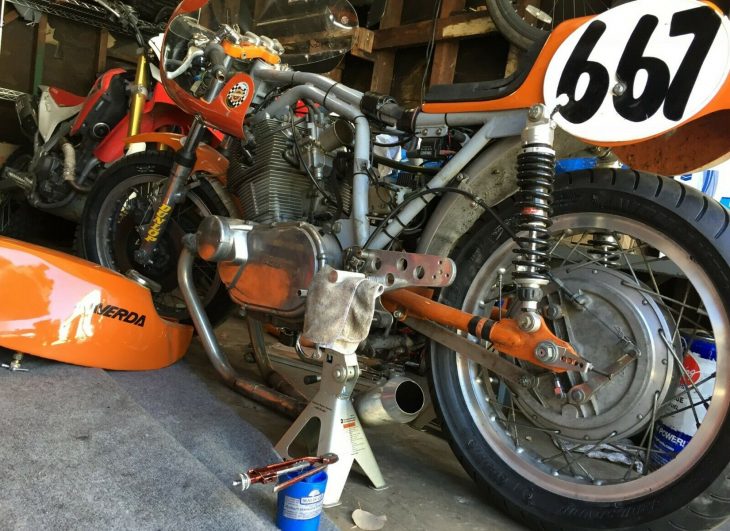 This particular bike isn't an authentic Laverda SFC, it's a high quality replica built from the ground up using a regular production SF2 with many trick parts, and uses the powerful twin-disc front brake setup from the later bikes that should work much better on track than the earlier drum, although it doesn't look quite as sexy. Speaking of the track: this started out as a regular road bike, but it's been converted to race duty and campaigned for years by Larry at New York City Motorcycles [who is also selling his Harley Davidson XR750 here on our site], who is currently based, ironically, in Venice, CA.
His original eBay listing tells a great story about how the bike came to be: 1974 Laverda SFC-Spec SF2 Race Bike for Sale
Where to begin…

Gorizia, Italy (on the Northeast corner of Italy 1km from Slovenia). July 2012.

That is when this Laverda came into real life, from the pages of every conceivable magazine and poster since childhood.  In fact the first time I laid eyes on a Laverda 750SFC was at the Guggenheim Museum in New York City in 1998, at its renowned exhibition, Art of the Motorcycle. If I wasn't already hooked, now I was obsessed.

In the years since that life changing show, I was always on the "lookout".  Sorta like John Walsh chasing fugitives!  I can recall being wide awake at 3am looking in remote places, the mideast, japan and of course the US and Europe.

I couldn't believe my eyes in the summer of 2012.  In fact, I couldn't understand the Italian listing on eBay Italy, either.   When the sun rose the next morning I was at my neighbor's door, an Italian.  Within hours we had the bike's owner on a conference call.  I had a million questions.  My neighbor just wanted to go to work.

I learned that the motorcycle was built to race throughout Italy by an engineer who also owned a genuine SFC.  Too precious to race, he saw no obstacle to making an exact clone, particularly the specification of the motor:

10.8:1

 

Compression

Carillo Rods

SFC Crank

SFC Cams

SFC Pistons, valves and porting

36 mm Dell'Ortos

The rest is simply bodywork… on an SF2 frame. Other than the factory 750SFC's VIN series and frame insignia depicting that its a factory SFC, this bike is exactly the same in specification and appearance of a 1974 (Disc brake front) 750SFC.

The last thing I thought about doing when I bought, imported and titled it in the US, was racing it. So it was cosmetically and exhaustively restored as a streetbike. Laverda's are known to have indestructible motors. And this was no exception. When it cleared customs it set off car alarms a quarter mile away…

My good friend Kenny Cummings, the owner of NYC Norton had been taking care of another parallel twin of mine, a Norton Commando. And every few weeks Kenny would be "gone racing." So it's technically his fault. I caught the bug. And became just as obsessed about racing as Laverdas. 

I raced two years before I became obsessed with the Laverda for a different reason. Though it was exhilarating to ride as a streetbike (outside of New York City where I lived), I soon learned this was a motorcycle that was designed, built and wanted to race. Long story short(er), that's what it became.

The Laverda's trophies include AHRMA National Series 5th Place in Formula 750 in 2015, 3rd Place AHRMA Pacific Crown, and various podiums at some of the most storied racetracks in America.

Recent marriage and move to Japan has put new goals on the horizon. Its time for my beloved Laverda to go from my back burner into the hands of someone whose passion picks up where mine leaves off.

The fuel tank is a Wolfgang Haerter special edition alumnium tank. 

As mentioned, it has never crashed. It could benefit from some TLC ie, valves adjusted, carbs rebuilt. A simplified wiring harness – though what's on the bike now is perfectly functional for its current set up as a racer.

So much to list, these are the key pluses and minuses:

*The windscreen is cracked – it was "stitched" together with zip ties and continued racing. I always thought it adds character 🙂

One Sidecover flew off the bike at Willow Springs during competition. It was recovered but in a mangled condition (see photo)

Starter and generator (included; sprag gear is worn and should be replaced) were removed for racing; running a "total loss" set up

Needs a new battery

Missing the ignition key: bypassed

Runs an EMC electronic ignition (excellent) from Wolfgang Haerter

Slight weep from gas tank rubbing the frame. New Owner should either have the seam rewelded or coat the tank with Caswell

YSS Shocks in rear and Works Performance Springs in Front – Original Marzochi shocks included

Powdercoated frame completed 2014

No rust anywhere

2 into 1 Conti exhaust

New York Title in my name

Street faring, street seat, tachometer included

Set of rear sprockets included

Uses an SFC's shop manual, not an SF2's.

 

Reproduced copy included

New racing foot pegs

Original Laverda clubman bars

Other extras all included

The motorcycle is sold as is, where is, and there are no warranties expressed nor implied. Judge the photos and make your own assessment of the bike's condition, rather than rely on my opinion and/or description. Questions and clarifications are encouraged. These are my personal opin Bidders must be certain of their commitment before bidding, as once its submitted. If you win it, you bought it. No time for nonsense please. Bidders with less than 10 or any negative feedback must contact me prior to bidding or else expect your bid to be cancelled and removed.

This motorcycle requires thorough inspection and recommissioning before running or riding. Know what you are buying before you bid. If you don't have the expertise and/or the budget, with all due respect, this is not the bike for you. 

New York City Motorcycles (nycmc dot com) is reasonably well known in the vintage motorcycle community and this is not the only platform for offering the bike. Therefore please consider not waiting until the final seconds of the auction to bid. Because while you're waiting to pull the trigger, if a fair offer arrives from elsewhere and there is not a comparable bid here, the auction will instantly disappear from your watched items.

Multiples of the start price has been invested in this motorcycle. It was a privilege to lose money on this fabulous machine. Boyhood dreams fulfilled and then some 🙂

Motorcycle is located in Venice, CA. I will work with your shipper but its your responsibility.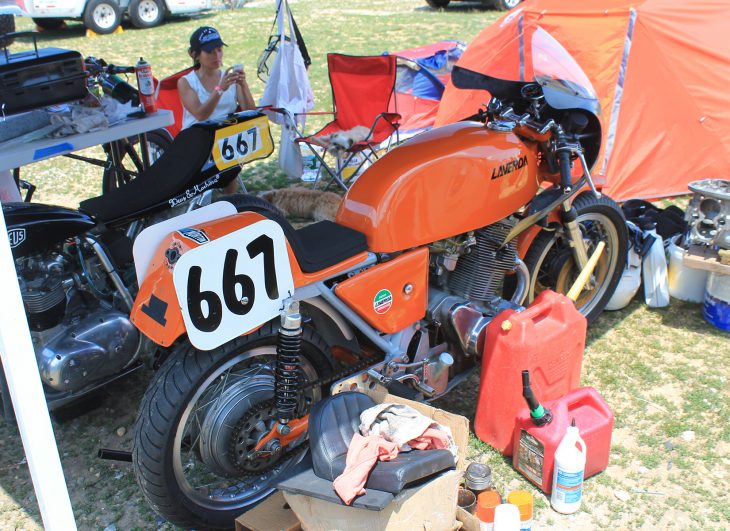 On a personal note, I've come across this bike and owner before: I bumped into him at a 2014 AHRMA event in South Jersey, where I took the picture above. He was wrenching on this bike under a popup tent and, when I came over to babble excitedly about the Laverda, he stopped what he was doing to fire it up for me, a gleeful grin on his face. To me, that says about all you need to know about his passion and enthusiasm. The bike obviously isn't a "real" SFC, but it is a real Laverda, and the engine specifications are, as he describes, SFC-spec. With real SFC prices headed into six-figures, they're less and less likely to be raced as intended. Real or not, this Laverda won't be cheap to buy or run, but is your best bet if you want to actually ride one of these fire-breathing Italian twins in anger.
-tad