The Honda RVT1000 SP-2 might lack the drop-dead sex appeal of a Ducati, but Honda's legendary reputation for build-quality and reliability offer up a charm all their own. Back in the mid-1990s, Ducati was seeing unprecedented success on and off track with Massimo Tamburini's brainchild, the 916 and its derivatives. On-track, it could be argued that rules for v-twins gave the blood-red Bolognese bikes an unfair advantage, but success on the street was the result of styling that dripped sex.
Of course, the Japanese manufacturers decided "if you can't beat 'em, join 'em" and introduced their own v-twin sportbikes designed to trounce Ducati at its own game, with varying degrees of success. Suzuki's TL1000S made a splash initially, although maybe not for the reasons they'd hoped, while the supposedly more racy follow-up TL1000R was a disappointment on all fronts. The Honda VTR1000F "SuperHawk" was introduced in 1997 to… crickets, mostly. Much more a sporty bike for the street than a serious racetrack refugee, it was cursed with bland styling and a tiny fuel tank that seriously curtailed the all-day backroad adventures the flexible twin and comfortable handling would otherwise have inspired.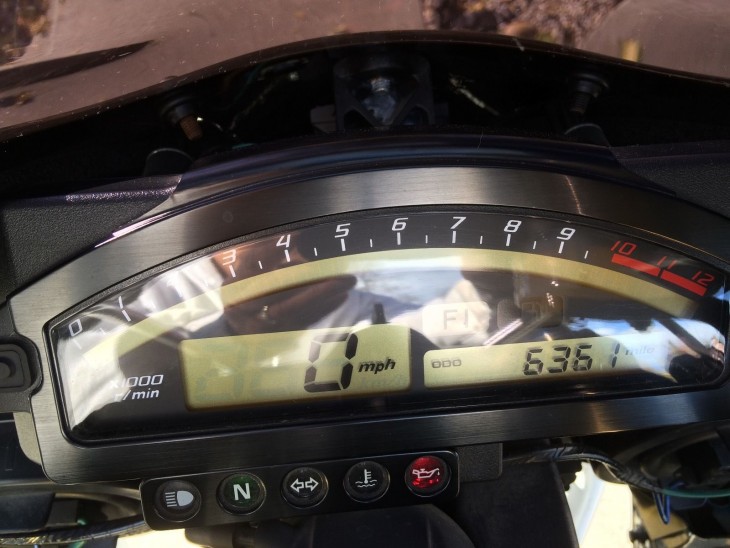 But the SuperHawk was never really intended to beat the Ducati in terms of pure performance. That was left to the VTR1000 SP-1 that was far from the lithe design you'd expect for a supposedly Ducati-beating motorcycle, with a broad fairing and bulky styling. But the bike ditched the SuperHawk's camchains for sexy gears, and the Honda is dead reliable, sounds sexy as hell, and can be serviced at your local dealer, a big plus in many parts of the country. Unfortunately, the handling wasn't really all that sharp, and huge throttle bodies designed for top-end power made low-rpm fueling pretty chunky…
By the time the RVT1000 [Argh! Acronyms! VTR, RVT… Make up your mind!] SP-2 rolled around in 2002, Honda had refined the formula and while power was up only slightly to 133hp, the bike was much smoother overall, and handling was significantly improved. Fuel range still sucked but, considering this was intended to follow the RC30 and RC45, that slight flaw can probably be forgiven.
From the original eBay listing: 2005 Honda RC51 RVT1000R for Sale
Only 6361 miles
$7,000 in upgrades
Black and gray color, last model before the RC51 was discontinued in 2006.
Marchesini magnesium light weight rims front and rear
Sato High Mount Bonzai exhaust with titanium mid pipes and carbon fiber cans
Dyno Jet Power Commander III with Dan Kyle map
Sato adjustable rear sets
CRG adjustable shorty brake & clutch levers
European rear tail section with led lights (cleanest looking one made)
New Michelin 2CT Pilot Power front & rear tires
New DID o-ring gold chain
Greggs flush mount front turn signals
Puig tinted racing windscreen
Front and rear bike stands
Bike cover
Battery tender hookup
15 tooth counter sprocket (front)
Café mirror
Have stock parts
Garage kept
Never down
Never on track
2nd mature experienced owner
Just performed maintenance service: Repsol full synthetic oil, front and rear brake and clutch fluid service
Excellent condition
Super fast and expert riders only
Pink slip in hand
$12,200 / best offer
This particular bike looks very sleek in black, something that can't quite be said for the more common red and silver scheme. Mileage is very low, and the bike has had some very tasteful and useful modifications thrown at it, although the $12,500 asking price seems very high.
The RC51 is still very much a bargain sportbike, but they're relatively rare and many have been lovingly cared for. Stone-axe reliability, solid handling, and big-twin boom make this a great bike and, if you can stomach the price, this might be a good one to sock away in hopes that it one day reaches RC45-levels of collectibility.
Hint: don't bother. Just ride the hell out of it instead.
-tad