This one is a little newer than what we typically post here at RSBFS but it i s a street legal Aprilia RS125 and is the last generation that had the rotax powered two stroke.  While its not the fastest thing, it would certainly make any young squid the envy of his classmates.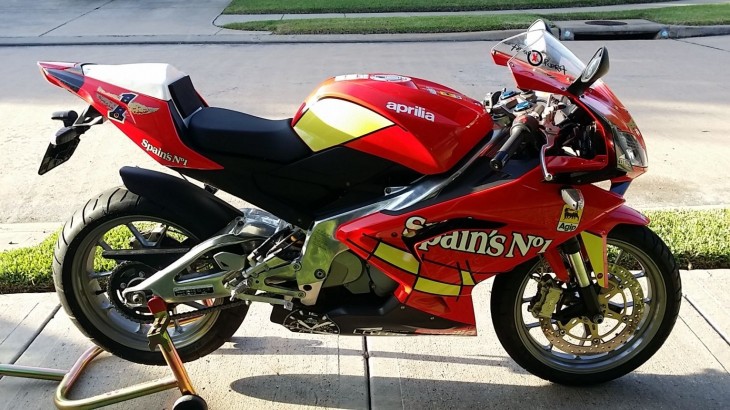 The Aprilia RS125 actually debuted back in 1992 with the RS125R Extrema. The little two stroke Aprilia survived for quite a few years and several generations, with the 4th generation 2006-2012* models being the final two stroke editions.  The 2009 version pictured here is powered by a liquid-cooled 125cc 2-stroke with fuel fed by a 28mm Dell'Orto carburetor via a reed valve intake and finished with a sleek left-hand exhaust that carries the exhaust gas away while allowing that distinctive two stroke roar to be heard by all.
*NOTE: In 2012 Aprilia introduced the RS4 125 which was powered by a single-cylinder four-stroke.
The 2009 was also the last year the little 125 wasb't shaped to look like the bigger Aprilia RSV1000.  I understand that a lot of manufacturers follow the "lineup family" model but IMHO the 2009 looks so much better than the RSV-derived versions that started the next year.   Perhaps its the cleaner nose lamps or the sponsor emblazoned bodywork  with the race-replica magnesium painted triple clamp, maybe its the polished frame and swingarm with the multi-spoke wheels, I don't know but it all comes together to make the bike look soo good, like it came straight off the track.
A link to a review of the 2009 RS125 can be found here.
Speaking of coming straight off the track, that is part of what makes this little 125RS such a little jewel.  Most 125RS were not street legal and to be honest, this is the first time I have heard that they could be made so.   But the current seller states that this particular one has had some work done to make it so, so someone is going to have a little rocket that is legal on the street.
From the seller's ebay listing:
Only 318 miles
Street titled in TX which can now be transferred to any other state.
All original OEM Aprilia street parts including the almost impossible to find "street" relays, wire harness.
OEM rearview mirrors, turn signals, horn, rear license plate assembly
Is this little gem worth the $6,500 USD asking price?  As much as I love it, I think that price is a bit high.  According to the review link posted above, brand new these went for $5,499 USD and that happens to be the same price we last saw one of these go for here on RSBFS (+1 dollar).  Even though this one has been made street legal and is basically new, the asking price seems a bit high…I would think a fair price for this one would be between $5,800-$6,100 USD, depending on the age of the tires.
One final note:  I think this little Aprilia may actually be a bit of a sleeper for collectors;  it probably won't undergo any dramatic price appreciation, but it is a 4th gen bike which was the last two stroke edition of the RS125 and is street legal, so it should at least hold its value.   I would be looking to add this one to my personal collection if I had the funds available.
-Marty/Dallaslavowner