John Bloor's new Triumph engineers had a modular solution for their line of of four-stroke engines – all had 76mm bores and strokes were 65 or 55mm depending on multiples of 250 or 300cc.  The big 1200 was their atom smasher and had two balance shafts in the crankcase to smooth things out.  This time machine was parked halfway to its first oil change and has been professionally re-commissioned.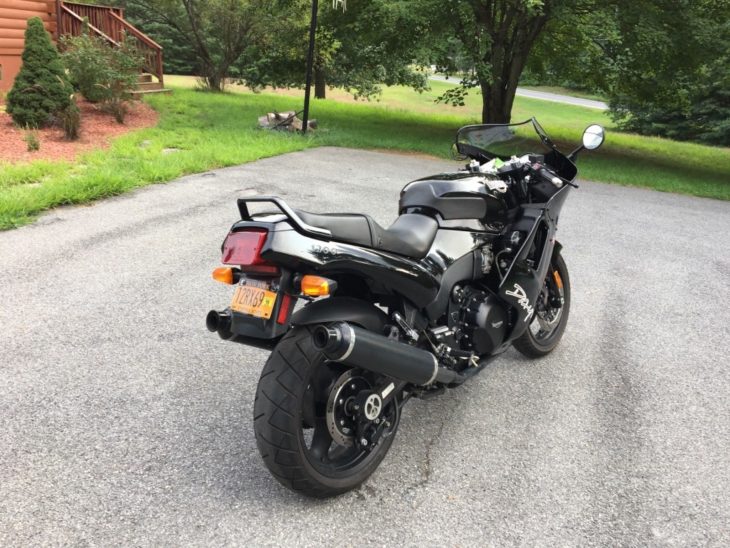 Hard to call a company that had been manufacturing motorcycles for more than a hundred years an upstart, but the re-constituted Triumph was just that – with their new road-pounding 1200, good for 147 hp and 85 ft.-lbs of torque.  More GT than sport, it was big in every sense, plenty of room and stability for two, massive 6-speed powertrain, adjustable Kayaba forks and monoshock, 310mm Nissin disk brakes.  The generous fairing carried dual headlights and allowed the rider to hide from the 160 mph wind.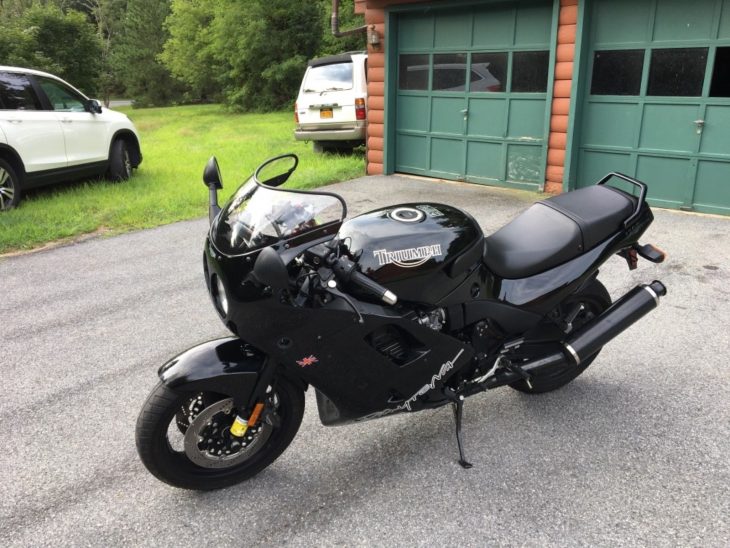 Right up the road from upstate Albany, this Daytona begs to have its back story told.  How a machine perfect for the mostly suburban and rural area could have been parked so soon after riding it out of the dealership is a mystery, like the missing front signals.  The overall condition says back of the garage storage but thankfully missing the big tank dent and tipover that usually happen during nearly 25 years under a blanket.  From the eBay auction:
Super low mile, one owner  Daytona 1200. This Daytona was purchased back in 1995 from Berkshire Motor Works in Schenectady NY. I have all the original paperwork from when the bike was new. The bike is totally stock and has been ridden only 1300 miles from new!  The bike was taken to a local British bike specialist in Scotia and had a $900. Service. The carbs have been rebuilt, new air filter, new battery  and fresh oil change. The bike has never been down or crashed. Everything on the bike works as it should. I have new front turn signals on order.
The Daytona 1200 reviewed as very smooth, heavy without really feeling it, the relaxed riding position making for a nicer long trip.  Not destined to compete with sportier liters and 1100's from Japan, the 1200 was more in line with the boutique Europeans.  It's a lot of bike for the buy-it-now, but new rubber has to be factored in, and though the carbs have been cleaned, the condition of the tank should be determined.  As owners of black machines would tell you, after a serious detailing this Daytona will look really good – for about a half hour…
-donn