The singular MH900e has made regular appearances here at RSBFS, the Terblanche design and sparkling execution combined for a quick sell-out of the run of 2,000. This collector has been nicely personalized with an unusual eye toward usability.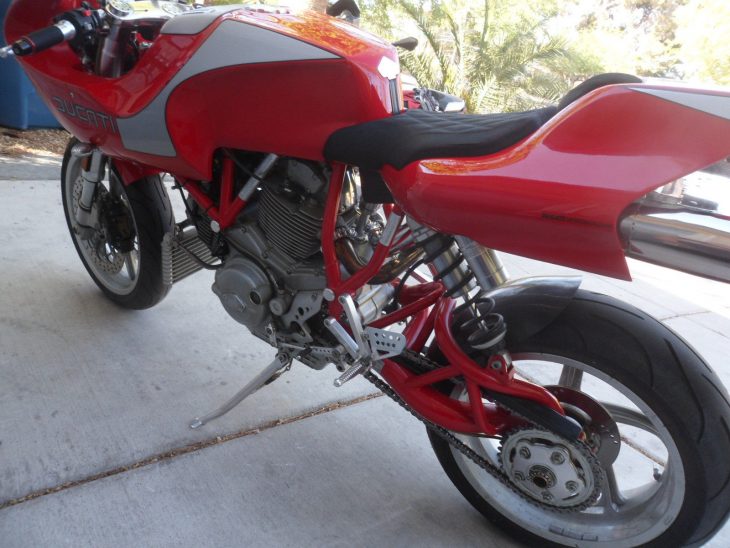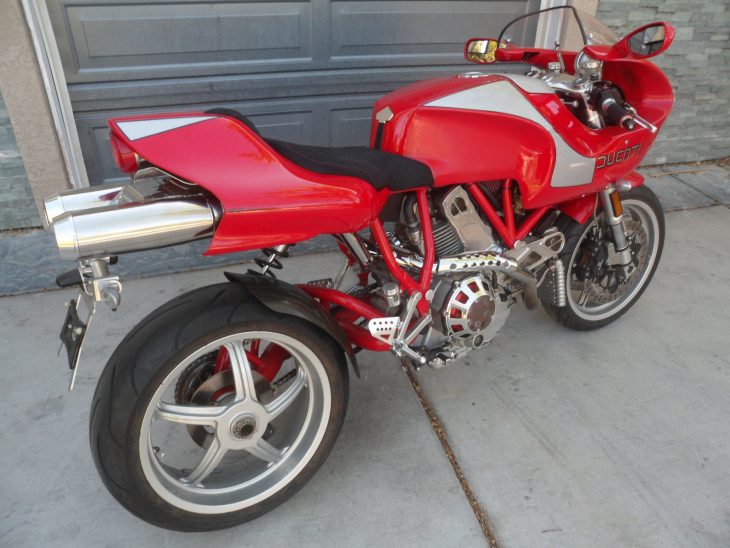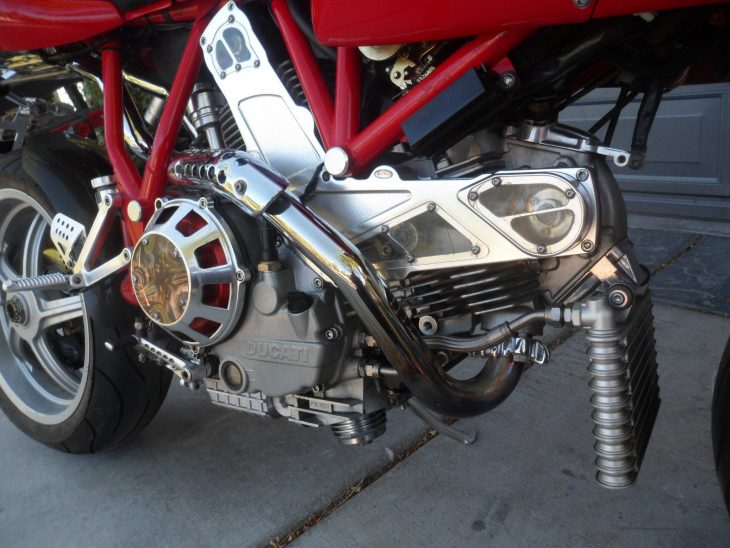 The red and polish MH900e has such a distinctive design that discussion of its specs is secondary, but the fuel injected desmodue pulls its weight.  The air-cooled 904cc is tuned for 75 hp and a wider torque band, making the long, low piece of art more rideable.  Outdoing their usual trellis fretwork, Ducati made the chassis show off the engine and its systems.  Beside being a fabricator's showcase, the sculpted single-sided swingarm works well with the Paioli reservoir shock and eases rear wheel cleaning.  The fairing / tank combination flows, and the separate exhausts wind their way out to the long underseat mufflers.
The owner of this MH900e wanted to ride it more than most, and his modifications are good-looking and practical.  Foremost, a neat mod replaces the battery / tank internals and  increases fuel capacity to a realistic 4.6 gallons.  Updates to the levers and belt covers are well chosen, and the stainless exhaust looks great compared to the factory black.  More detail from the eBay auction:
Super, super clean, with tasteful upgrades, runs with no issues, sounds awesome, and is not a garage queen, but actually ridden, yet lives in my living room most of the time. I'm moving, and no room for several bikes, so here's your chance.

Rizoma cam belt covers, Rizoma Urlo grips and levers, now Brembo master cylinders, fresh oils and Pro-One billet finned oil cooler/filter, California Cycleworks tank/battery conversion which increases fuel tank capacity almost twice as much and rids the ugly and heavy dual battery. Has Lithium single battery, open pod filters, high voltage Dyna ignition, belly pan eliminator (have original), fully polished and chromed stainless exhaust is a beauty, yet not loud and great sound. Luimoto cross stiched suede seat cover, good tires, 3D show chain, etc.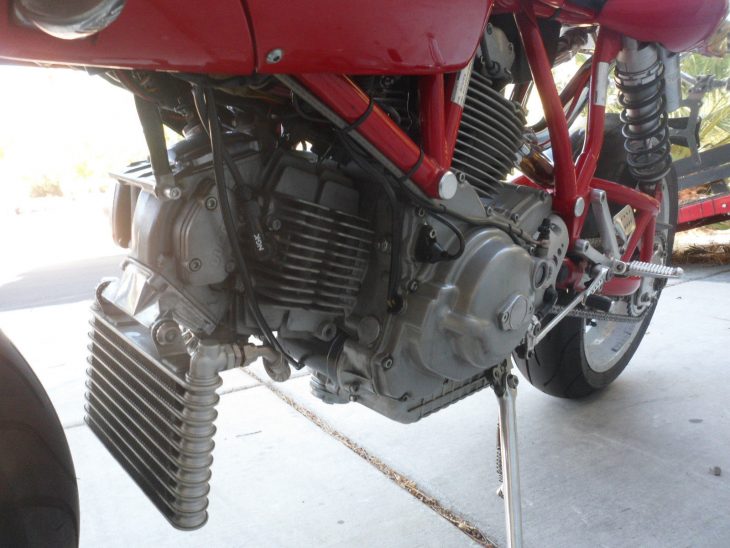 Ducati made the low volume special work well enough to impress reviewers, though long ergonomics and compromised dash and mirrors reinforced its showy roots.  While it looks too cool for most owners to let it outside, this one has amassed enough miles for an oil change, but not so many that the next owner couldn't bring it into the hall.  Bidding on the auction is quite active and there is a reasonable buy-it-now of $22,000.
At the other end of the spectrum, the owner also has a fully restored 1938 BMW R66 on offer - here -.  Questions about either machine can be addressed through the eBay auctions...
-donn