Update 10.18.2018: This bike has SOLD! Congratulations to buyer and seller! -dc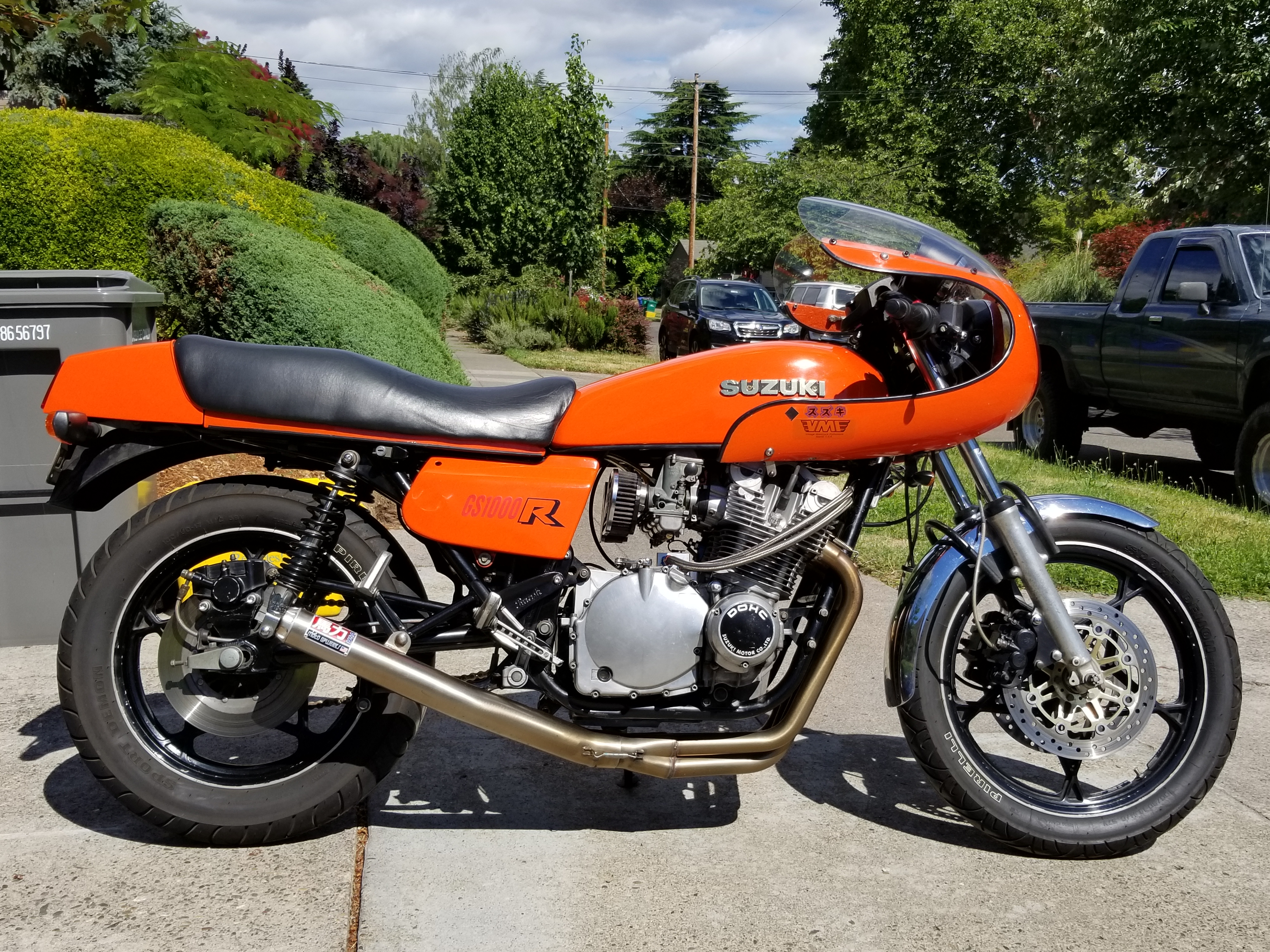 If you gaze upon modern motorcycles today and think that they are all starting to look alike, you're not alone. There is a certain #metoo movement in current motorcycle design. But cast your eye back a few short – like 40 – years ago and things looked a bit different. Take one glance at this awesome late 70s literbike; there is no mistaking it for anything but a large-cubic-inch rocket. No middleweight or lightweight offering of the era looked even close to it, and even family resemblance was fleeting. One look and you knew it meant business, and 40 years on it still looks that way. Even better, perhaps, is that it did not remain on a showroom floor collecting dust and rotting out. This wonderful monster from the cusp of the liquid-cooled, mono-shocked, four valved, fuel injected, big braked, big tire era carries with it the honor and patina of time and ownership. This isn't just a time capsule to take you back, this is a roadmap of where that was and how it came to be. The seller has provide some truly wonderful background on this bike, and I leave it to his words here:
From the seller:
I am selling my precious 1979 Suzuki GS1000, Suzuki's original superbike—this is your chance to own a restored and properly functioning piece of motorcycling history. If this thing could talk, it would have one doozy of a story to tell. It spent all its life in the Pacific Northwest, and in its own small way has become a recognizable vintage bike…regionally at least. I met the previous two owners at the Isle of Vashon TT in 2016, and they were overjoyed to see it being ridden again. One used to take it to track days at Laguna Seca in the early 80s, another had the fairing put on it.

When I first got it, it was in fairly decent condition. It needed what old bikes usually need: o-rings, seals, gaskets here and there, carb work. After fixing one area, I'd move on to the next. After a few years, I started running out of things to fix. There were some original upgrades that were desirable back in the day and still look and function well today, like the Koni shocks, the Raask rearsets, and the oil cooler and associated plumbing. The fairing is from a Ducati 900SS, and the bike wears it beautifully. Also, this year of GS came stock with twin front discs. I upgraded those with modern calipers and rotors, which made a night and day difference in stopping power.

The extent of the work I've done is pretty exhaustive, and the common thread through all work was that it needed to be period-correct if possible and if safe, excluding suspension and brakes and tires, which have improved so much over the decades it would be silly and arguably unsafe to install original bits.
The seller has performed a significant amount of maintenance, upgrades and improvements to this bike, and the list is a long one. Again, back to his words:
More from the seller:
Nearly every box has been ticked on this bike. Here's what I've done:

Engine
-A full top end rebuild was done by Baisley Hi-Performance (Portland), and I've put about 2,000 miles on it since.
-New Kibblewhite black diamond exhaust and intake valves
-New OEM pistons
-New valve guides, springs, and oil seals, oil passage o-rings, and cylinder o-rings
-Cylinder head machined and lapped, cylinders honed
-New base and head gaskets, new cam cover gasket
-New manual cam chain tensioner
-New oil cooler/pressure sensor adapter plate
-New braided oil hoses and AN fittings
-Head, cylinders, and cam cover all bead blasted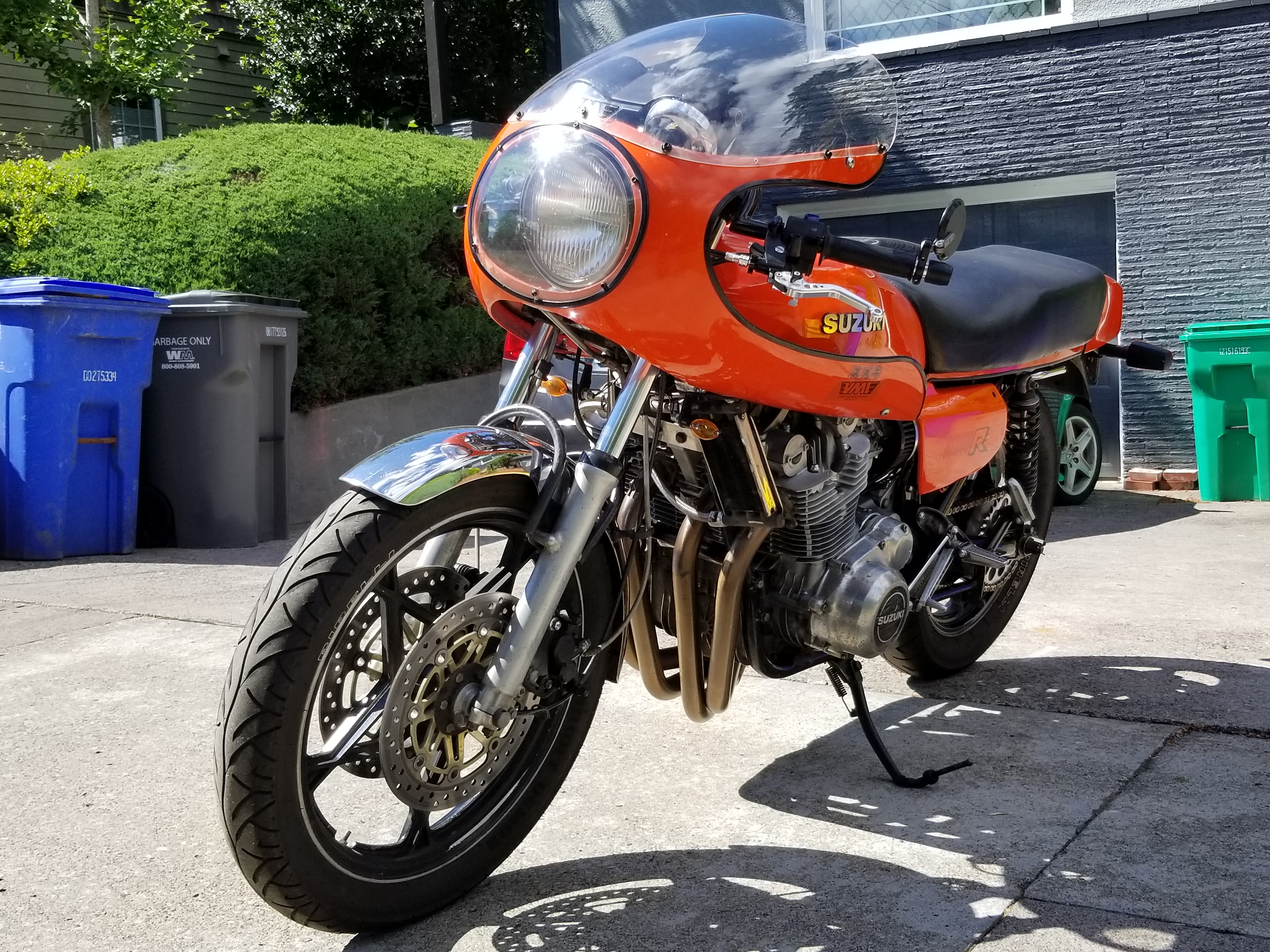 More from the seller:
Carburetor/Fuel system
-Original Mikuni VM26 carbs
-New Pingel petcock
-Full carb rebuild including all rubber, all gaskets, pilot and main jets, by 2Wheel Dyno Works (Seattle)
-Full carb setup, tune, and balance by 2Wheel Dyno Works
-Two K&N oval air filters, one for the left two carbs, one for the right two. These are infinitely better than the single pods in terms of getting a reliable carb tune, not to mention how much easier it makes the carbs to remove.
More from the seller:
Ignition/Electrics
-New Dyna S electronic ignition, dyna s ignition coils, and dyna cables
-Full wire harness by SparckMoto (Albany), including getting rid of the infamous turn signal cancel box. New regulator/rectifier, signal relay
-New left and right control switches by SparckMoto
-Interstate AGM gel battery, reliably holds full charge and has been kept on a trickle charger
-New (super bright) led headlamp
-New OEM headlamp housing
-New tach cable and speedo cable
-New bulbs in the instrument cluster—the whole thing lights up!! Devil's in the details, folks.
More from the seller:
Drivetrain
-Front and rear sprockets by Sprocket Specialists
-DID x-ring 520 chain
-New clutch friction plates and springs
-New OEM clutch cable

Suspension
-Racetech springs and gold valve emulators in the front fork, and new seals (this made a huge difference)

Brakes
-Brembo master cylinder
-Upgrade to two (fairly ubiquitous) Tokico twin piston calipers, same calipers that have gone on many different ninjas and other bike makes and models for years
-Upgrade to two rotors from a Ducati 900SS, much larger. The result is a front brake that actually stops the bike, which is nice!
Stainless brake lines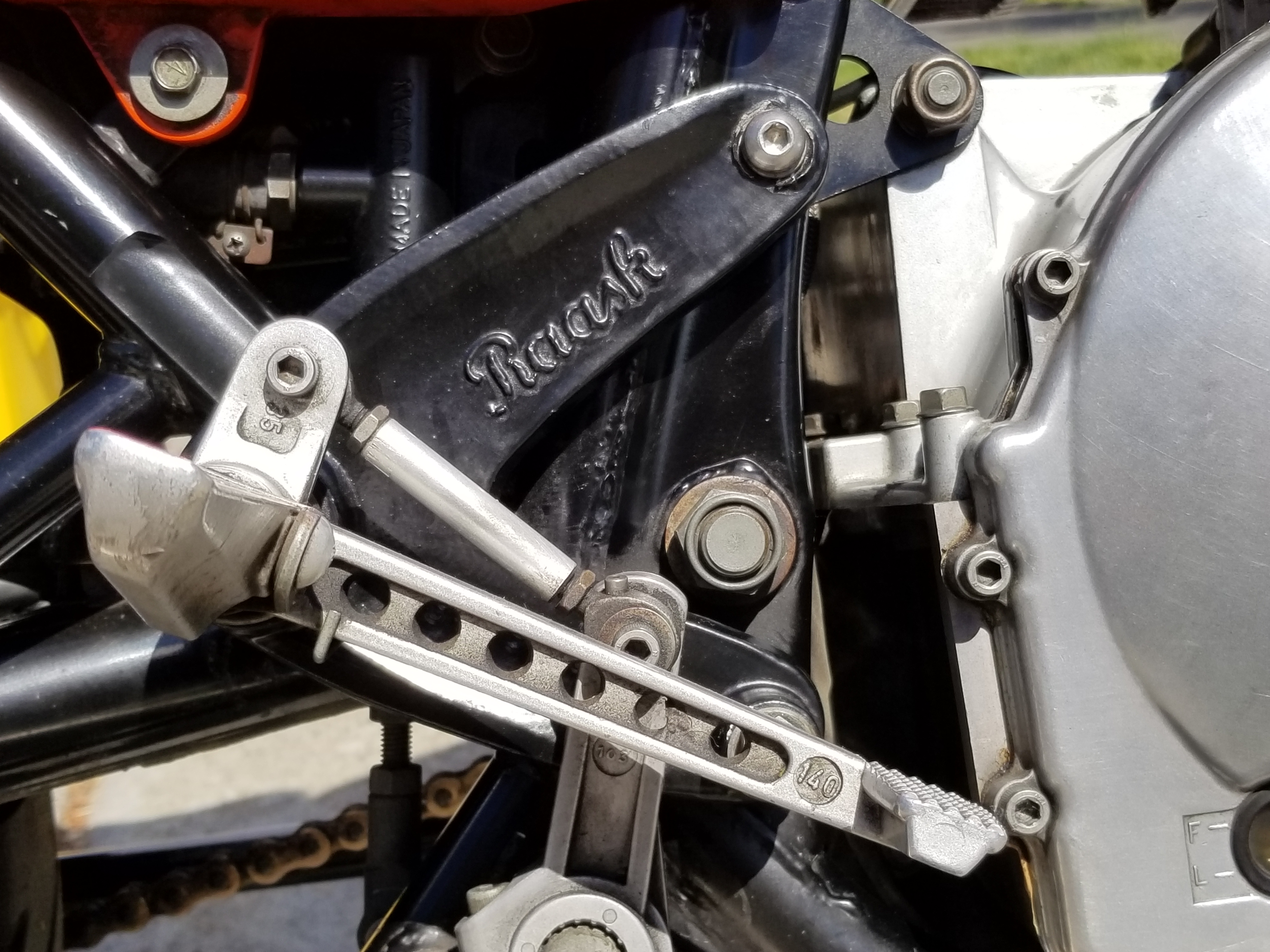 More from the seller:
Wheels
-Original mag wheels
-Pirelli Sport Demon tires (one year old, plenty of wear left)
-New wheel bearings

Exhaust
-Full MotoGPwerks (California) stainless 4-1 exhaust system—a very sought-after system that you can only get when motogpwerks actually makes a run of them. (Satisfying throaty warble at idle, baleful howl when under load)
-New exhaust gaskets
More from the seller:
The tachometer says 60,000 miles, but only 2,000 since the top end was rebuilt. It starts immediately, reliably, rides beautifully, and pulls shockingly well.

The only cosmetic flaws are a few small paint scratches on the tank and various rock chips on the fairing. I have the original airbox and air filter assemblies, the exhaust it came with when I bought it, lots of redundant hardware, and even the old cylinder head and valves and shims if you want those for some reason.

Asking Price: $4,500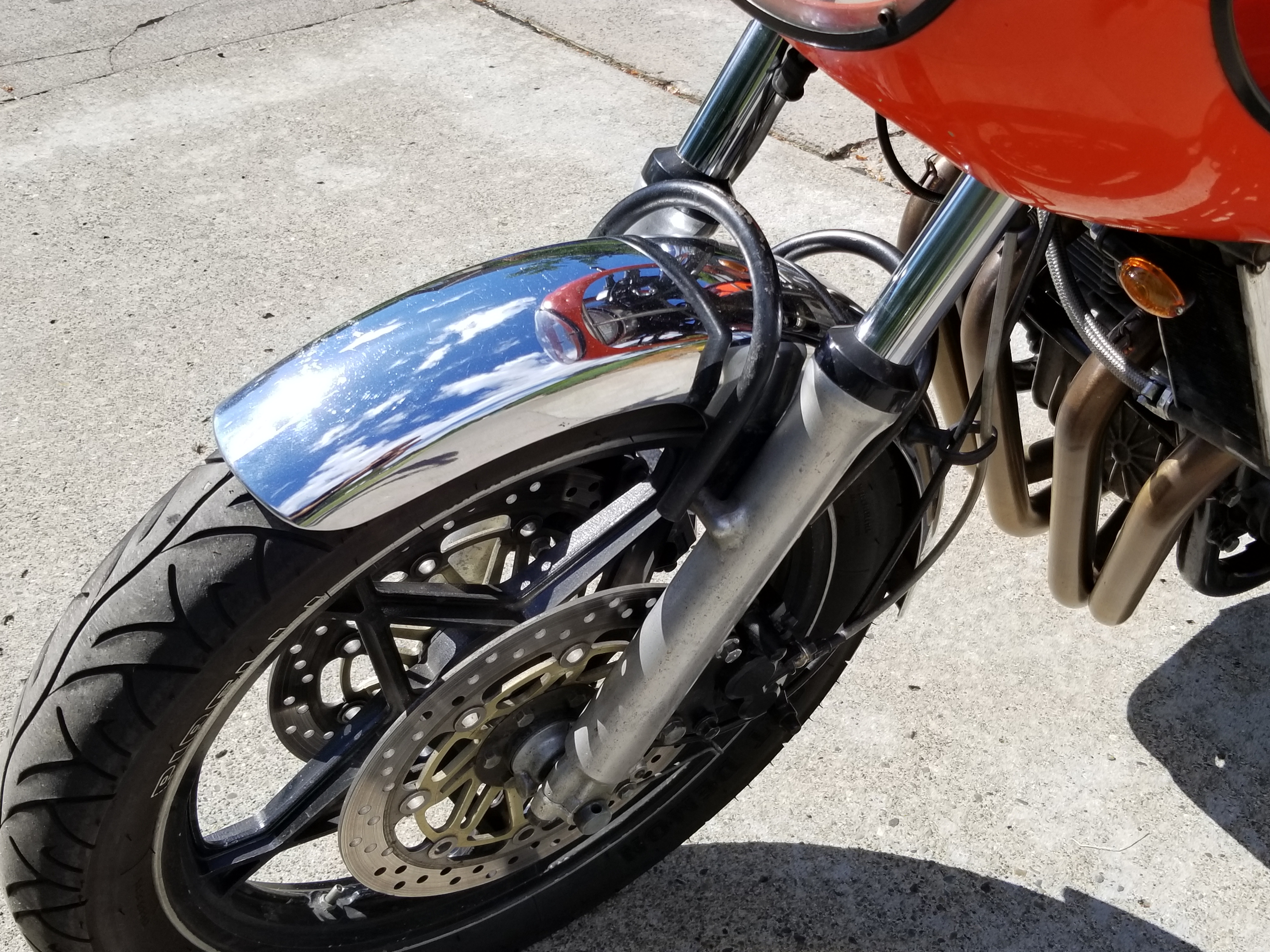 This bike really looks the business. The four-into-header gives it a mean look, and I'm sure an even meaner growl. Nobody will confuse with with a more modern platic-cycle ride when you rumble by on this baby, and yet it still looks like it could yank your arms out of their sockets should you twist the throttle too far. This era of motorcycling is gone for good – and in many measurable categories that could be a good thing. But it is more than nostalgia that brings you back to this monster. It does everything a motorcycle should do, but with an intimidating presence missing from motorcycles today. This is not just a survivor of the era, but rather a good strong look at all that was great about the time, and all that is great about motorcycling. If you want a basket-case project bike, there is nothing to see here. But if you want a well-kept, well maintained beast from the apex of another time, you might want to give Ethan a shout – this big Suzuki won't hang out long. Good Luck!!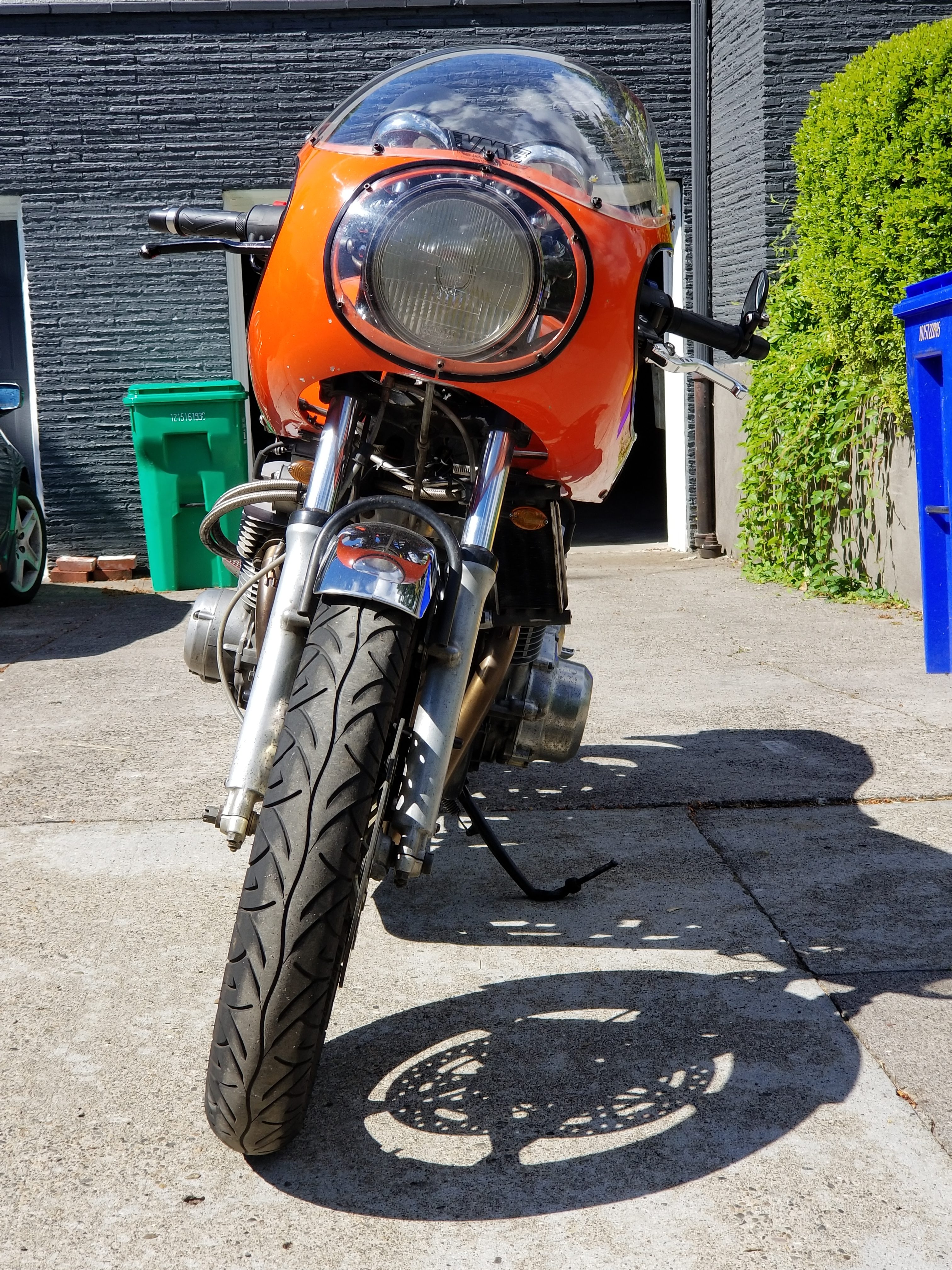 MI