If you're looking for something eye-catching to add to your collection, this might be the one for you.  Coming all the way from a private collection in Japan by way of Canada is this stunning 1990 Honda NSR250SP.  The near flawless condition of the little Honda is surely due to the fact that it has a mere 1166km (724 miles) showing on the odometer.  Our regular readers may notice that this motorcycle did show up on our pages and on eBay about a year ago when it was originally listed for sale in Canada.  It has made it's way across the border here to California, meaning that you won't have to deal with any potential customs nightmares.  The seller does mention that it comes with a Bill of Sale only, so getting a title might prove challenging.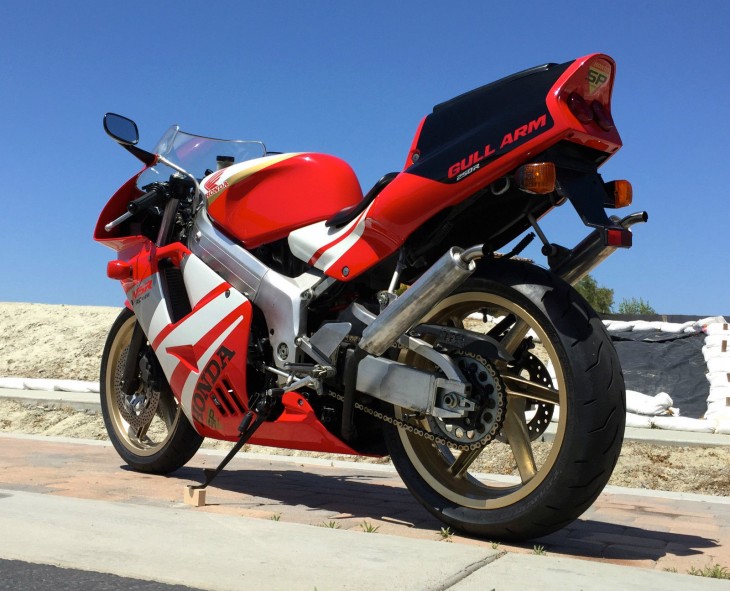 The eBay auction already has quite a bit of interest, with the watchers and the bids coming in fast.  You can check it out here: 1990 Honda NSR250SP on eBay.  There is a lot of information in the description, including details about the bikes and the seller adds a little bit of personal perspective about it here:
If you do not know much about two-strokes then this is probably not the bike for you. This is a street version of Honda's racing bike. It is extremely light (under 300lbs), agile, starts and runs very well and it is VERY fast. This motorcycle redlines at 12000rpm. When it hits the power band at about 9000rpm you had better be holding on tight. Also, you may not be able to title it depending on the state you live in. That's why I am expressly stating the bike is sold as-is, where-is, with a bill of sale only with no representations as to ability to register or title. If you have any questions about this or the bike, please email me. And, yes it is available for viewing by legitimately interested bidders. It is located in Orange County, California. If you are a novice, or are not confident in your riding abilities, please do not buy this bike (unless you plan on displaying it only).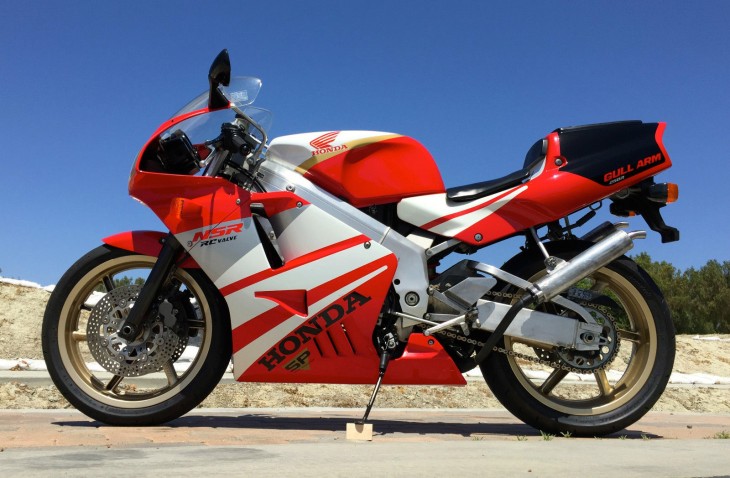 3 Responses.