Update 2.13.2018: We first posted this Mirage last April and it was bid to $11,500 and then relisted and removed. It is back on eBay with a different seller and current bid is $7,700 reserve met. Links are updated. Thanks Donn! -dc
On the block today is one of Laverda's best kept secrets: The Mirage 1200. Created as a bit of a parts-bin special, the Mirage fills a distinct niche in the Laverda triple lineup, providing a naked cruiser, a half-faired sport-cruiser, and the full-blown TS sport touring edition (which we see here) all from the same basic bike. The Mirage is powered by the familiar 180-degree triple, but punched to 1200cc and fitted with a different cam profile from the other models. Jota bits are utilized throughout – such as the Jota-spec exhaust – but some items like the handlebars and seating position are unique to the Mirage.
The engine modifications move the Mirage away from the raucous, sporting intent of the Jota, and the overall effect is a more civilized "Executive Express" type of feel. The large fairing provides decent wind protection, and gives the Mirage TS a polished look – much more so than the brutish, bare-bones fighters Laverda built their name on. This was to be a Laverda that you could go out and ride – often and far. Unfortunately, triples are inherently imbalanced (even the 180 degree motors), and vibration at speed was a persistent fly in the Mirage's high-speed transport ointment. The new additions came at another cost: weight. There are over 30 lbs added to a similar spec Jota in order to create a Mirage, which tips the scales at a burly 542 lbs. With only 73 HP available, performance is more inferred than experienced.
From the seller:
Here we have a 1982 Laverda Mirage 1200 TS with only 24k miles. This is a late 1200 series 2 and one of the last with the wonderful 180 degree crankshaft, giving this bike a lopey idle and great sound. If you're not familiar with this crankshaft configuration, the outer pistons rise and fall together while the center piston is offset at 180 degrees. This example is a South African market bike and was originally sold by Roma Guzzi LTD, in Johannesburg South Africa and it was imported to the US in 1993. While in the US it's lived all of it's life in hibernation while stored in a detached garage in Ohio until just last month.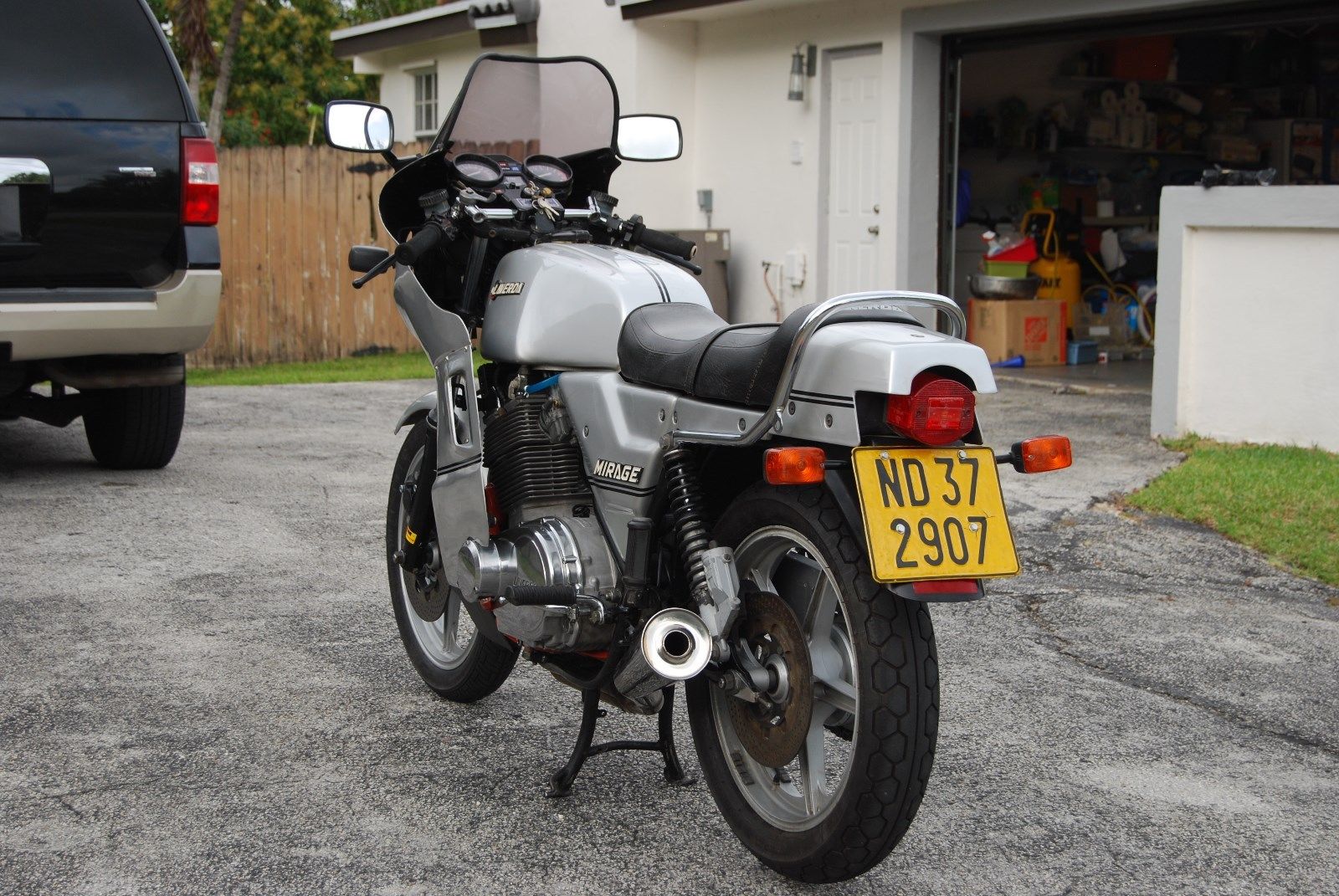 More from the seller:
Upon possession of this exotic motorcycle I immediately began the resurrection process. The carbs were completely rebuilt and new O-rings, float valves and seals were installed. The Brembo brake calipers and master cylinders were completely overhauled and new seals, O-rings and pistons were installed. This bike got a thorough inspection and what was not roadworthy was replaced with new or NOS parts. The ignition pick-up wires were so bad that they turned to dust with the most gentle touch (something common on these bikes). These wires along with the outer silicone sleeve were replaced. The front forks also received new seals and fluids. This bike did not receive a frame-off restoration and it is not a trailer queen, it is meant to be ridden. Front and rear tires look good and they don't show any cracking, however, they are the original Metzelers it wore when it left South Africa and are over 24 years old. Bike shifts through all the gears and it brakes work as they should. Throttle response is very good and crispy. The clock currently shows 40,067 Km which is a little over 24k miles. The serial numbers are matching frame and motor #3444.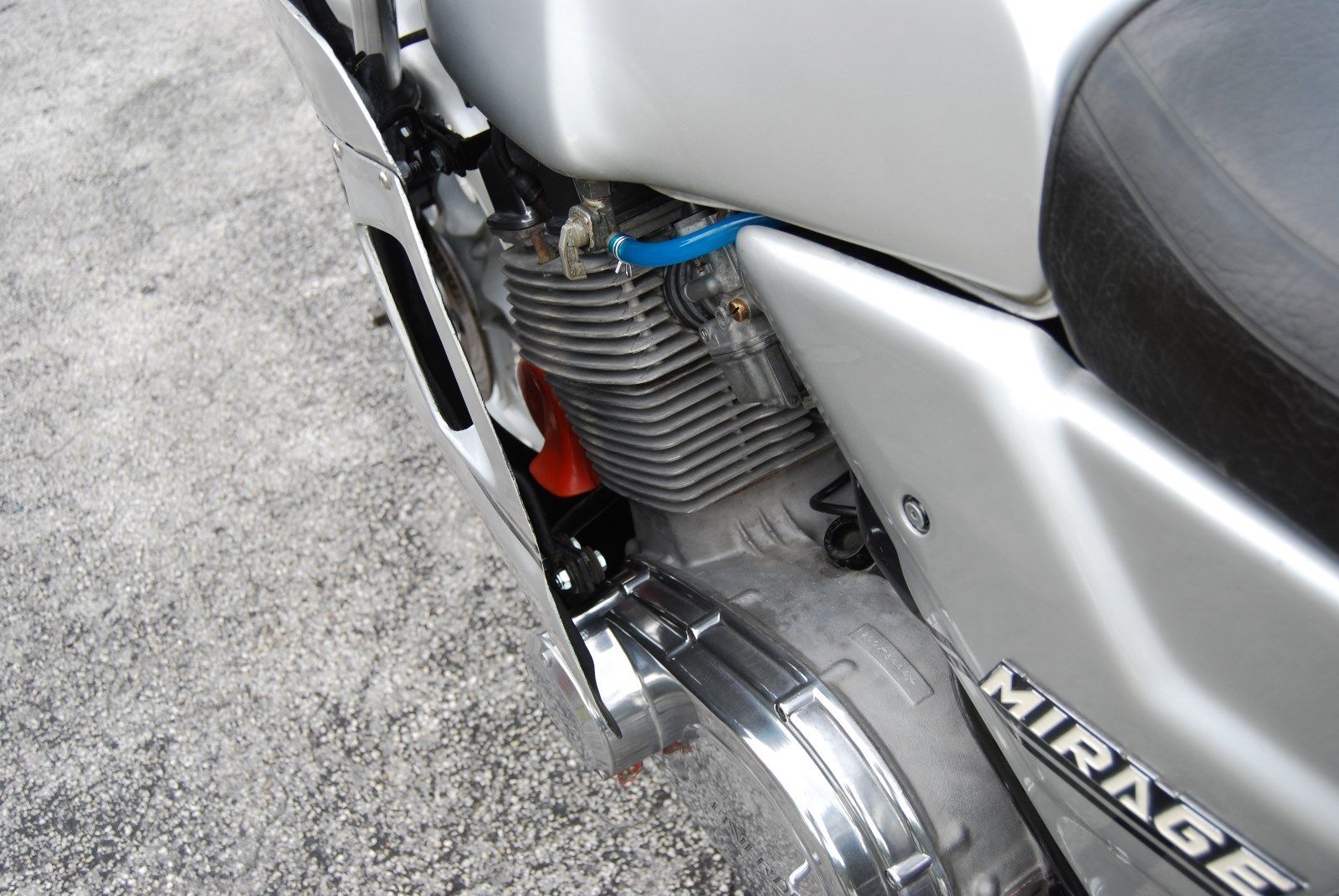 The seller has done a decent job describing this machine. True, it is not exactly the loving, original owner putting his baby up on the market. Still, there has been some work done to make this bike as presentable as it is, and plenty of decent photos. This is not a new machine, and there are some rough edges to some areas of the bike – certainly expected after 35 years of use. But it is also a reasonably rare machine, especially here in the US (you will note that the gauges are primarily in KMs). There appear to be a few slight modifications over the years as well – the oil pressure gauge does not appear to be OEM, and the Mirage originally came with a 3-into-2 exhaust, not the single pipe currently fitted.
Pricing on a Mirage model is difficult, at best. We have only featured one other such model on the pages of RSBFS, and that was a half-faired, non-TS model. Valuation should be comparable with a similar age Jota, or even RGS. There has been enough interest in this auction to pull the bidding above the $8k mark, with reserve still in place. Given the rarity of the model in the US, this one could go much, much higher. Curious to hear from our RSBFS sharpshooters on their thoughts – I know some of you are Laverda experts and might have more to share. Check it out here, and then jump back to the Comments section to let us know what you think!
MI