Following their 2002 Tornado Tré sportbike, Benelli's successful TNT all-around bike was the re-vamped company's foray into the liter-plus-class.  Testing the roiling naked-sport waters, Benelli put many advancements and quality components into the Tornado Naked Tré 1130.  RSBFS regular Iconic Motorbikes offers this 2007 TNT and though it's not perfect, its ability to draw a crowd sets it apart.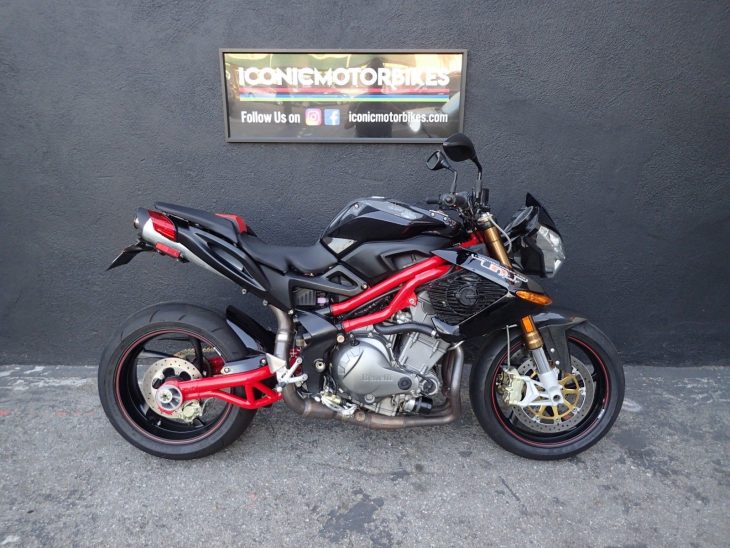 The TNT Sport expanded on the company's 4-valve triple, with a fairly extreme 130 hp and 87 ft.-lbs. torque.   The hybrid chassis combines steel trellis with cast head and connectors, with Marzocchi 50mm forks and dual-adjustable monoshock.  A "power control" button on the dash reduces rear-wheel hp for rain events or cold tires.  Side rads and integral turn signals are part of the red and black jagged-flow design.  Brakes are Brembo Serie Oro, and their black wheels complete the picture.
With just over 9,000 miles, this Sport has been in a low-speed mishap, but except for a few scrapes and a cracked fairing boss, it shows quite well.  Much too rare to be festooned with farkles.  From the eBay auction:
Horsepower is right around 135 HP and a torque curve that's sure to loft the front wheel in the air.

Funky side mounted radiators, a single high center exhaust, futuristic "alien like" styling and nothing short of brilliant engineering will most certainly get you second looks wherever you go!  This was one of Benelli's last true innovative bikes that they released.

When released the magazines and reviews all agreed that it had amazing handling, fantastic power and one of the best naked bikes on the market.

As far as this particular bike, pretty much stock with a carbon fiber front fender, CRG levers and just the OEM awesome styling such as the HUGE diameter front forks, the swept design hollow spoke wheels, the two tone seat and a taillight that wraps around the exhaust….SO COOL!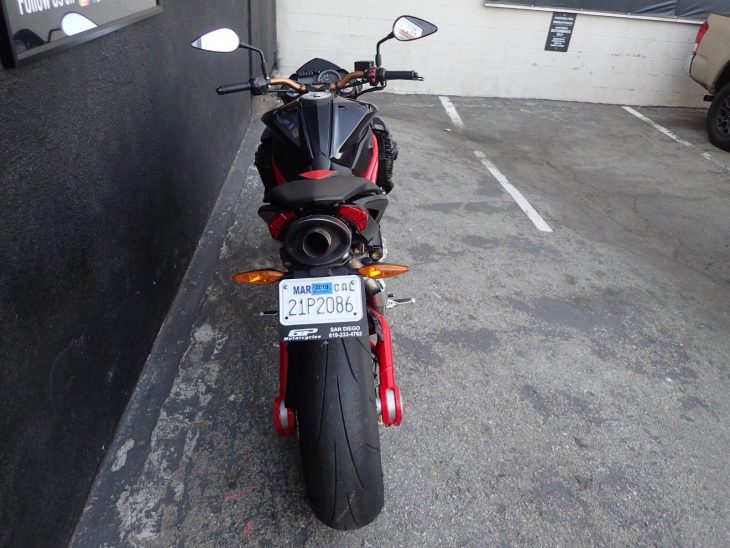 Reviews praised the TNT's up-to-date handling, but a few electrical gremlins played havoc with Bennelli's reputation.  Even Cycle World's long-term test article was a bit of hangar queen, claiming only 1,300 miles over their second six months.  Though still based in Italy, Benelli now has an Asian partner and has been concentrating on that market.  But for a fan of the brand or just off-beat super nakeds, the TNT1130 has a lot to recommend it.
-donn