Note: This is a special post for one of authors who is selling this lot. If you're interested in selling parts on RSBFS, check out our classifieds area. -dc
Well it is time to move on to a new project and I've decided to sell of my
remaining race kit parts. Please note that these are VJ23 race kit parts and
not interchangeable with the more common VJ22. Autorimessa, who made the
official VJ23 race kit, stopped making these parts back in 2006.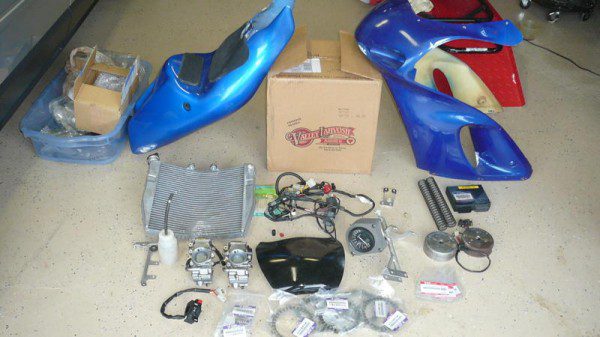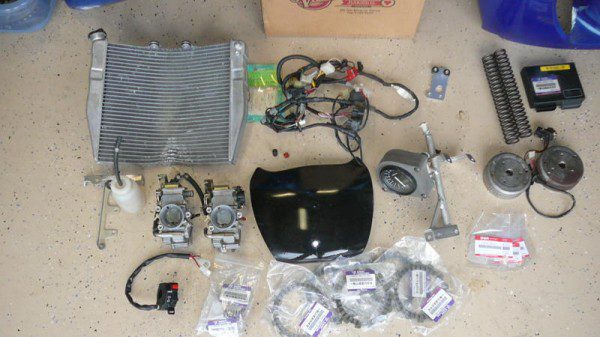 Here they are:
– Set of carbs set up for kit throttle cable
– Kit radiator that works with thermostat (Extremely low miles but dinged by
me and fixed-works perfectly-)
– Kit tach and mount
– Kit on/off switch
– Kit front number plate
– Kit Fork Springs .7kg
– Autorimessa CDI (works oil pump and light-sold to me in Japan as same as Sugaya
R2-sticker underneath is 42E10 which is the derestricted V model CDI)
– Set of kit clutch plates (New)
– Set of kit clutch springs(New)
– Set of reeds(new-stock item)
– 2 kit flywheels
– Kit wiring harness
– Kit bracket for moving cutoff for quickshift
– Orange rubber piece to pressurize tank and block off for underneath
– Race upper
– Race tail
All the used parts are in good condition and ready to go. I'm asking $2500 for
everything +shipping. I may sell pieces individually at a later date. If you
have questions feel free to email me.
Ian