RSBFS Merchandise
Welcome to the Rare Sport Bikes For Sale store – your one stop shopping location for great RSBFS logo gear!
Note that our posted pricing is limited to the United States. For International orders, please contact us for shipping options. If you are interested in purchasing a larger number of items, custom orders or rush shipping please email mike@raresportbikesforsale.com. Thanks!
---
RSBFS Logo Hat – $18.95
This high quality headgear features a stitched logo up front and velcro sizing in the back. Offered for $18.95 +shipping.
(scroll down to see cart)
---
RSBFS Stickers in Black or White – $5.00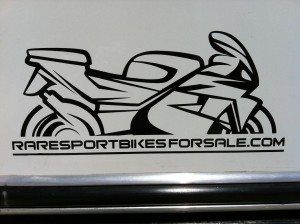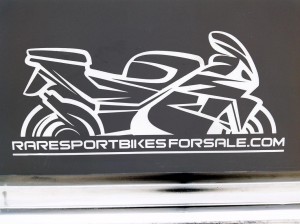 These great RSBFS stickers come in either Black or White, and are supplied with transfer tape for easy application. These logo images allow the background color of whatever you apply it to shine through, and are perfect for bikes, car windows and trailers! Size: 8″ long, 3.5″ tall. Select either Black or White for only $5.00!
(scroll down to see cart)
---
RSBFS Black T Shirt – $18.95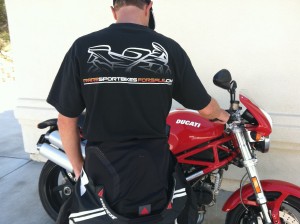 The standard in Rare Sport Bike gear, these beefy tees offer a small logo on the front, with a large version across the back. Perfect for under leathers or general casual wear. Stock limited – only Medium and XL remaining! Offered for just $18.95 +shipping.
(scroll down to see cart)
---
RSBFS Coffee Mug – $12.95
A cool new way to enjoy your hot brew, this RSBFS logo mug comes in black ceramic and sports images on both sides. Park your coffee in a better mug with RSBFS!
(scroll down to see cart)
---
RSBFS Koozies – $5.00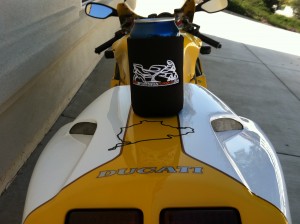 We've ordered a limited run of these fun koozies. Black neoprene with a stitched logo on one side, koozies will accept both bottles and cans. Order a few and dress up any drinking event – before they're all gone!
(scroll down to see cart)
---
White RSBFS Polo Shirt $29.95
These RSBFS Port Authority polo shirts come in White with an embroidered logo on the front. Limited stock remaining – get yours before they are gone!
(scroll down to see cart)
---
Note: Checkout supports both PayPal and major credit cards. Tax may be added to your order at checkout. For orders outside of the US please inquire at mike@raresportbikesforsale.com. Thank you!