Warning!
This post is in our archives. Links in this post have been updated to point to similar bikes available to bid on eBay.
Up for grabs today is something so rare that in the States most people won't even know it exists. I know you think you're looking at a 1000cc Katana from 1981. But in fact, this 400cc version was produced nearly 20 years after the fact! Retro was very big in Japan (and continues to be), and this smaller version of the Katana was meant to cash in on the big model's original heyday. Unfortunately for those in the US, this was a Japan-spec model limited to home country use, with some limited exportation to Asia-Pacific countries. Small bikes rule in Japan, and so we see a great deal of attention to detail in the sub-500cc sector.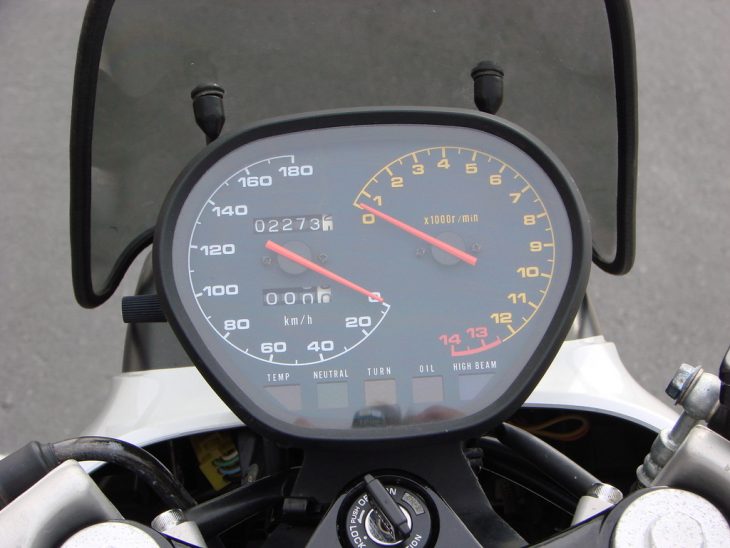 This 400cc model looks so close to the original that you'd be forgiven if you wrote it off as another anemic air-cooled putt-putt. Cleverly disguised to remain aligned with the retro theme, the seemingly air-cooled mill was actually sourced from the 400cc Bandit (which was actually a derivative of the GSX-R400 power plant). What looks like an oil cooler is actually the radiator. Cast wheels that mimic the originals, Tokico calipers (another nod to the Bandit/GSX-R line), as well as the cool retro piggy-back shocks round out the aesthetics.
From the seller:
1999 Suzki GSX 400S Katana located in Santa Ana, California. This bike has 2273 KM = 1363 Miles. This is a true low KM JDM original bike. This bike has a 400cc engine and is sold in Japan only. The carbs were cleaned about 10 months ago. They do need a light cleaning now because the bike has been sitting. This bike is being sold with a bill of sale only. I don't have a title for the bike and can not get one, so don't ask. More info is available on our website. If you overseas or Canadian buyer, you will have to make your own shipping arrangements. I can help USA buyers with the shipping, or you can arrange your own shipper. Bike is being sold as is, no returns. Ask questions and look at the pictures carefully before you bid. Again, this bike is being sold with a bill of sale only, NO TITLE.
I'm not sure what importation looks like, given that this is an 18-year old motorcycle that looks like it's going on 40. Much of the heavy lifting has been done as the bike is already Stateside – except it is missing a title and other niceties that would allow you to register it. As with most things it's likely verboten in California, but I imagine it is possible in other (more lenient) States. It might be some effort, but you could pretty much guarantee that you would *never* see another one like it on the road. Check it out here, and good luck!