Remember FUSA?  98 Kawasaki ZX850RR Muzzy Raptor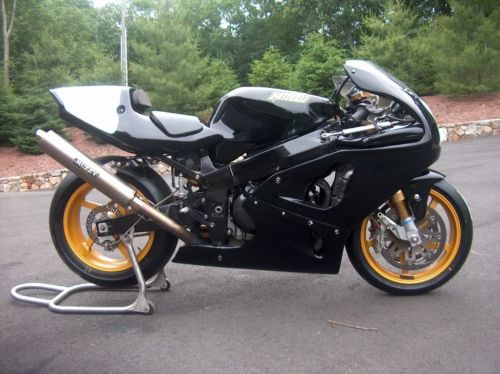 "Run what ya brung" pretty much sums up what Formula USA ( FUSA) was all about back in the 90's.  At any given race you might see a heavily modded GSXR1100 racing against a TZ250.  For a year or two there was even Rich Oliver riding a Roberts YZR500 (I think there was some pissing and moaning after these arrived).  The Raptor was Rob Muzzy's answer to the dominant Valvoline Suzuki's of the time.  Basically, give Muzzy a ZX7 and let him have his way with it.
By the way,  can someone please bring a series like this back?  I've had my fill of NASCAR on two wheels.  I like the exotic.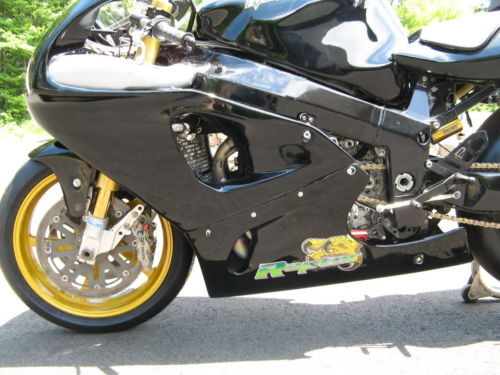 50 is the widely stated production number of the Raptors.  50 also happened to be  the number required to be FUSA legal.  The seller states Rob Muzzy claims the actual production number is around 35.  Rare, unique and semi-American made all in one.
This particular Raptor has a very cool mix of Muzzy, Kawasaki kit and high end aftermarket parts:
The motor is the highest spec  873cc ,GEAR DRIVEN CAM, Ti Carillo rods, lighten crank,world superbike head,undercut tranny. 41mm Kehien Flatslides breath through a ram air sealed carbon fiber airbox. It's making around 175 rwhp.  I did not dyno it but its a torque monster.  The motor sounds almost like a turbo because of the gear driven cam whine. Very sic!

The suspension is full GP spec 48mm Ohlins forks, Special factory Ohlins rear shock, custom suspension linkage and a adjustable triple clamp looks like it could support a bridge!  Massive pinch bolts.  The swing arm and fork are equipped with quick change Ti axles. A KES quickshifter controls the full throttle shift and the guages are all KHI (Kawasaki Heavy Industries) factory superbike pieces.

The brakes are set up with sublime AP 6piston front calipers, clamping 330 mm (they might be 320mm) Brembo Full floating cast rotors, actuated by a Brembo radial master cylinder.  The rear brake is a tiny AP unit clamping a ultra light full floating KHI rotor.

Wheels are a beautiful set of magnesium Marchasini's, 17 x3.75 front, 16.5x 6.5 rear. I just refinished them and the are perfect. A new set sprockets and a gold DID chain complete the drive line. These a pretty fresh set of Dunlop Ntech's on the bike right now.

Body work is a collection of one off carbon and fiberglass.  The tank is a one off Carbon Fiber piece of beauty.  The fairings are Jap spec 8hr Suzuka replicas.  There is a headlight custom faired in next to the number plate. The tail/subframe is all KHI SPEC. The battery box is relocated  in a custom Muzzy box along with a billet aluminum oil tank.
Who wouldn't want that engine with the gear driven cams?  Exotic!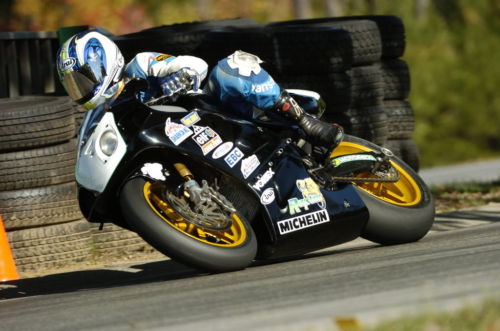 This is where the Raptor was meant to be but it was also sold as a street bike.  This one definitely saw it's share of track time:
This bike is one of the three prototypes that Muzzy built for contesting the unlimited racing series Formula USA.  The history is as follows.  Doug Chandler raced this bike twice in FUSA for the Muzzy Team.  He won the first time out at Daytona and came in third at Pocono.  The bike then was passed on to Steve Grigg who went on to crush everyone in WERA unlimited series.  Grigg held the track record at Summit Point and Road Atlanta on this bike.  So this is no ccobbed up street bike but a real GP racer. 
Who is going to snap this one up?  A Kawasaki collector or someone who wants to keep it on the track?  With a starting bid  of $20,000 I'm going to lean collector.  There are just too many options out there today for that price for the track.  Is it worth $20,000 or higher?  I have to honestly say, "I don't know".  It sure has some trick parts and you can't argue it isn't rare.  If you sleep in Kawasaki pajamas I know you want this bike.
There is a decent thread on the Raptor on the Kawasaki forum if you'd like more info and pictures.  There is actually some photos of this particular bike there as well.
You can check out the auction here.
Ian