1996 Honda NSR 250 MC28 For Sale
Location: Medford, OR
Mileage: 1,000
Price: $9,000 with reserve in place!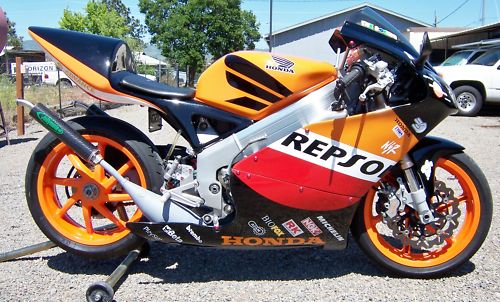 At first sight you might think this to be a regular MC28 done up in Tyga bodywork and Repsol colors. However, if you look a little deeper you can see that it's anything but a pretty package.
1996 HONDA NSR 250CC SP28 2-STROKE V-TWIN! ONLY 1000 WERE BUILT, AND 1996 WAS THE LAST YEAR THEY WERE MADE! Very rare, fast, and fun ROAD-RACING bike!

1. ENGINE

TYGA PERFORMANCE 300CC kit (Heads, pistons, rings, barrels, etc.)
Factory Oil-Injected
Custom KEIHIN carbs
NEW PGM (speedo non-functioning with current application)
Dyno-Tuned by Tony @ local dealer
Free-flowing aftermarket air filter in modified air box
Aftermarket reeds and block
HONDA Triple-core radiator
JOLLY-MOTO exhaust
NEW throttle cables

2. TRANSMISSION (6-SPEED)

NEW clutch and springs
NEW shift forks (Left, Right, and Center)
NEW Sprockets
NEW o-ring type chain

Also comes with additional clutch plates and springs, AND a parts transmission, that's 95% complete!

3. BRAKES/SUSPENSION

ZXR250 Inverted forks
PRO-ARM Advanced rear suspension system by HONDA/ELF FRANCE
NEW BREMBO Adjustable rear shock
BREAKING WAVE Rotors
Custom brake lines
ISR Brake and clutch levers and mounts
VORTEX Racing Handlebars (clip-ons)
MICHELIN POWER RACE soft tires, front 110/70ZR17, approx. 75%, rear 150/60ZR17 approx. 50%. Owner recommends replacing tires soon.

4. BODY

TYGA Performance body work (Over $2500 in custom body and paint work)
Tinted wind screen
Custom LED Tail lights
BATTLE Custom rear sets
ALSO INCLUDES: Extra Upper AND lower body work with headlights and turn signal assemblies, extra mirrors, some other extras as well
For me all of the upgrades and looky loo's don't do much for me except make me raise an eyebrow…. or two. Obviously, there has been a ton of cash put into this machine, but for what reason? With only having 1000 miles one has to assume that this is an ex-racer/track bike that has been rebuilt. Now before you go throwing stuff at me I understand that some of you guys like to modify and chase horsepower on these little 2 strokes. The 300cc kit from Tyga and Jolly Moto exhausts costs more than I'm asking for my entire MC21 so don't be discouraged by the starting bid of this machine. Personally, I prefer stock over the fiddled with, but to each there own.
I have several questions that come to mind when looking over this 'SP28'. The seller states that there were only 1000 Repsol SP's built in 1996 and that is true, but is this one of those? I seriously doubt it, but can't say for sure. If it is one of those it would be worth far, far more than the current starting bid in 100% stock trim. If this is one and has been modified to this extent I'd say shame on the seller for modifying it.
Our friends over at NSR-World.com love to share their knowledge and discuss NSR's until the cows come home so if you're new to them I suggest you start there. If this machine is of interest you can get a history lesson here.
One of my counter parts stuck this one on our Facebook page before I could find the time to tax it with my thoughts. The general consensus over there is the same as my conclusion in that at $9,000 bucks the seller likes it more than anyone else. And believe me when I say that I wish the market for NSR's were that strong because I would have sold both of mine a long, long time ago.
Click here to ask the seller some questions.
Cheers!
dd