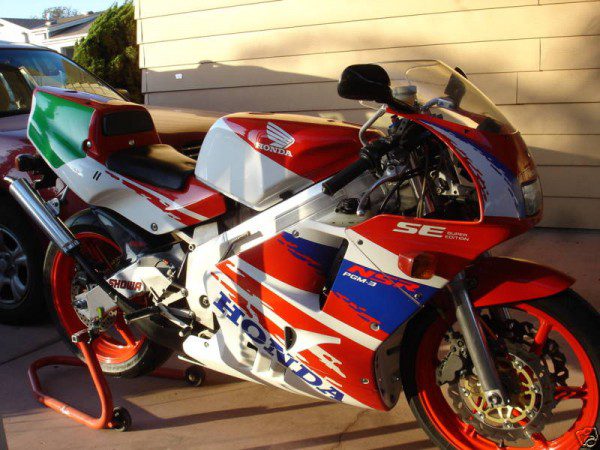 Sorry for all the two stroke madness, but when it rains it pours apparently! Here's an with a buy-it-now of $7850:
quote from seller's listing:
1992 NSR250 MC21 SE DRY CLUTCH, V TWIN 250CC RARE CALIFORINA TITLED. AND REGISTERD FOR THE LAST 10 YEARS COMPLETLY REBUILT 93 SP MOTOR, NEW CLUTCH PACK AND NEAR NEW CLUTCH BASKETS REPLATED MILLINUM STOCK SP CYLINDERS, NEW SP HEADS, FRONT HRC HEAD, HRC REED CAGES,STUFFERS, NEW MC28 HYBRID TORQUE ARM, COMPLETE FRAME DISASEMBLY AND ALL BEARINGS GREASED AND REPLACED AND STEERING HEAD BEARINGS, SWING ARM AND SHOCK LINK SERVICED. FRONT FORK SEALS, 10WT MOTUL TYGA PRELOAD ADJUSTERS, NEW FRONT/REAR DISKS, AND PADS,BRAKES SERVICED,BRADED LINES, NEW O RING CHAIN, NEW SPROCKETS/ 14/43. ALL ENGINE HOSES, CUSTOM 3 RADIATOR FAN SETUP WITH MANUAL SWITCH FOR IN TOWN RIDING DURING HOT DAYS, 16,155 MILES ON BIKE AND 375MILES ON REBUILD AND IS RIDDEN SEVERAL TIMES PER WEEKS AND IS FULLY BROKEN IN AND FREEWAY TESTED. SPARE 92 ORIGINAL BLOCK INCLUDED, SPARE NEW FORK TUBES INCLUDED THE ONES ON IT NOW ARE VERY CLEAN $800 ALONE VALUE. NEW .TIRES. BIKE IS VERY STOCK WITH STOCK PIPES,BUT IS DERESTRICTED .THE BOTTOM LOWERS HAVE SOME SCRATCHES AND SMALL SCRATCHES AROUND THE TAIL SECTION BUT IS WAY CLEANER THAN MOST I HAVE SEEN BIKE NEEDS NOTHING BUT YOU. THE SUSPENSION IS SETUP FOR 170LB RIDER. COMES WITH THE ORIGINAL FRONT FAIRING STICKERS.NO LONGER AVALIBLE. NO WARRENTY I OWN AND MAINTAIN SEVERAL NSR FOR THE LAST 9 YEARS WITH NO ISSUES AND KNOW NSRS INSIDE AND OUT.
Compared to previously listed MC21's this one is the price leader, but it does have a ton of work into it and the all important title. Apparently there are some friendly DMV folks left in the world as all the oil burners we've added recently have titles and registration!
dc