Prehistorically speaking, Kawasaki came just behind the Honda CB750 in the nascent superbike sweepstakes, but just ahead in the 1/4 mile.  The lighter weight two stroke triple had a wheelie addiction, and a substantial power-to-weight advantage, if not being a dream to handle.  This H1 is an older restoration and comes to you with a few foibles but excellent cosmetics.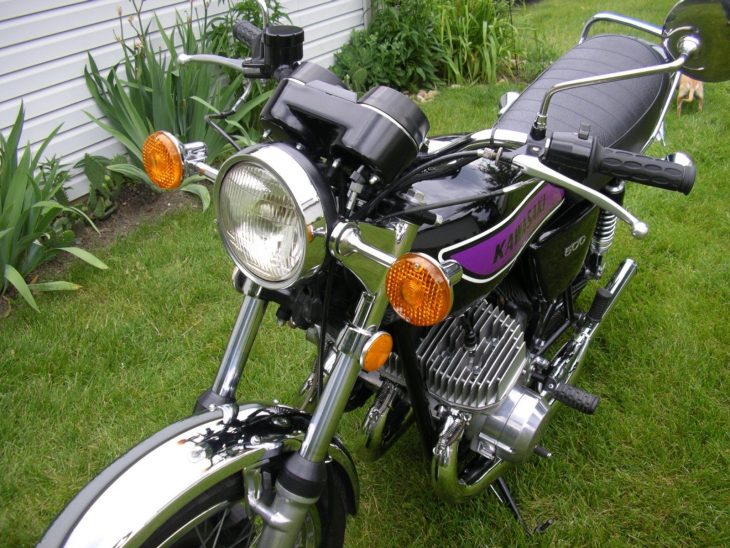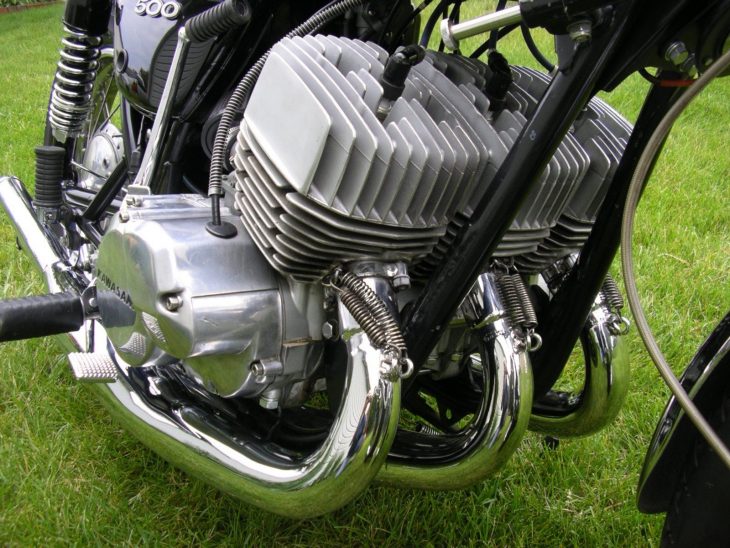 The H1 had a classic twin downtube frame but innovative two-stroke triple.  Three 28mm Mikunis fueled the engine and oil injection was automatic.  For a 500, a 12.5-second quarter was a revelation, but period single front disk and rear drum at least kept exuberance rational.  Improvements over the six years of production improved the Capacitive Discharge Ignition system and standardized the unusual N-1-2-3-4-5 shift pattern.
This late Mach III looks better than excellent with most metals looking almost new, and there's very little plastic aboard.  The Ohio owner divulges that the odometer is hopelessly optimistic, and colors are from an H2, but beside the K&N air filters it appears complete, stock, and un-muddled.  A steering damper is installed which appears stock but from an earlier year.  From the eBay auction:
Mostly stock bike with air intake pods, dual piston front brake caliper and aftermarket exhaust. Older restoration with paint and chrome in above average condition. Starts up on 2nd or 3rd kick and shifts through gears smoothly. No dents in tank, scratches or cracks in plastic. Tank has been lined. Oil injection system is complete. Gauges, lights and turn signals all in good working order. Seat and seat pan in excellent condition. Recently replaced drive chain. Mileage on speedo is not correct. Paint scheme is the H2 color, black/purple.
Reviews showed the chassis to be un-cooperative with mid-corner direction changes and rough roads in general, but once the inadequate brakes were planned for, the power slowed the passage of time.  In the better part of valor, a friend of mine in the late '70s sold his shortly after lifting the front wheel with his fiancé on the back.  Neither designed or built for longevity, few have survived in this condition, the restoration here done on a nicer example.  Bidders are off to find the reserve but the auction still has five days to run…
-donn