Honda developed their Fireblade with an eye on the ruler and the scale, keeping size and weight down so the 893cc engine could provide open-bike performance. Though often seen in white/blue/red or black/purple/yellow livery, the pearlescent yellow on this CBR has a less trendy but outstanding appeal.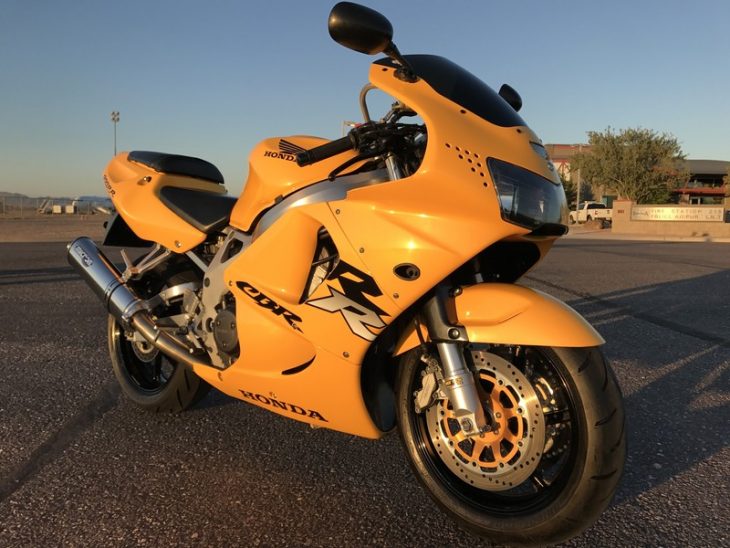 Honda developed a new inline four for the CBR900RR, nearly as compact and weighing just thirteen pounds more than it's 599cc brother.  Engineers optimized mid-range torque for the new engine, resulting in 65 ft.-lbs. at 10,000 rpm and 122 hp available.  The 45mm Showa dual-adjustable forks and fully adjustable Showa/Pro-Link rear were judged overly taut for the real road, but this set has been professionally adjusted for a full size adult.  At 296mm the front disks aren't oversized, but with four-piston calipers they can get the job done.  The compact package turns sharper yet with 16-inch front and 17-inch rear wheels.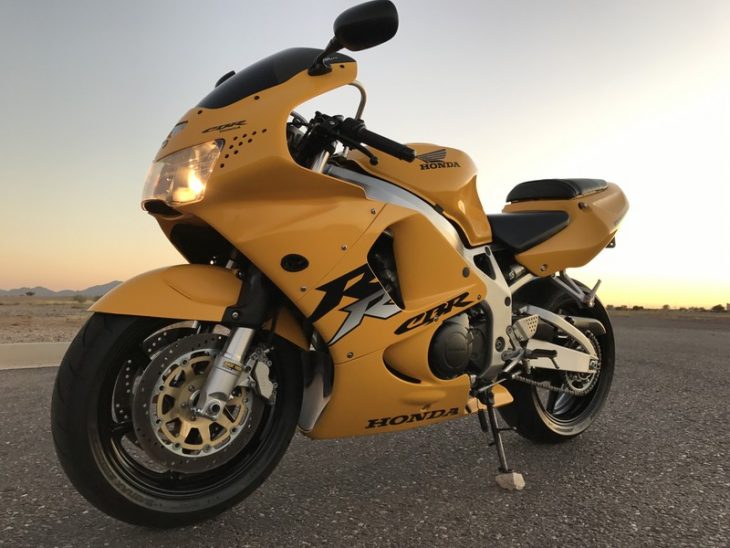 Evidently having only three owners, this CBR looks way better than its 24,000 miles normally would.  Mods were all done recently, and mostly don't detract from the CBR's good looks, which would be easier to mess up with the monochrome paint.  Turn signal smoothing and tail-tidying are fairly personal, and the factory parts are included for the new owner.  From the eBay auction:
This bike has a few tasteful upgrades.  All of which I did myself.  When I purchased this bike, it was 100% bone stock OEM condition.  So I have all of the stock parts too that I will include in with the purchase as I have no use for them. Here is a list of the upgrades I did to it:

- Micron polished slip on exhaust ($350)
- Front & rear suspension re worked by Race Tech suspension ($1,200)
- Zero Gravity dark smoke tinted windscreen ($50)
- Pro Grip carbon fiber tank pad protector ($20)
- New Bridgestone Battlax tires w/ about 300 miles on them now ($300)
- Smoke tinted LED tail light w/ integrated turn signals ($45)
- Rear fender mud guard removed & license plate raised up
- LED license plate light
- Front LED turn signals hidden inside front grill inlays ($30)
- Black brake & clutch levers ($25)
The 893cc CBR was just the first generation, and for 1994 the transmission was updated to improve shifting.  The succeeding years brought three increased engine sizes and fuel injection, but kept the core principles of compactness, light weight and mass-centralization.  Project leader Tadao Baba was a factory worker and veteran test rider, but not a designer or engineer.  His vision gave the CBR900RR a multi-year head start when compared to rival open-class machines.  This updated survivor looks like it wasn't ridden hard or put away wet, and it'll be interesting to see where bidding goes...
-donn