Last seen on RSBFS in 2015, Bimota's SB8R-S brought Suzuki's TL-1000 twin to the Rimini carrozzeria.  Out of Vegas with minimal pertinent information, the condition of this SB8RS is to drool for.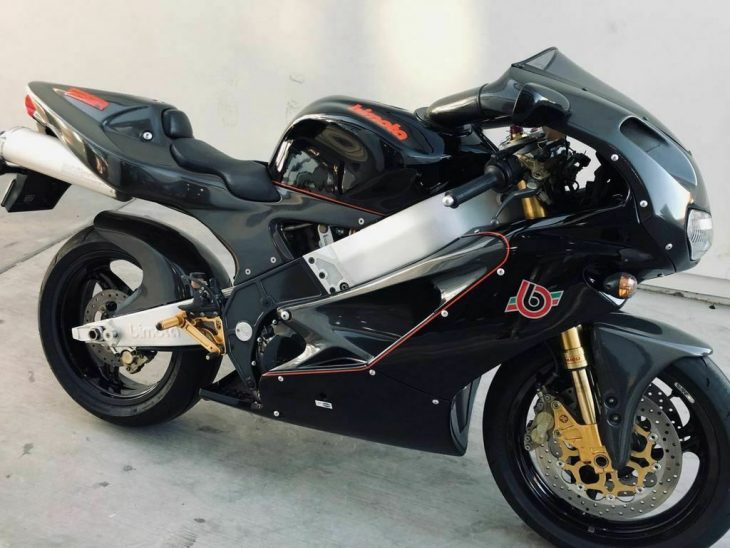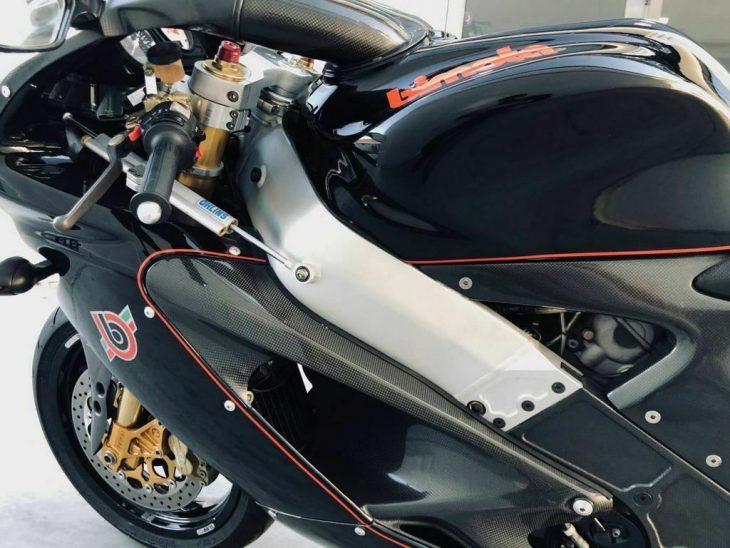 As Bimota liked to do, they took a leading drivetrain and wrapped it in their innovative chassis.  In this case the aluminum twin-spars terminate in carbon frame connectors.  The lighter weight and Bimota's intakes, bespoke fuel injection, and exhausts put 133 hp up against sub-400 lbs. dry weight.  Components from Paoli, Öhlins, and Brembo transform the lazy handling TL-1000 into a superbike worthy of the name.  Bimota showcased their carbon fab skills, with the big-weave fresh air tubes dominating the cockpit.
No maintenance or ownership history is mentioned by the selling dealer, but 1,500 miles and excellent condition tell their own story.  Though the black on black presentation is tricky, exquisite details abound.  While the interface between the seat sub-frame, frame connector and fairing is a futuristic landscape, the asymmetrical triple tree with off-center ignition switch greets the owner on every ride.  Gold Paoli accents are echoed at the pegs and brakes.
Though the SB8R was a winning model, the V-Due and Moto GP sponsor debacles forced the doors closed for a few years.  It's a  pretty nice testament to the design that it was reinvigorated in 2005 as the SB8K.  This might be the same example auctioned at Iconic recently, if so it's said to have a celebrity owner Nicholas Cage in its past.  An SB8R-S in this condition should be celebrity enough for any owner, though if it's a short-term sale the reserve is probably up there.  Something to keep a close eye on !
-donn