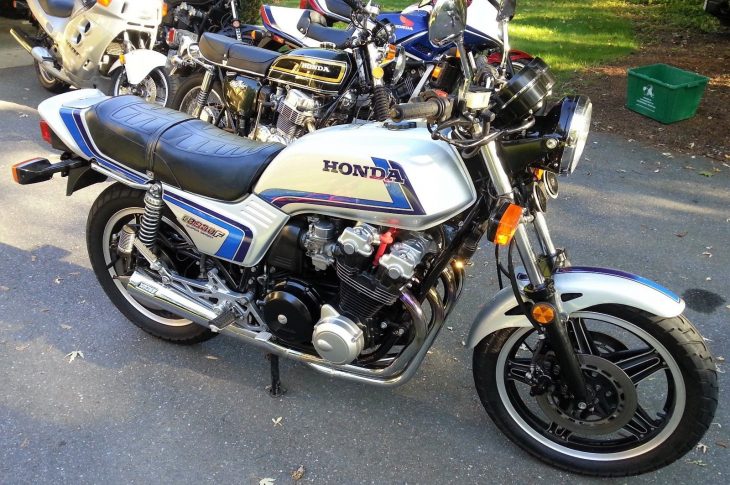 The modern "superbike" fits a very narrow design brief and, coincidentally, also refers to an actual racing class that includes big-bore sportbikes with full fairings and, typically a four-cylinder engine with an inline or V configuration. But the term was actually coined decades ago, and described big, naked four-cylinder machines with flat handlebars and relatively upright ergonomics like this Honda CB900F. Racing these machines was not for the faint of heart, as the bikes were fairly heavy for competition machines, and handling was merely "good," assuming you followed that with "for the time." Keep in mind this was during an era where engine performance far outstripped chassis development for bikes from major manufacturers, leaving outfits like Bimota with plenty of room for improvement.
The Honda CB900F certainly fits that description, with a long-stroke, air-cooled 901cc engine, a five-speed transmission, and a portly 570lb wet weight. By today's standards, it isn't nimble, and peak horsepower won't necessarily impress, but the big lump should put out plenty of torque for street riders, with plenty of style and comfort for long rides. The CB900F was only available for a couple of years before being replaced by the much-improved CB1100F.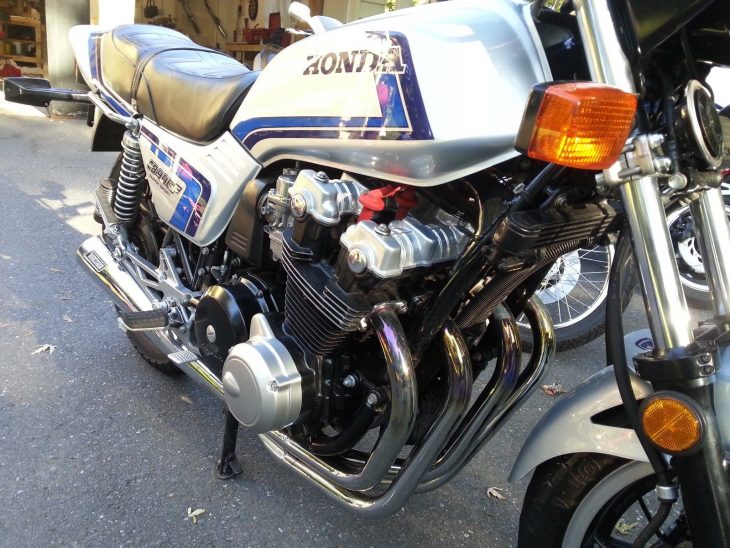 From the original eBay listing: 1982 Honda CB900F for Sale
This is your chance to own a completely restored 1982 CB900F.

– New Paint
– Engine completely gone through
– Rare Japanese lidded tail/trunk with correct Japanese brake lens and blue Honda decal.
– Weigl Telefix front fork stabilizer from 1982.
– Complete Euro sport kit.
– Carburetor overhauled.
– 150 MPH CB750 Speedometer
– CBR600F3 Coils
– CB1100F rear shocks that were taken off a bike new and never used, they are perfect.
– Both brake master cylinders rebuilt new brake pads installed, all new piston seals.
– Frame, swing arm, and triple tree were professionally powdercoated.
– New modern style bearings
– New Clutch.
– Front forks professionally rebuilt and restored using all new seals and new Progressive springs.
– Ricks Motorsport Electrics ingitors, stator, and rectifier.

*Every part of this bike was touched professionally. If a part was removed it was either restored or replaced with an NOS or OEM Honda part.

If you are interested in pictures of the build process I would be happy to email a few. I will not ship this bike but will work with the buyer to help with arraigned domestic or international shipping. I will answer every question asked honestly and I am available by email.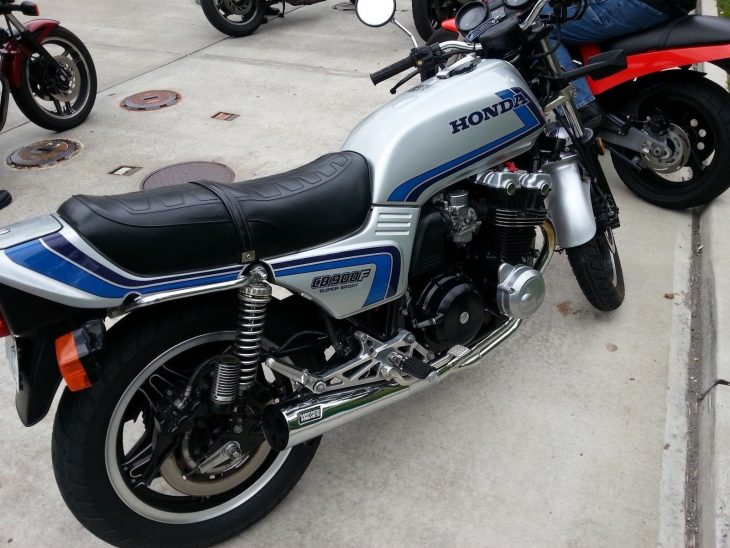 From the listing, it appears that this bike has been enthusiast-owned and comes with a few tasty period performance and appearance accessories. Superbikes of the early 1980s haven't really begun to appreciate in the same way that similar machines from the 70s have, and some very nice examples have been available recently for very reasonable prices. This one is listed at a Buy It Now price of just $5,500 which seems very fair considering the apparent condition and the work that's gone into it. Every day rider, collectible, classic, bike night ride to show off: it's a bargain price for a bike that can do all that.
-tad