Warning!
This post is in our archives. Links in this post have been updated to point to similar bikes available to bid on eBay.
Time to jump into the Wayback Machine and make the trek back to the 1980s. Legwarmers are optional equipment here. What you are looking at is perhaps the most polished and complete of the factory Turbo bikes of the era. A technological tour de force of the time – along the lines of 2001: A Space Odyssey – the CX650 Turbo promised the next big direction for motorcycle motivation. Honda was experimenting with every engine configuration and size possible during these times, and the blown, traverse V-twin powering the CX series was but one of the contenders. The result of Honda's engineering might made it all work surprisingly well: the CX650 Turbo was known as the roll-on king due to the power available on boost. Even by today's standards this model pulls strongly through the gears and can shame modern machinery.
The problems with all of the Factory turbo bikes – weight, complexity, unpredictability and cost – were never really eliminated. The inexorable creep of time provided better advancements in different directions (think V45 Interceptor & Hurricane). It didn't help that the Turbos were pricey machines in the showroom, and riders voted with their wallets; The dream of boosted power quickly fell by the wayside. An interesting step during a period of fantastic development, the boosted bikes from the 1980s are now becoming respected as potential collector items. Prices are very slowing inching upwards as finding a clean example becomes more difficult.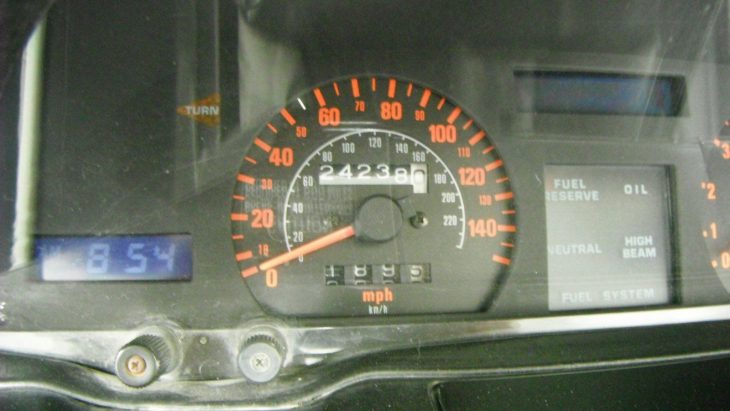 From the seller:
Here is a true survivor, all original, 1983 Honda CX650 Turbo motorcycle with 24,238 miles on it. From the factory this bike produced 100 horsepower and is capable of hitting 140 mph. This is a very rare bike because there was only 1,777 of them made and less than 1200 imported to U.S. and Canada. This bike ran the quarter mile in 11.95 seconds at 112.4 miles per hour and has average touring range of 243 miles. With in the last 150 miles I have done the following: new tires, brakes, starter, starter clutch, fork seals, springs and fork fluid. This bike has fresh oil and filter, new spark plugs, new differential fluid and cleaned the fuel system, and runs great, very fun to ride. This bike has not been painted and it good shape for its age. The bike has a minor oil leak and some minor body damage. The bike has clear title and is sold AS-IS, no warranty. The bike is available for viewing while it is up for sale. Shipping will be the buyers responsibility. This bike is not sold as a new bike, it is used and in good shape. There is scratches and some cracks in the plastic and stickers are faded. More pictures are available upon request.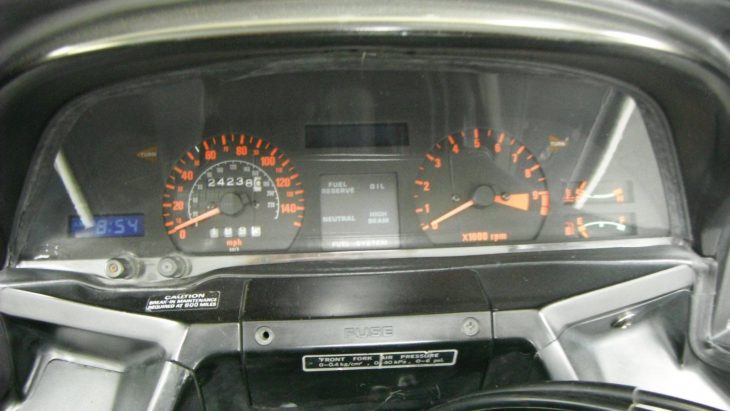 All the Big Four Japanese manufacturers created Turbo bikes – and parts are scarce across the board. If you are in the market for Turbo, you'd be advised to purchase the most complete one you can find. As for Hondas, the '83 650cc model is miles ahead of the CX500 Turbo in terms of performance and general response. Weakness are few; aside from the scarcity of parts (such as bodywork), these machines are known to eat stators. It is not common to find one that will not charge the battery while otherwise running fine. Replacement requires you to pull the engine, and with factory parts no longer available you will need to source an alternate. But that is really the only warning here.
This bike looks to be complete, and pretty good overall despite minor cosmetic damage. The seller has provided good information and numerous pictures. Mileage is above average for the collector set, but it is always nice to see a bike that has been run as intended. These motors are good for many, many miles so that is not a real worry. If you are in the market for something different, this just could be your ticket. Check it out here, as the bidding has been low thus far – you might just find yourself with a bargain Turbo. Whoosh!
MI