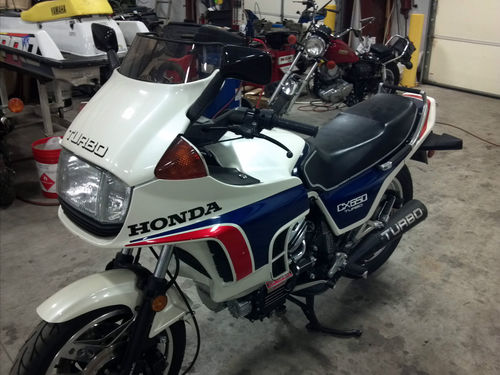 These Honda 650 Turbos are technology giants. Built during an era where Big Red tried practically any engine/induction combination possible, the CX650T turned out to be a milestone motorcycle which is still earns respect for its prodigious torque when boost builds.
The Turbo bikes – regardless of manufacturer – are all reasonably rare machines. They were all one or two year machines only, and due to the technology and cost none sold well in the showroom. All were discountinued before the new tech could catch on, and thus these bikes are becoming more and more difficult to find in good, clean condition.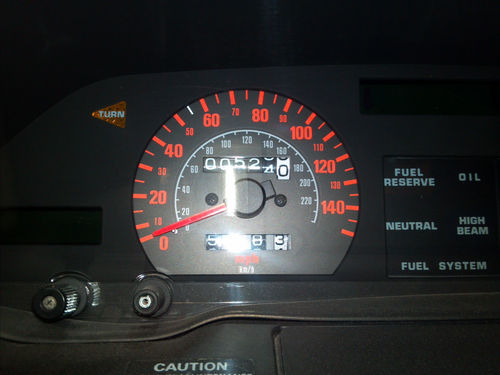 From the seller:
This bike is one of the rarest pieces of Honda history and one of the most fascinating bikes ever built, by Honda or any other motorcycle manufacturer. This is your opportunity to own one of Honda's best!

This motorcycle is in outstanding condition and only has 524 original miles on it. It is all original and in excellent condition. It is an excellent example of an original, unrestored CX650T. Not quite a 10, but very close and could be made a 10 very easily. It currently has Continental tires on it, a Conti-Go 100/90-18 front and a Conti-Go 130/90-17 rear. These tires were installed in 2009 to allow the motorcycle to be ridden safely on a 250 mile Vintage bike trip. This is the last time the bike was ridden. The original tires are included with the bike in this auction for the discriminating buyer that wants full authenticity and originality. This bike starts, runs and drives as new. There is no rust in the tank, fork seals are good, brakes are good. It could, literally, be ridden home by the lucky bidder.
This particular bike has only 524 miles on it. Seriously people, how do you do that??? I could sit on the freeway all day long, rolling the throttle on and off (whoosh!) and rack up that kind of mileage. The 650T is a comfortable machine, and that big fairing blocks a tremendous amount of wind blast. Just build a little bit of boost and hang on tight!
Next to the original Kawasaki Z1R-TC bikes, the Honda CX650T is probably the most valuable of the factory turbos. Pricing has definitely been on the rise, and is reflected here. This auction is up to $7,600 at time of writing – with reserve still in place. Bidder interest is high, so this one might go the distance yet. For all the details and pictures (including a lot of Honda info provided by the seller), click the link and jump over to the auction. May the Boost be with you!
MI