Succeeding the 750 F1, the 750 Sport changed places with the Paso which went on to 904 cc.  Though found on the bargain side of the Ducati showroom, the 750 Sport helped the brand through some negative reaction to the innovative Paso and held the door for the Supersports which followed.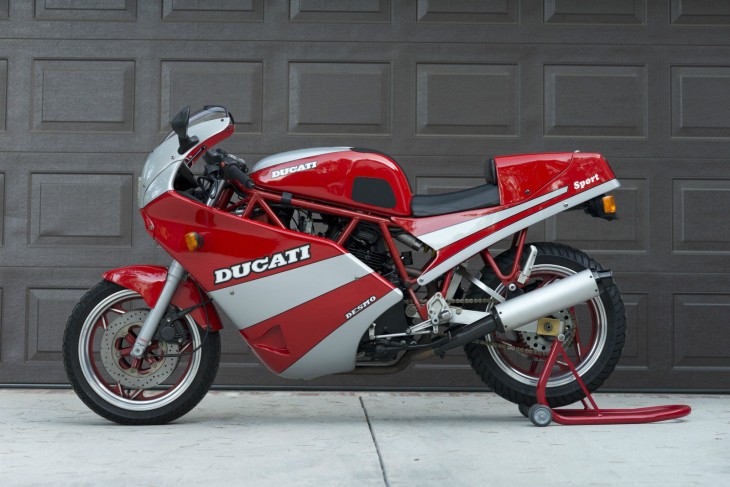 A Weber carbureted desmodue, the 750 Sport gets 75 hp from from the air-cooled 748cc's.  The trellis frame is substantially 750 F1 with extra room under the tank for the larger airbox.  Suspension is Marzocchi front and rear, with Brembo brakes, 280mm fronts and 270mm rear.  Full fairing is a blend of a Paso-ish square headlight nose and F1 seat fairing, but hangs together well.  16-inch wheels are another Paso legacy, but do improve handling.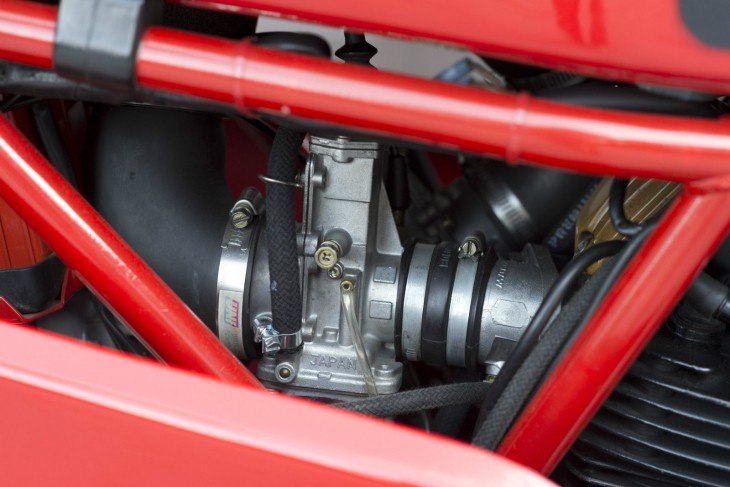 Looking just great for a member of the quarter-century club, this example hasn't been hidden away with 17,500 miles.  The owner has addressed the major rideability issue of the Weber-equipped 750, by upgrading to Supersport-era Mikuni carbs.  Crucial maintenance items just completed.  From the eBay auction:
Upgrades include Mikuni flat slide carbs, 900SS rear shock and beautiful sounding and rare Conti pipes. Belts and all fluids changed at the beginning of the year as well as the fully rebuilt forks. Tires in very good shape. The bike runs and performs great although a minor carb adjustment is needed.
Comes with the original rear wheel hugger (not pictured), spare turn signal parts, binder with a manual, articles about this model, receipts, etc. and a custom made tri-color cover.


The bike is in outstanding shape except for very few and surface nicks, all pictured:
– on the underbelly of the body panels (normal usage)
– a small crack in the right fairing by the foot area 
– a surface scratch on the tank south of the fuel cap (happened during transport while moving and is currently under the custom cut tank pad) 
– a small touch up in silver done by previous owner
Wheels are flawless. 

I also have an extra full set of fairings and a silver colored (European version) NOS spare fuel tank which can be purchased separately. 
Obviously owned by a fan of the marque, this 750 Sport has been cared for and upgraded.  Though performance isn't that of a newer superbike, overheating and complex valve adjustment aren't there either.  Wear parts are a bargain, and tire availability is actually better now than it was shortly after this bike was introduced.  Classic good looks are helped by a very special factory paint scheme.  If the buyer could talk the owner down from his buy-it-now a little, it'd be just the ticket for a rider who wants to stay out of big-ticket territory and knows just how good a 750 Sport can be…
-donn