Tagging along with the CBR-900RR of 1992, Kawasaki developed a bike to bridge the gap between the 750cc sportbikes and the 1100cc sport-touring machines.  Offered in the green, white, and blue of Kawasaki's racers, it was also available in maroon or smoke subdued paint schemes.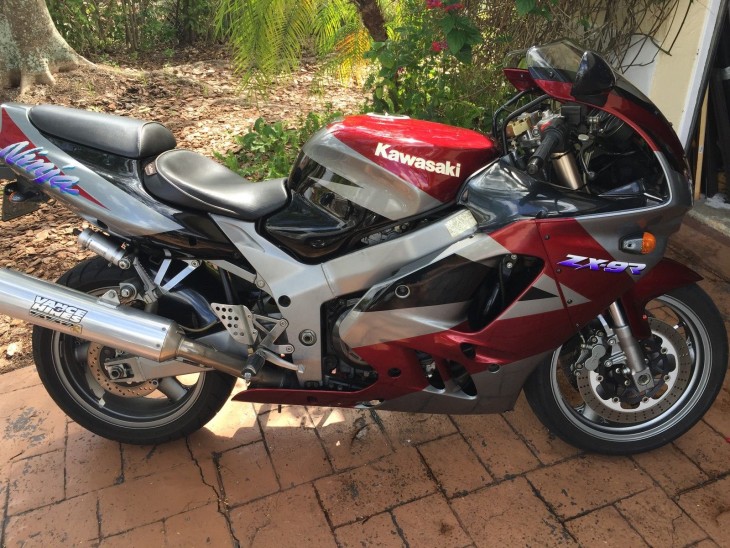 More than a racer with lights, the ZX-9R is a stable-handling powerhouse, 139 hp and slightly relaxed riding position.  Race-developed innovations are civilized on the ZX-9R, the fabricated alloy perimeter frame and swingarm are made from beautiful sculpted stampings.  The clip-on handlebars rest on top of the triple clamp, ready for a longer ride.  The adjustable upside-down forks and remote-reservoir rear shock are rather softly sprung.  The 4-piston front brakes from the ZZ-R1100 are more than up to the task.
The owner gives a lot of information in the eBay auction:
You are looking at a classic 1994 Kawasaki Ninja ZX9R in Maroon/Silver/Black.This was the 1st year of production for the ZX9R. My bike is in unbelievable condition.I have owned it since June 1995, when I purchased it from Kawasaki of Ft. Lauderdale off the showroom floor with 1000 miles on the odometer. The bike has been registered and on the road since then, but only has 11,692 miles on it 21 years later. That's an average of 557 miles per year! It has been garage kept and I have never driven it in the rain. The bike is impeccable,no dents, no dings and the only mar is a scrape under the fairing below the radiator that can't be seen.There is no pitting,no rust,no discoloration anywhere. The bike runs, rides and drives as strong and straight as it did the day I bought it. Everything functions perfectly including the radiator fans. The only flaw mechanically is a slight clunking sound while shifting (may need a new clutch eventually). The bike is tastefully upgraded with a Vance & Hines ss2r pipe, Scotts steering damper, braided steel brake lines, K&N air filter, rear tire hugger, carbon look turn signals and Corbin gunfighter seats (I have the like new original seats). If this is your dream bike don't hesitate! The only way you will find a nicer example of a ZX9R is to find one still in the crate! I even have the original tool kit, books and paperwork for the bike!

Not ridden much and garaged in Florida, this example has a few nice improvements, still undamaged and shiney.   Nice Corbin seats, but stock seat included, as are owner's and workshop manuals.  The owner promises two helmets and jackets if you use buy-it-now.  Still a sportbike capable of a 10-second 1/4 mile and 170 mph, maybe you had a green/white/blue one some twenty years back and are ready for another, like you, camouflaged as an adult.
-donn