In many ways a template of the Superbike RC45, the middleweight RVF400 ( NC35 ) had its own character and predatory facial expression.  This Wisconsin rider looks very good despite some prodigious miles.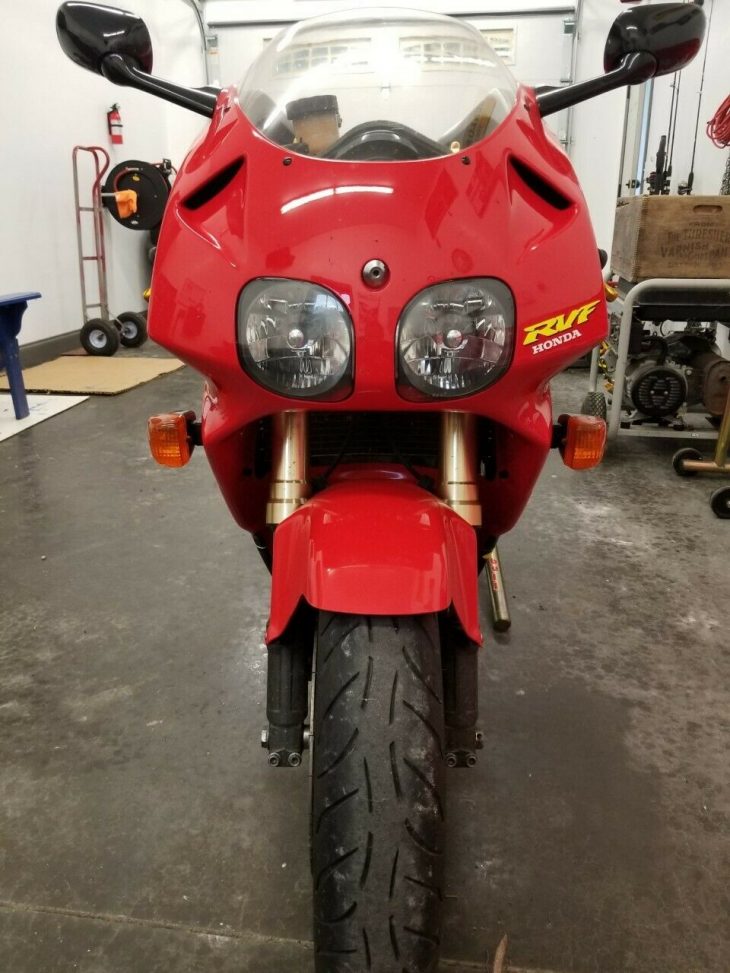 Honda made a substantial update to the VFR400R, with a new chassis, inverted forks and 17-inch wheels front and rear.  Changes to the carburetors and valve timing could improve the torque curve but power was legislated to be 59 hp.  Air scoops and tracts over the handlebars deliver fresh if not ram air.  Forks and monoshock are adjustable for pre-load and rebound, and 269mm brakes are Nissin branded.  From down the block, the styling could fool you into an RC45 sighting.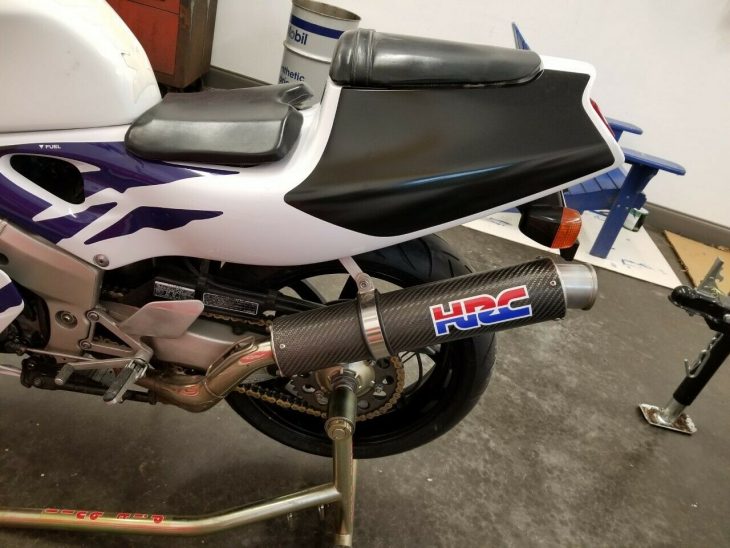 Though it has seen 37K miles, this RVF shows nicely and has just a few wear marks to show for it.  Un-faired photos show the beauty to be more than skin deep.  From the eBay auction:
Clean and titled low-mileage 1999 Honda RVF400 (NC35). Registered and plated in Wisconsin. Clean title on hand. Some history on this bike: This bike is the little brother to the legendary RC45. The NC35 is a classic for collectors or exotic bike enthusiasts. As an evolution to the VFR400 (NC30), the NC35 comes with upside forks and 17" rear wheel for improved handling. Other unique features include a lightweight aluminum frame, and single-sided swing arm. Not to mention Honda's V4 bullet-proof gear-driven engine with its distinctive rev whine. I purchased it from a private collector and have ridden it regularly. Bike starts right up and runs flawlessly. This bike has only seen non-ethanol fuel.

It is currently kept on battery tender and Pitbull front and rear stands. Cosmetically in great shape. OEM fairings show signs of age, but was very well maintained. The paint/decals throughout are still glossy. A couple of minor blemishes from prior ownership: tank has a small chip which was touched up. Details shown in ad photos. No other cracks or blemishes that I am aware of. Again, I rode this bike for many years. It is not in pristine show room condition. I'm happy to provide additional pictures if desired. Minor modifications I added to the bike – steel braided brake lines, CRG levers and a carbon fiber pipe (original canister available). Overall bike condition is very clean and well cared for; with some normal signs of wear for twenty-one year-old bike. It is a blast to ride and a conversation starter as many have never seen this bike.
The NC35 might've been considered a beginner's bike here, but it was offered only in Japan and made its way around the globe in the gray market.  Lighter race riders have embraced its handling and build quality.  Unlike the racy singles being proffered today, the RVF400 has an exotic V-4 engine with a soundtrack provided by gear-driven cams.  While a collector could keeping shopping for less miles and patina, a rider might be happy it's not perfect.
-donn