Suzuki GSX-R 750 Lucky Strike 1900 km (!) 5320 $
Here's a rare version of a not so rare bike: the Lucky Strike edition of a 1992 Gixxer 750: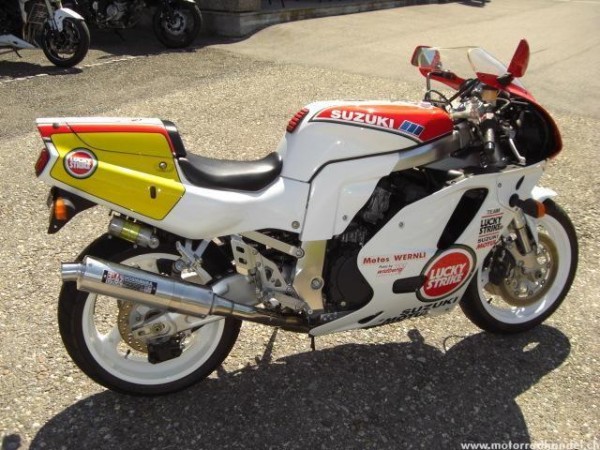 Besides the original color scheme, this bike is also worth the excursion to Switerzland because of its mileage of just 1900 km!
Much has already been said about the glorious and reliable R-versions of the Suzuki GSX. Just in case, this is the first version of the water cooled engined bikes also known as GSX-R W. While the model saw production in 1992 (!) for the first time, this sample here was registered on public roads in the Confederation only in 1994. Considered by the enthusiasts not the best of the series due to its increased weight versus the previously oil cooled models, this bike will still deliver enough thrills thanks to its powerful and robust engine. Add in a beautiful and now rare to find Yoshi muffler included in the package and you are ready to ride off in pure Suzuki GP nostalgic style:
With a 34 number on that yellow rear cowl plate holder you'll be giving tribute to the unforgettable Suzuki rider legend Kevin Schwantz: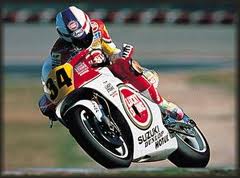 The bike here is described by the seller (Mr. Buser) as better than new (I guess he is referring to that Aluminum Yoshimura…):
Schöner als Neu,Liebhaber Fahrzeug.
It is quite difficult to find such a pristine model and while the picture below is a bit blurred, you can still count the zeros and realize that the bike hasn't even reached the first 2000 km from new.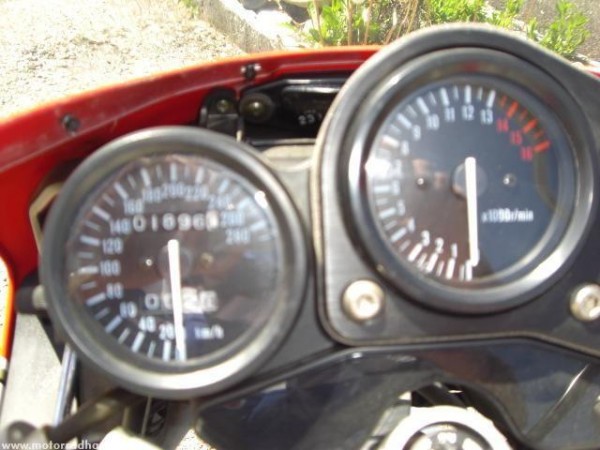 The bike is sold by a private through the Suzuki dealer of Mr. Wernli who will give you 1 month warranty on top of it. I know myself Mr. Wernli and in particular the many wonders hidden in the seller of his shop in the country side in canton Aaurgau. I can only say that if you are a Suzuki GSX-R fan or a Honda CB Four or… etc. etc. you"l drop your jaw when stepping down the stairs from an otherwise  conventional Suzuki dealership and glaze at his private collection. Now these bikes are not advertised for sale as such but, let's say that you are passionate enough, you know what you are talking about and you might be able to approach him for the bike of your dreams. This is were I bought my beloved '86 GSX-R 750 R Limited Edition with also less than 2000km on the clock….Bless him !
Click here for a full model history of Suzuki's best known super bikes.
Claudio