Update 5.30.2020: This bike has SOLD! Congratulations to buyer and seller! -dc
Each manufacturer and year can have but one flagship, and for Honda in 2005 it was the CBR1000RR Repsol.  RSBFS reader Don has been saving this first-year Repsol with great care for the next owner, and recently re-filled the consumables but hasn't yet ridden a mile.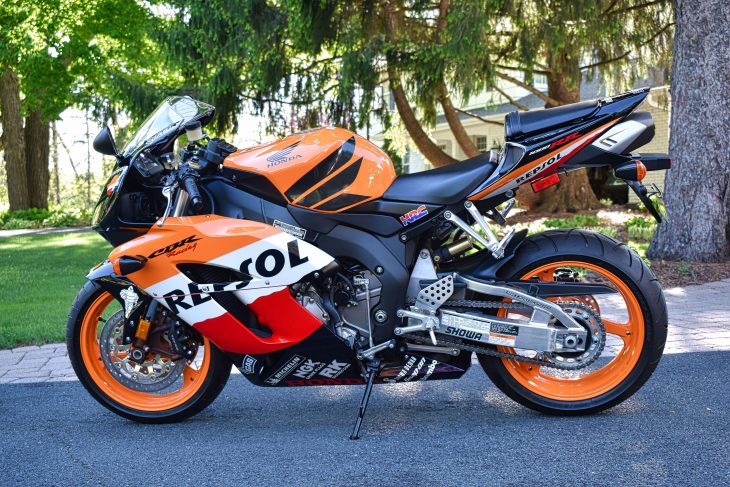 First Year 2005 Honda CBR1000RR Repsol Edition for sale
As Honda often has, they let the development team behind their RC211V Moto GP bike give a great deal of input on the CBR1000RR or FireBlade.  While the racer's V5 would have put production costs into the stratosphere, a new inline four was presented with electronically controlled ram air and power valve, and eight fuel injectors helping develop 172 hp.  The alloy chassis was composed mostly of die-cast segments, with 43mm cartidge forks and Pro-Link monoshock on an extended swingarm to accommodate all those ponies.  An electronic steering damper provided lighter control feel at lower speeds, and more stability under warp drive.  Styling also took cues from the RC211V, an angular design with rads vented to the side and aerodynamic from the nose to the seat sub-frame.
Don sourced a perfect example for his collection, and has prepared it with new fluids and break-in oil for the next owner.  To say it is stock and as new really understates the impact of this time machine.  His comments:
This bike has zero miles and is just as it left the factory, following dealer prep. Over the past 15 years it has been stored in very controlled conditions because there is no evidence of oxidation or corrosion whatsoever.

Prior to first start up, I began by changing the oil (Shell Rotella T 10w40 for break-in) and filter. I also changed clutch and brake fluids (Amsoil DOT 4 racing fluid) and flushed and replaced the coolant. I removed both sets of injectors and cleaned them in an ultrasonic and then with a Motion Pro injector cleaner. All injector seals were replaced with new OEM parts. I installed a new AGM battery and started and heat cycled the engine several times. Engine is running perfectly. I have not ridden the bike.

The bike is now ready to keep, display or ride (still has its original tires however). This is a first year Repsol and will become the most collectable, just as the first year Fireblades already are. Although its now 15 years old, it looks like it was just uncrated. Original toolkit and user manual included.
Based in Minneapolis, Don asks $11,500 for his Repsol.  His walk-around video is below.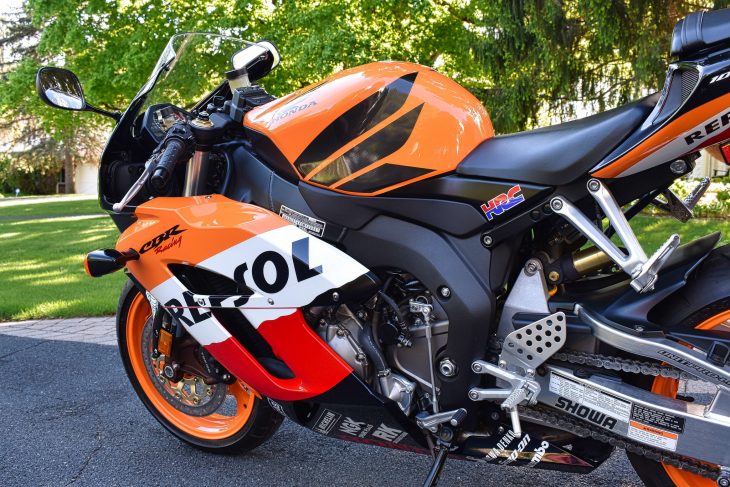 Repsol has been a great Honda sponsor and the RC211V had a dynastic run of Moto GP championships, under Valentino Rossi and Nicky Hayden.  The CBR1000RR had to wait until 2007 for its WSBK championship, with James Toseland aboard – but in Hannspree's white and green livery.  Nice to know Don's CBR1000RR is ready to go, but I'm guessing a real collector will pick up a rider and preserve this virtually perfect example as a fitting bookend.
-donn