3.9.2023: This bike has SOLD! Congratulations to buyer and seller! -dc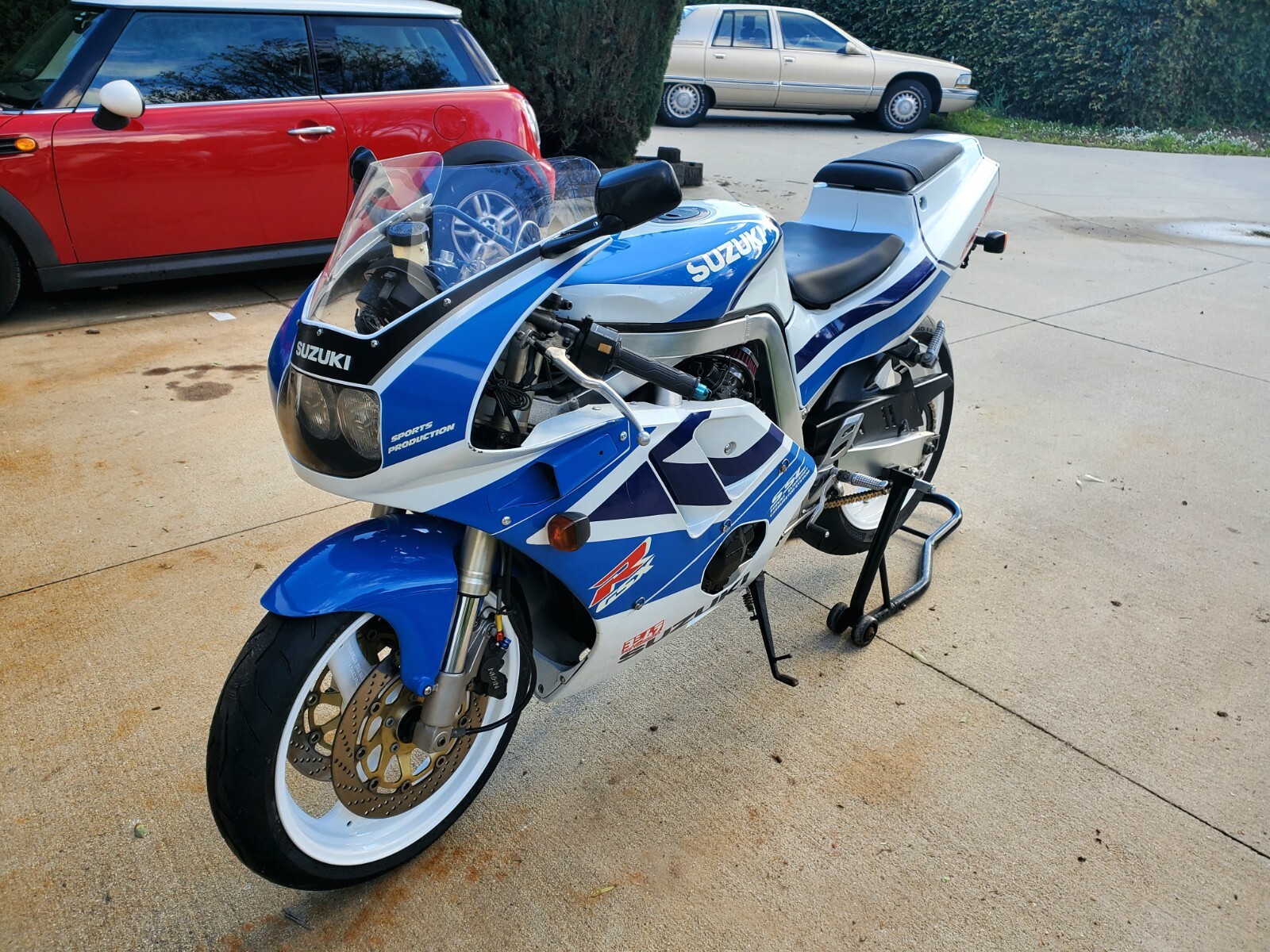 If you're an enthusiast of rare sport bikes, this deal is a 4 seam fastball right over the center of home plate. 90s Zook? Check. Twin Headlights? Check. Good Condition? Check. 14K redline? Check. Get out the rye bread and mustard grandma, cause it's GRAND SALAMI TIME! This is RSBFS bread and butter right here.
The Suzuki GSX-R 400 is not nearly as common as its bigger brothers and our experience at RSBFS is certainly reflective of that. The 90s was a pursuit of outright performance for manufacturers and that generally meant big power and weight loss. Consumers were all over sport bikes and road racing was very popular so that's where the R&D dollars naturally flowed. Buying a small displacement bike when you could get a big displacement bike was likely an indicator of how much space you displaced…down there. Comments like that is what probably scared the marketers and bean counters back at the factory and stopped them from bringing stuff like this to the US. However, the 400 which acted as an entry point to the 750 likely faced similar scrutiny in other markets as well but as time passes collectors and values have reflected a strong change in sentiment. Interestingly enough, the tastes of the market are showing signs of diversification. Kawasaki is debuting a Ninja ZX-4RR this year in the US market which is a 4 cylinder, 400cc track-focused bike Maybe the Suzuki factory was on to something from the get go.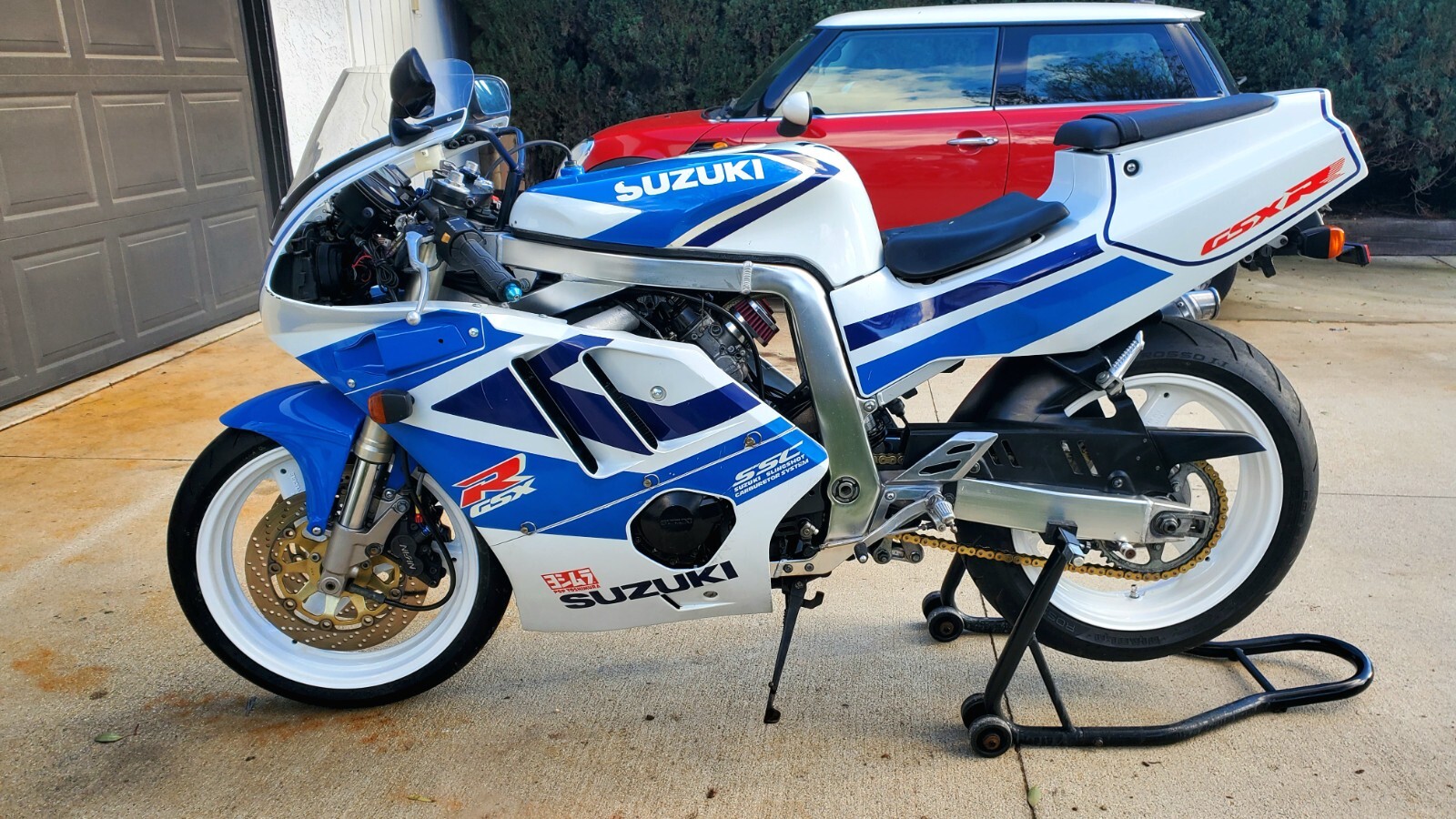 One of the factors that made this bike less appealing at the time was that you had to reach all the way to the top to 14K RPMs to get all 60 hp. Nowadays that's pretty cool. As mentioned earlier, Suzuki was scaling down and applying their learnings from the bigger bikes to the 400 so you got a motor/chassis package that was dynamically competent and cohesive as well. Obviously, the bigger bikes went on to have a much higher ceiling but unless your are looking to set a track record, you won't notice any of the areas in which the 400 lagged behind the bigger bikes.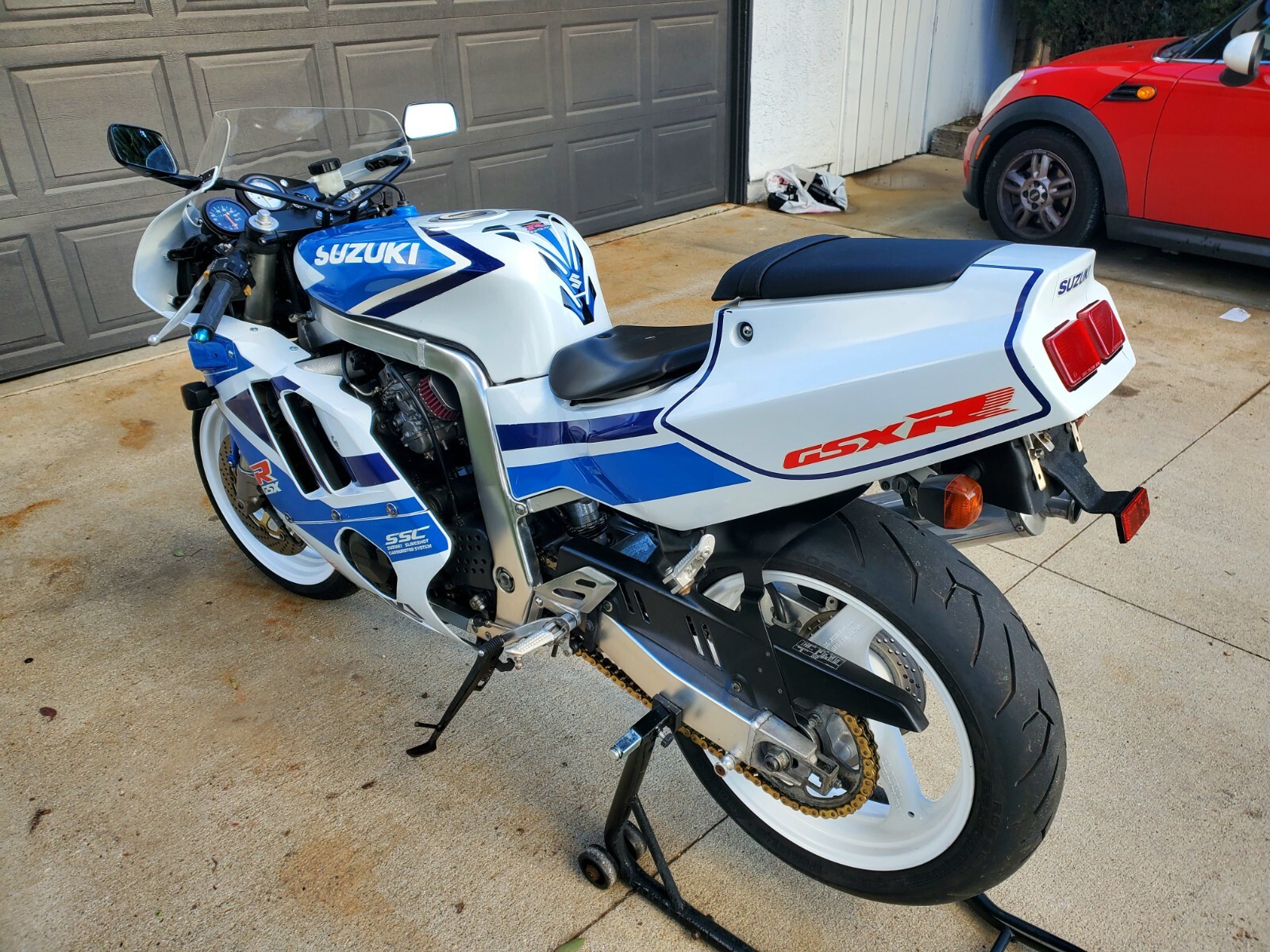 From the seller:
1991 Suzuki GSX-R 400 M – extra motor and mid-panels (perfect condition) included with purchase. I've recently imported this very rare GSXR. It is an exceptional runner with many new parts as listed below.  Video available upon request and on my FB page.

Gauges in kilometers. Bike only 17+k miles. Tank and Body needs some paintwork. See photos.

All import and CBP paperwork is included. Bill of Sale only, but EASY to register (I can advise on CA registration)

All bodywork is OEM without any cracks or breaks
New Pirelli Diablo Rosso II Tires – ridden only once for testing
Powder coated Wheels
Front fork oil seal replacement, dust seal replacement, circlip replacement, slide metal replacement, estor oil change oil level adjustment
Front & rear all bearing replacement, hub damper replacement, F/R tire replacement
Carburetor All seals replaced, choke plunger repair, all float needle replacement, all diaphragm replacement, negative pressure adjusted
Engine head cover packing replacement, all head cover bolt packing replacement, thermostat replacement, water temperature gauge replacement (KOSO),
Front & rear brake all piston seal replacement, rear brake pad shim replacement.
Braided brake hose replacement (Active), F/R piston cup kit replacement
Other Igniter repair modification MOSFET (Katana famous)
New RK chain replacement
Fuel tank cleaned and coated inside
fuel F external packing transplant, fuel seal replacement
Aftermarket grip replacement &
LED bulb replacement
New fuel hose
Iridium plug replacement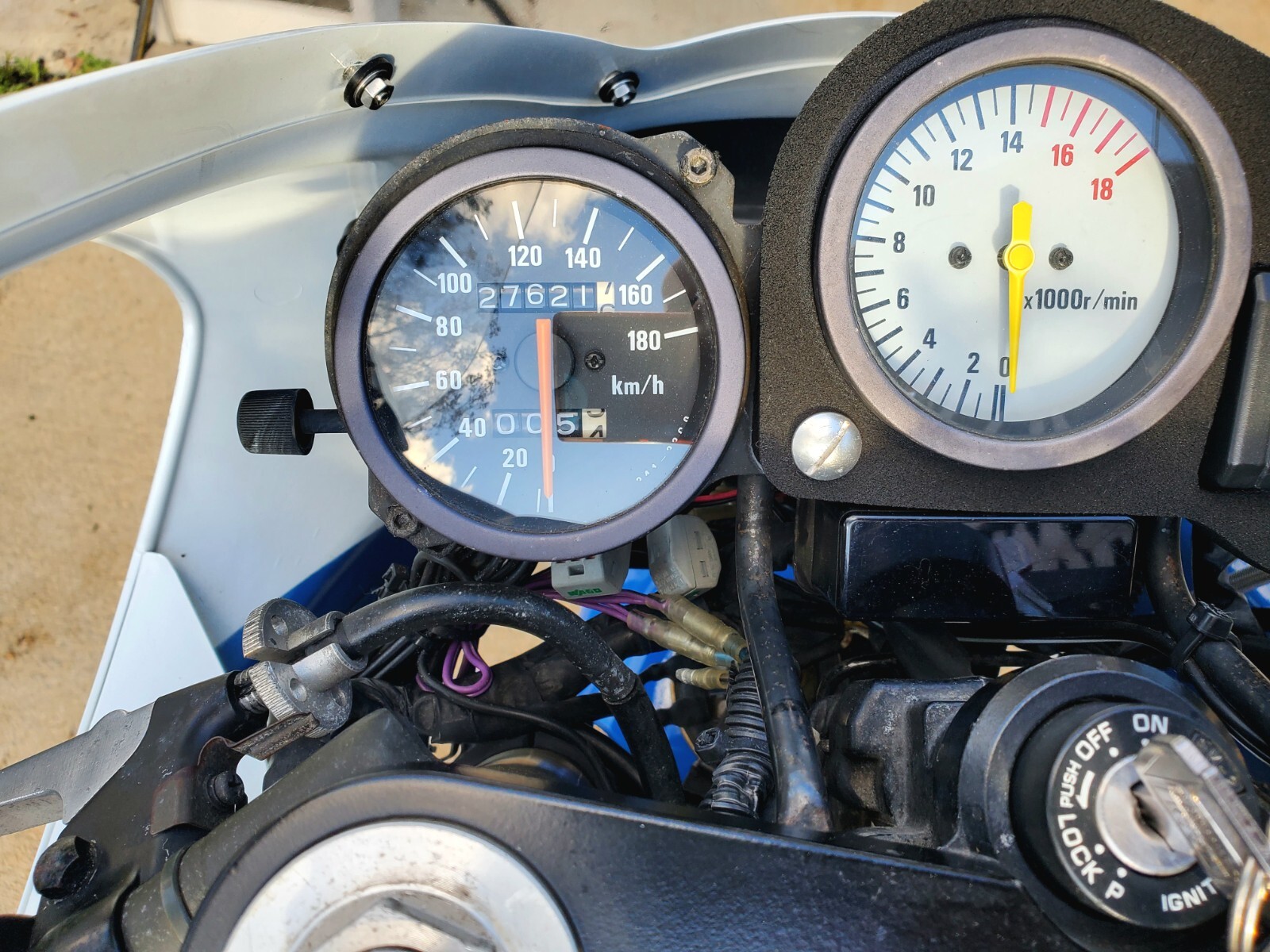 This bike isn't perfect as called out in the listing but it seems to be very clean outside of the few noted blemishes. 17k mi is a healthy amount for 30 year old machine but the bike doesn't really show it's wear. The key is that it's got good bones. In addition, a spare motor and mid panels are included in the sale as well. Spares are some of the most satisfying things to collect in a sale as they provide some peace of mind and indicate the prior owner was a planner. Never a bad sign.
A high strung, analog 4cyl has and will always have a pretty good USD exchange rate. There's no doubt the only path forward for the Suzuki GSX-R 400 is up. Our seller has got the listing on an eBay auction which can be found here. The auction just started with a starting bid of $6.9K. Good luck!
Thanks for reading!
Norm