Update 8.24.2017: Seller has notified us that this bike is sold. Congratulations to buyer and seller! -dc
Some bikes take years to become collectible: 1980s GSX-Rs could be had for basically peanuts up until very recently, when sportbike fans realized that very few nice examples of these iconic machines were left. But these were made as recently as 2009 and, after a brief period of time where they sat unsold on showroom floors, the Ducati SportClassics began to rapidly appreciate. In fact, it almost seemed like all it took for values to take off was for Ducati to discontinue the line… Is the custom work and low-mileage condition of today's Featured Listing Sport 1000S worth what the seller is asking? Time will tell, but there's no doubt that this show-winning machine is one of the nicest examples out there.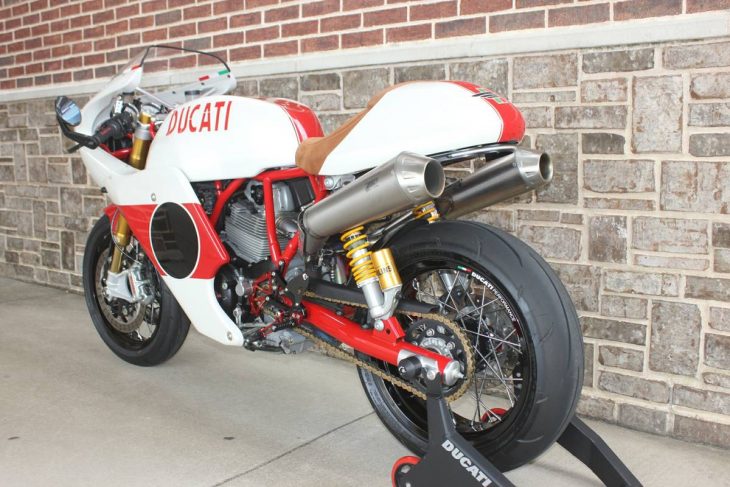 Whether you chose the Paul Smart, Sport 1000, or GT1000 SportClassics all got the same drivetrain: Ducati's well-developed air and oil-cooled 1000DS engine with twin plugs and a claimed 92hp. It was the perfect package for the mature sportbikers Ducati was targeting, and the SportClassics clearly had one eye on the future and one on the past. This bike is actually the Sport 1000S that took the Paul Smart's place in the SportClassic lineup once that limited edition machine ceased production. The Paul Smart was a monoposto, a result of the unusual tubular swingarm that had its monoshock offset on the left side, but the Sport 1000S used an even more retro dual-shock setup that allowed you to take a passenger. Unless of course you decided to replace the stock exhaust with a full titanium system from Zard…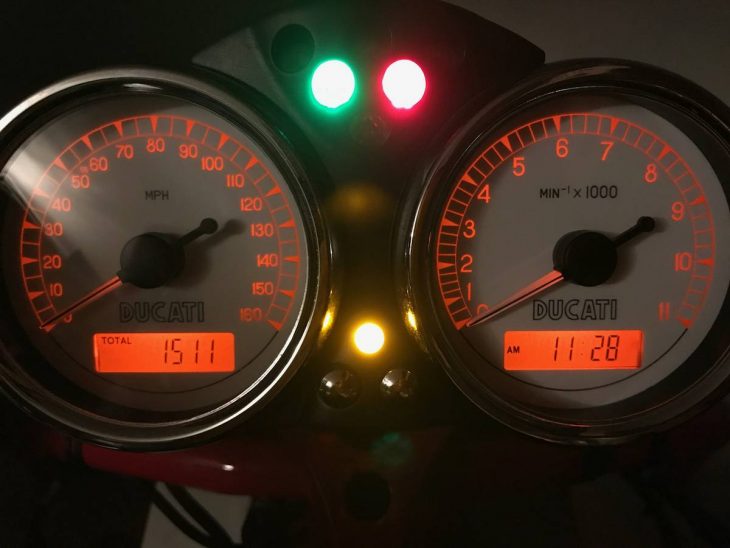 If you're a fan of originality, this particular Sport 1000S might not be your bag, but the paintwork is appropriately evocative and the classic Ducati logo looks great on the tank. The original half-faired bodywork suggests bikes like the classic 750SS, but I love the way that titanium header pipe passes through the fairing lowers on this setup. Certainly the upgraded front and rear Öhlins suspension components should provide impressive handling if you decide to risk your investment on a racetrack or winding back road.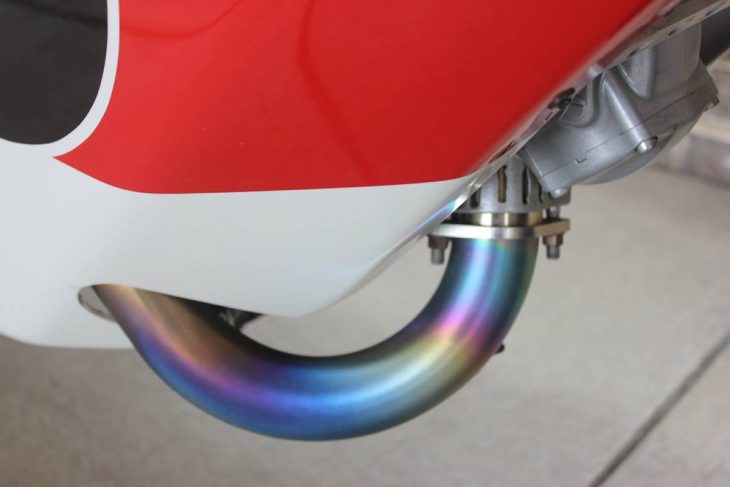 From the Seller: 2007 Ducati SportClassic Sport 1000S for Sale
Custom Build with only 1,511 original miles!
* This Sport Classic is a 7-time Show Winner and is truly a special motorcycle.
* Full Documentation and Clean, Clear, Blue Texas Title
* Serious inquiries Text or Call for more information.

– Ohlins FGRT 211 Front Forks (1098S/R,1198S/R/SP)
– Ohlins DU707 Rear Shocks
– NCR/ZARD Full Titanium Exhaust System – Italy ($4,500 & 4 months wait)
(This is the same exhaust that came on the very limited edition $75K "New Blue" NCR Corse Ducati)
– MicroTek ECU with custom dyno tuning
– BMC Air Filter & Modified Air Box
– Oberon 30MM Clutch Slave Cylinder
– Ducabike Billet Rear Sets
– Brembo 4 piston radial mount calipers
– AFAM aluminum 14T front & 40T 520 rear sprockets
– DID EVR3 520 Gold Chain
– Captive Rear Axle Housing – Quick Change
– CRG adjustable racing levers – Black
– Domino Superbike grips
– Fleda Rear LED Light System & license plate mount
– Ducati Side Fairings – literally "Unobtainable"!
– Ducati OEM short side fairings included also
– MotoBrilliance Rear Hugger
– Watsens LED High Intensity micro front turn signals
– Carbon Fiber front fork guards
– STM billet aluminum oil filler cap – Red
– Red Billet Crankcase Inspection Cover – "Ducati"
– EVR Countershaft sprocket cover – Italy
– Rizoma Cable Cover – Black Anodized
– NCR Billet Aluminum cam inspection covers – Italy
– Custom suede seat with red "DESMO" embroidery
– Caswell Tank Coating Process – sealed when new.
– Rizoma "Retro" black bar-end mirror
– Custom Paint by Motion Ducati/SBK
– Custom fairing, rearset & pipe brackets
– Custom front fairing bracket & CNC work
– CNC Billet Aluminum quick turn fuel cap
– Speaker 7″ LED Headlight
– Cooler Screen – Black, by Cox Racing Group
– RhinoMoto Swingarm Sliders
– RhinoMoto Fork Sliders
– Ducati Sport Classic Satin Garage Cover
– Pit Bull Ducati Sport Classi Rear Stand
– Dunlop Sportmax Q3 tires
– Full Documentation with Ducati Sport Classic brochures, manuals, keys, etc.
– This bike is 100% ready to Ride, Show or Collect & needs absolutely nothing!
– Many extras will come with the bike.

SHOW HISTORY:
2013 Harvest Classic – Modern – Luckenbach, TX – 1st Place
2014 Harvest Classic – Modern – Luckenbach, TX – 1st Place
2015 MotoLiberty Annual Bike Show – Modern – People's Choice
2015 Harvest Classic – Modern – Luckenbach, TX – 2nd Place
2016 Crashed Toys of Dallas, TX – Sportbike – 1st Place
2016 Harvest Classic – Modern – Luckenbach, TX – 1st Place
2017 Veteran's Car Show – Denton, TX – Best of Show, Motorcycle
***** All Show Awards will go with the bike! *****
The seller is asking $27,500 for this machine, which is obviously big money for a SportClassic that isn't a Paul Smart. But values for all the SportClassics have been rising steadily since they were discontinued, and if you're looking for one with low mileage to add to your collection, it's hard to beat this example: it has just 1,500 miles from new and has been upgraded with a laundry list of quality aftermarket parts. Obviously, it's not completely original, which may deter some collectors, but it appears that the modifications can be reversed if you prefer. Contact Ken via email with your interest: kenphillips04@yahoo.com
-tad