Please note the seller has opted to enable comments so interested parties can ask questions. Thanks! -dc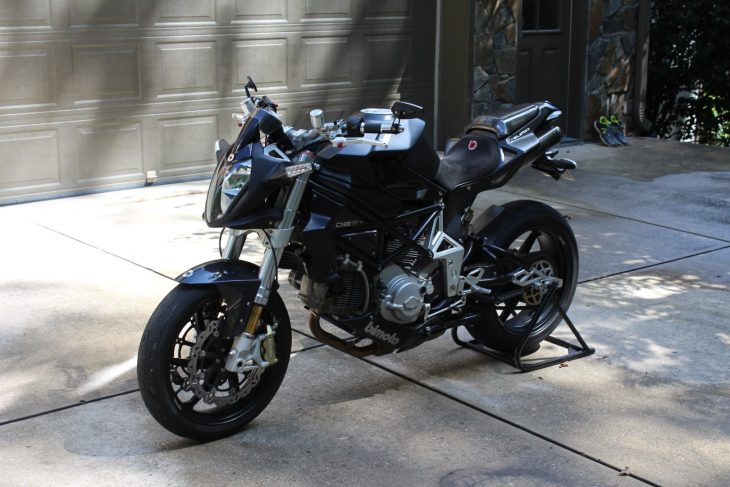 Bimota went in a strangely practical direction in the late 1990s, perhaps realizing that the well-heeled riders that could afford their machines cared more about quality and style than the did about lap times: even the fabled Tesi ended up with an air-cooled version of the Ducati v-twin engine, handlebars, and a set of risers. This DB6 Delirio might be their most practical bike to date, next to the… visually challenged Mantra, so "delirious" might be a strange way to describe such an eminently usable exotic. In concept, it's a blinged-up Monster, but that's no bad thing, assuming cost is no object for you.
So why buy one, compared to a Monster at half the price? You might prefer the looks of Ducati's everyman exotic from a distance, but the cost-cutting measures required for mass-production can be found all over the place, once you start to look closer. The DB6 is a strikingly detailed bike, and I've long maintained that, if you're not keen on the styling from twenty feet, just walk up to it and start looking at the craftsmanship on display: there are billet brackets for cables and hoses, and Bimota's frame is a masterpiece of machined aluminum frame plates combined with gorgeous steel trellis components paired with a swingarm with a matching design. The result is exceedingly light, at 375lbs with oil but no fuel.
Horsepower junkies might be disappointed by the motive unit. Power comes from Ducati's 1000DS "Dual Spark" engine with two valves and two spark plugs per cylinder. With just 92hp on tap, it isn't a screamer, with power tailing off well before the engine's safe rev ceiling, but it's a blast to blat through the strong midrange, short-shifting up the box while enjoying the deep note from the Zard exhaust with distinctive, trapezoidal openings. It's a bit of an oxymoron: a functional and perfectly usable Bimota. A fun bike.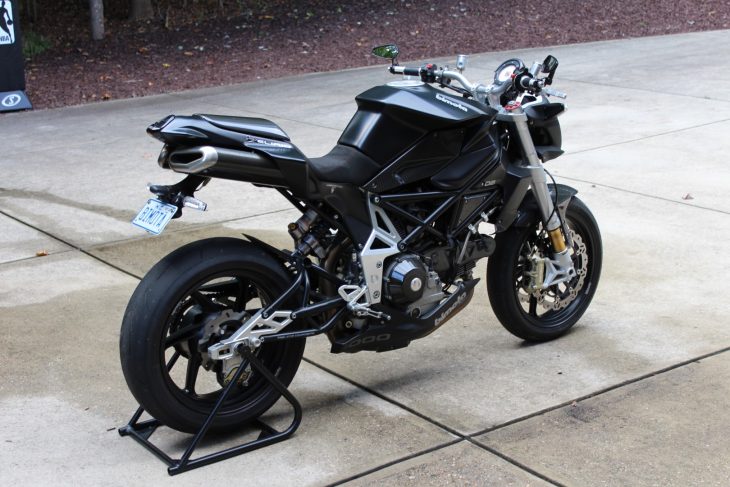 The black frame is apparently very rare, one of just a couple here in the States. The specification of this example has also been updated to match the DB6R, with improved braking components that should make it even easier to stand this lightweight roadster on its nose. This also appears to have the earlier tachometer: others I've seen have a very functional Koso unit with a neat ring of light-up blocks that chase the needle around the dial, but I prefer the bespoke looks of this one. Honestly, given the engine's characteristics, the gauge is pretty much superfluous anyway.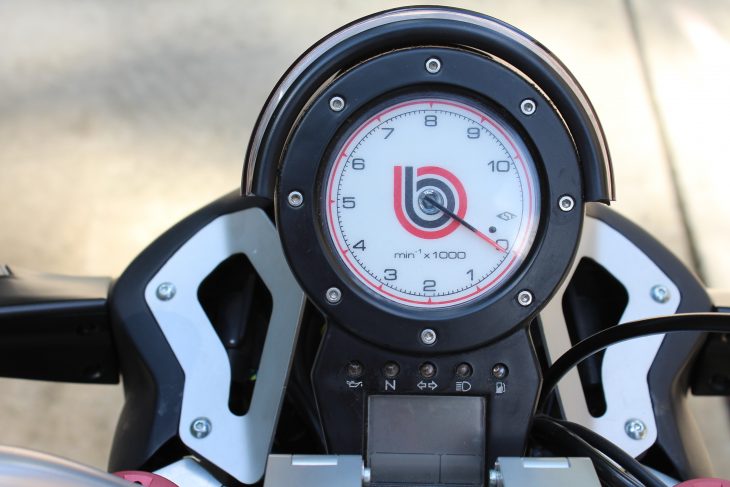 From the Seller: 2007 Bimota DB6 Delirio for Sale

2007 Bimota DB6 Delirio – Rare exotic. You will not see another one of these at bike night! This exact bike was the Bimota display bike at the 2007 Los Angeles Motorcycle Show. One of two DB6s in the US with a black frame. Bought from and serviced by Bimota Spirit in Raleigh, NC. If you know about these bikes, you know that Bimota Spirit is the "GO TO" company for anything Bimota-related. Only 3121 miles.

Custom Alcantara suede seat with embroidered Bimota logo
Ducati-powered, 1000cc
Slipper clutch
New battery installed on May 29, 2019
CRG bar end mirrors
Rizoma grips
Billet Aluminum Bimota brake and clutch levers – beautiful!
Zard carbon fiber exhaust
Bimota cover included

Carbon fiber pieces added:

Front & rear fenders
Solo seat cowl
Bimota clutch cover
License plate bracket
Side covers
Belt cover
Chain guard

Controls completely upgraded to DB6-R specs, all work performed by Bimota Spirit

1 BREMBO radial clutch master cylinder
1 BREMBO radial brake master cylinder
507111010 1 DB6R clutch hose
507180010 1 DB6R brake hose assembly
507011010 1 clutch lever
507080010 1 brake lever
507080030 2 pin
507080020 2 adjuster knob
507080040 1 switch pin
506482010 1 racing throttle
507182010 1 throttle cable
OBERON 1 slave cylinder
RIZOMA 1 reservoir

Belt service will be done prior to sale to new owner.

Clear title. $15,900 obo. Bike is in Raleigh, NC. 919-844-5888. Ask for Michael.
With just 3,000 on it, this is basically a brand-new motorcycle! Obviously, looking at the $15,900 asking price, there are plenty of other bikes out there that offer more bang for your buck. But that's really never been the point with Bimotas and the DB6 might be the perfect bike for the rider with limited space in their garage, or just an interest in an exotic that can be ridden daily and easily maintained. Seller is open to reasonable offers.
-tad