Update 4.14.2016: SOLD! Congratulations to buyer and seller! -dc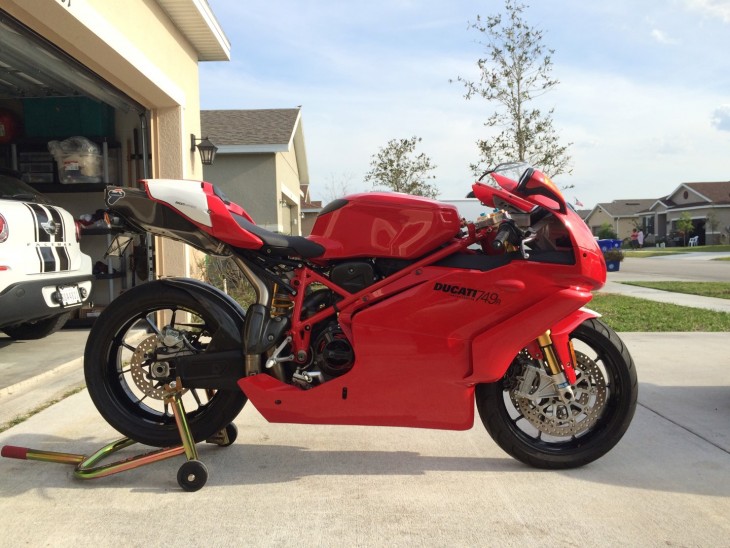 Sold and equipped for the street, but meant to homologate the bike for World SuperSport racing, the 749R was built in very low numbers, with substantial differences from the base and -S models.  Since most were modified and raced by privateers, very few survive in stock form today.  With more accessible performance than the 999R, the 749R would be the more sensible choice of experienced but non-professional riders.  In mint condition, with up-to-date maintenance and road-oriented upgrades, this 749R could be a weekend rider, a concours winner, or returned to the racetrack.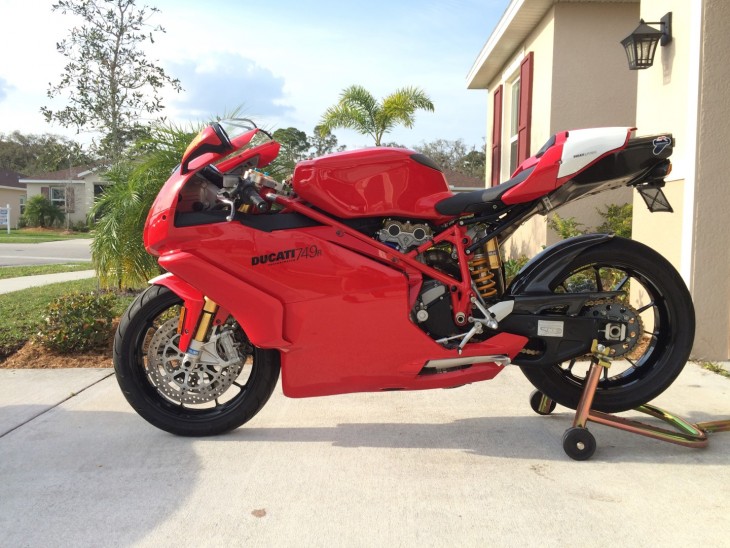 The 749R's engine is much more oversquare than the base model with a 94mm bore and 54mm stroke.  More exotic materials were used – titanium valves and connecting rods, magnesium valve covers, carbon-fiber belt covers.  With 12.7:1 compression the power output was 118 hp.  Other enhancements for the -R were a bigger fuel tank, slipper clutch, fully adjustable Öhlins suspension, and steering head with rake adjustment.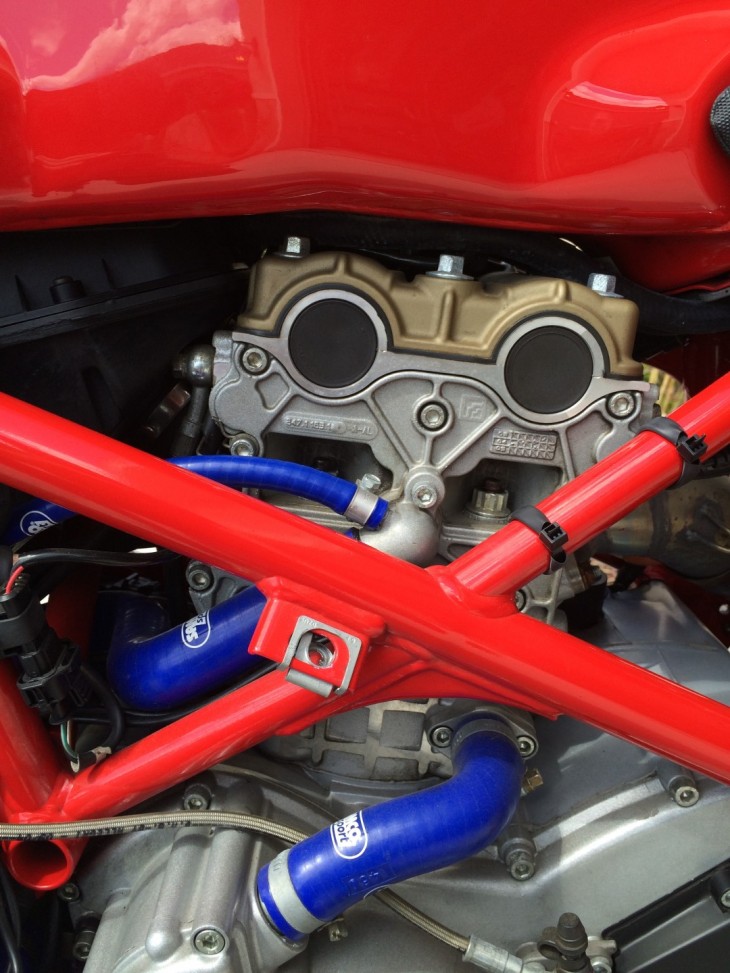 Updated for the 2005 year, the 749R bodywork is polymer, and recognizable by the two-intake nose ( 999's have four intakes ).  The rear mudguard is carbon, but the front fender is polymer, very handsome in red with white racing stripe.  The steel trellis frame is matching red, and the rear swingarm is quite different than the base and -S model's, a stronger straight box section.  Brakes are the excellent radially-mounted Brembos, and wheels the very light Marchesini forged Y-spokes.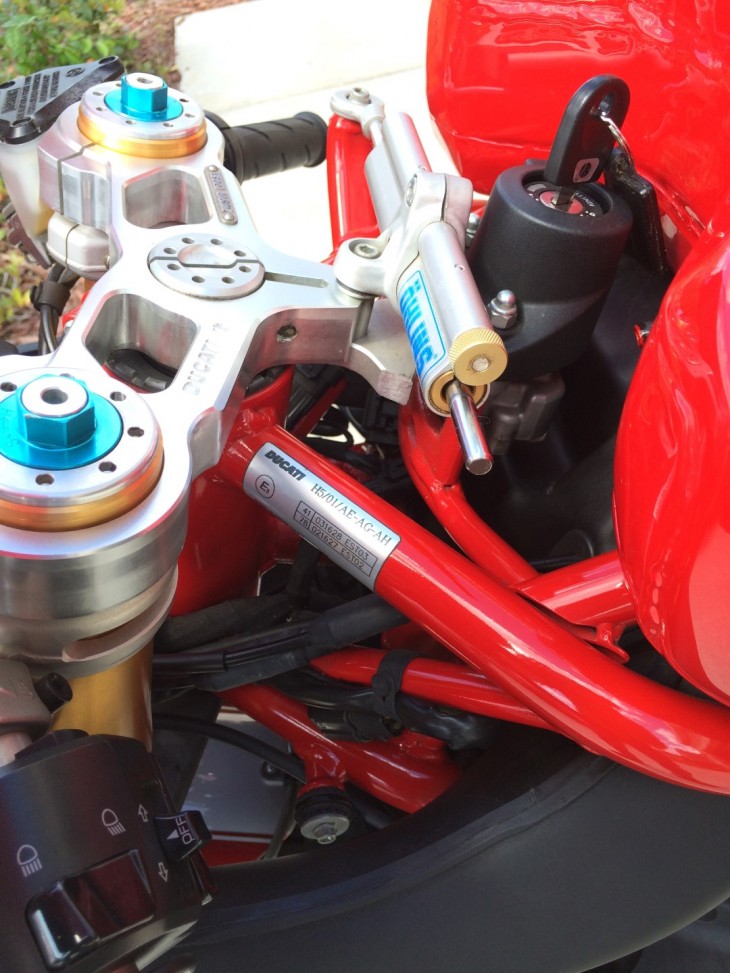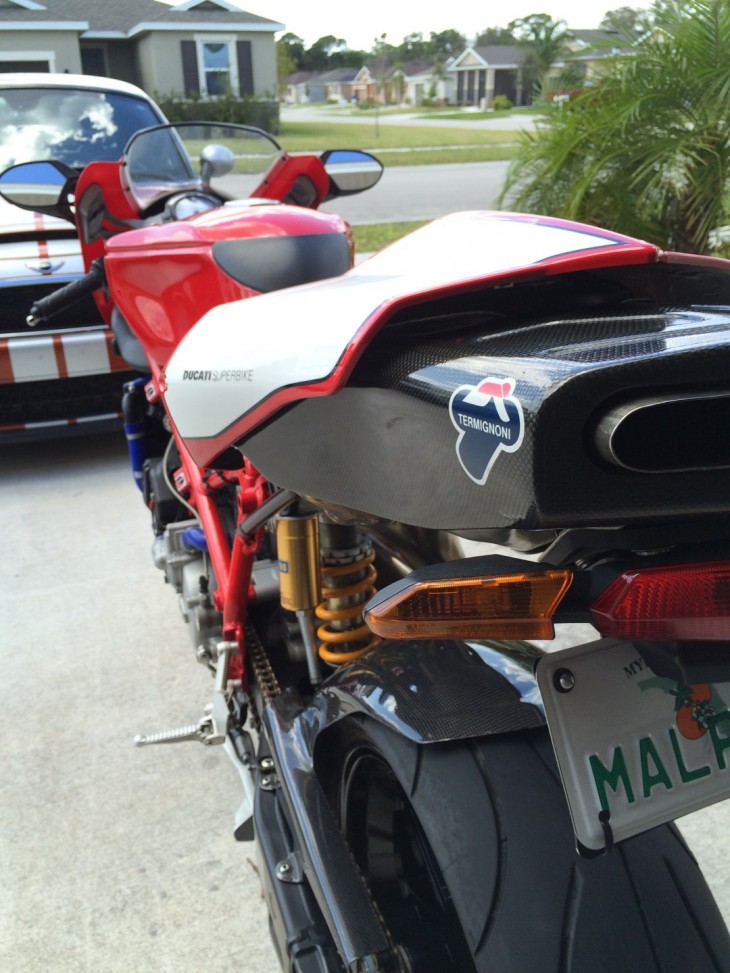 The owner has cared for and upgraded this 749R with versatility in mind.  Here's his list:
2005
Number 51 of 1200: Over 11 years many were club raced to toast and parted out.
Mint condition
4813 miles
Second owner
It's had about 350 miles put upon it a year – it has never been in storage; it has been ridden constantly – with a dedicated mechanic providing the maintenance 
Always kept in a heated garage – has never seen water (rain/hose) or a race track.

A common grump about the 749R is it's absolute, no compromise, racing set up.  I made some upgrades to compensate for the realities of typical weekend riding:

STM Evoluzione R slipper clutch (OEM slipper is in perfect condition, boxed, and also comes with cycle) No chatter, squawking or stalling.
Slightly higher tooth rear sprocket for easier starts (OEM sprocket also comes with cycle); standard retrofit.

Other upgrades:

Termignoni 57 mm titanium racing exhaust and matching ECU – Installed by dealer when the cycle was first purchased 
Extra OEM 749R left panel.  I heat shielded and vented an extra panel to allow for better heat dispersion of the 57mm exhaust.  The original panel is stored in a foam box for the next owner 
Ducati carbon fiber clutch cover and rear hugger – the good weave, not the cheap stuff. (OEM clutch cover also comes with cycle)
Samco hose kit (the 749R OEM hoses have a reputation for coolant oozing and corroding the clamps – the Samco kit solves the problem)
DID Gold XRing chain

The Pitbull stand and dust cover included.  Michelin Power Pilots about 500 miles ago.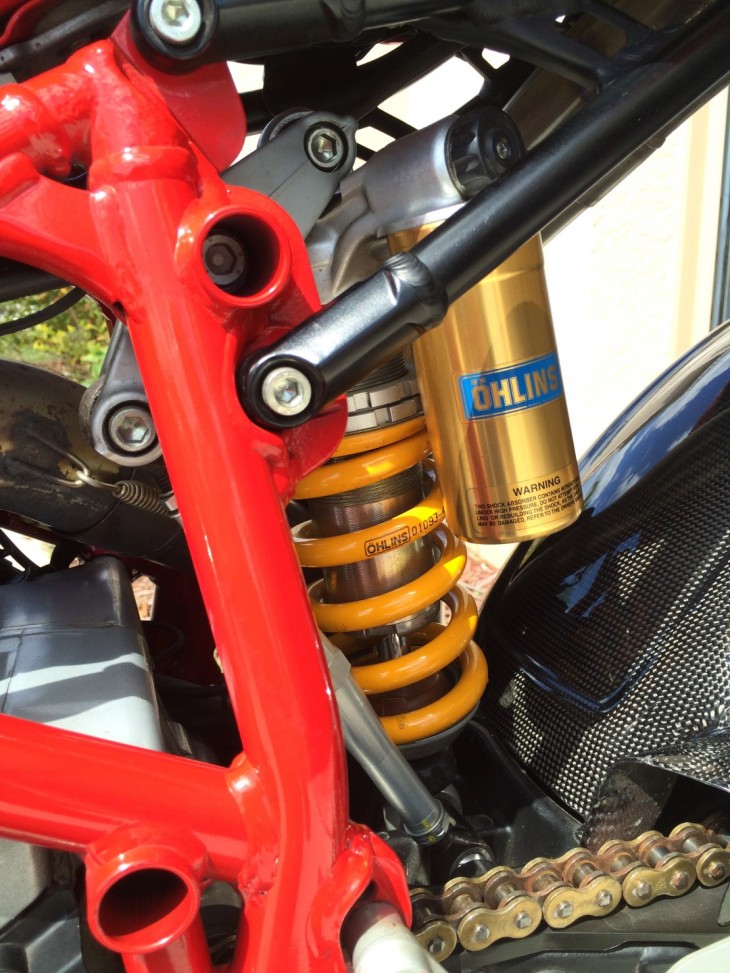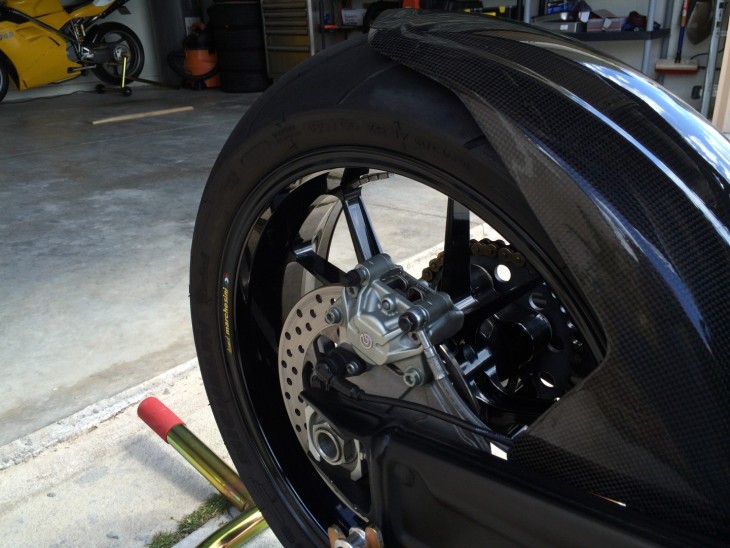 Maintained and ready for spring, the sensible mods made to this 749R can easily be reversed to dead stock for display, but enhance the rideability, as the owner says:
One strong selling point is, unlike some stock 749R's, this example can be ridden around town without bucking, squawking, or stalling.  And due to proper heat shielding, the plastic won't melt or bubble on the bottom of the left panel, which is a common comment on the Ducati blogs by owners who've upgraded exhaust plumbing to 57mm. No issues with the extra heat or fitment.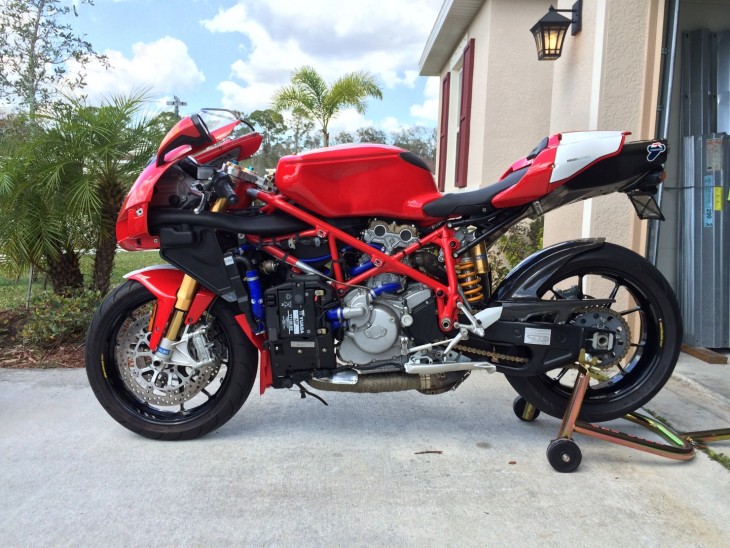 Ready to go in any direction, this 749R has an uncommon blend of rarity, originality, super condition, recent-era performance, and road usability.  Seems like an outstanding alternative to liter-plus superbikes…
-donn