Update 4.14.2022: This bike has SOLD! Congratulations to buyer and seller!
Don reports that he received 40 inquiries in the first 3 hours of his bike going live on the site! If you have an outstanding, rare, sportbike for sale, contact us about your own Featured Listing! -dc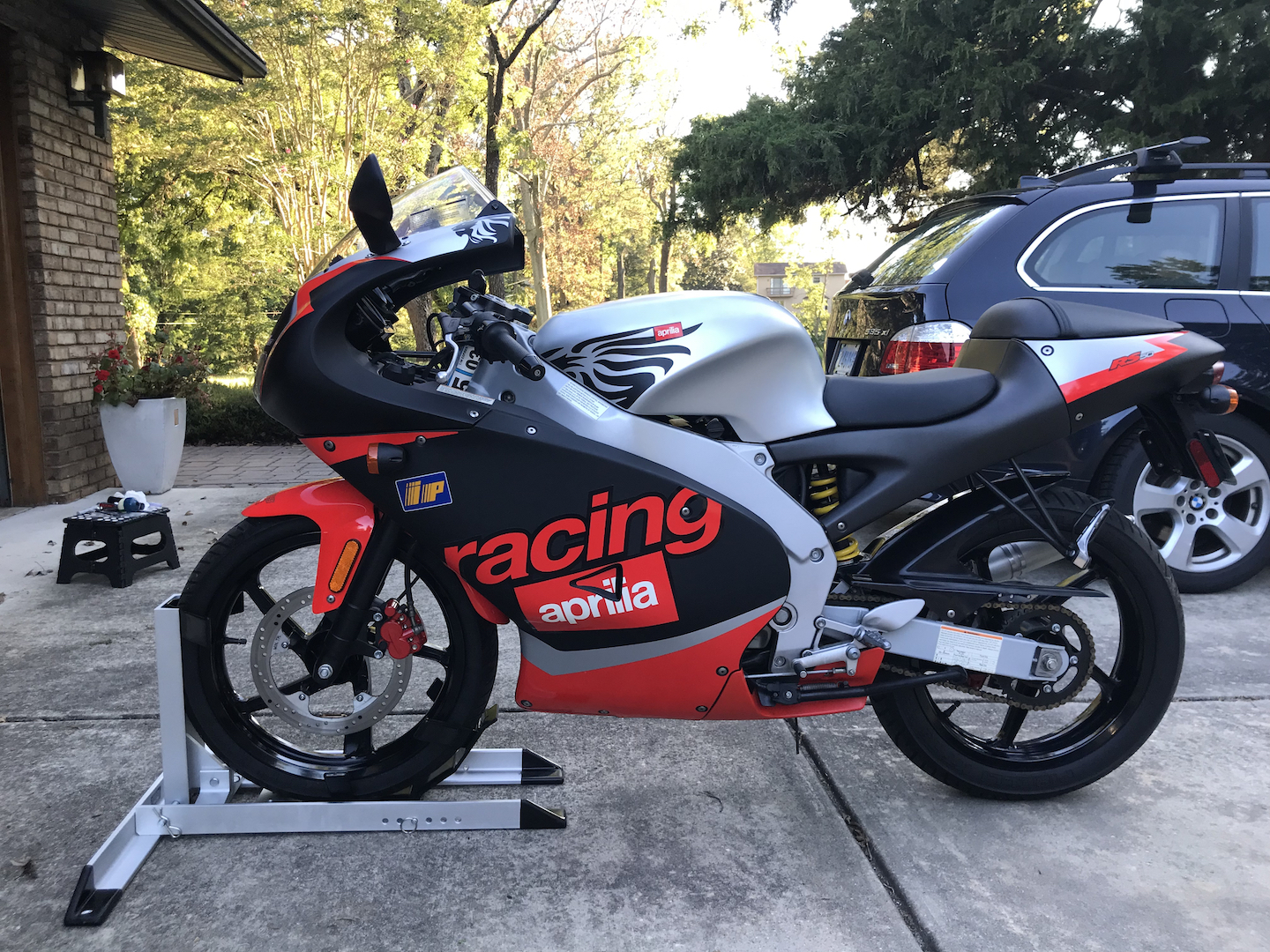 Many in the motorcycle community love to wax poetic about the joys of riding a "Slow bike fast" and for good reason.  Few bikes embody this ethos like the Aprilia RS 50.  The 50cc two stroke is full of character and offers a great platform to hone corner speed skills and retaining momentum.  Not to be confused with a pocket bike or some other toy, the RS is fully street legal and in some areas can be ridden without a motorcycle license.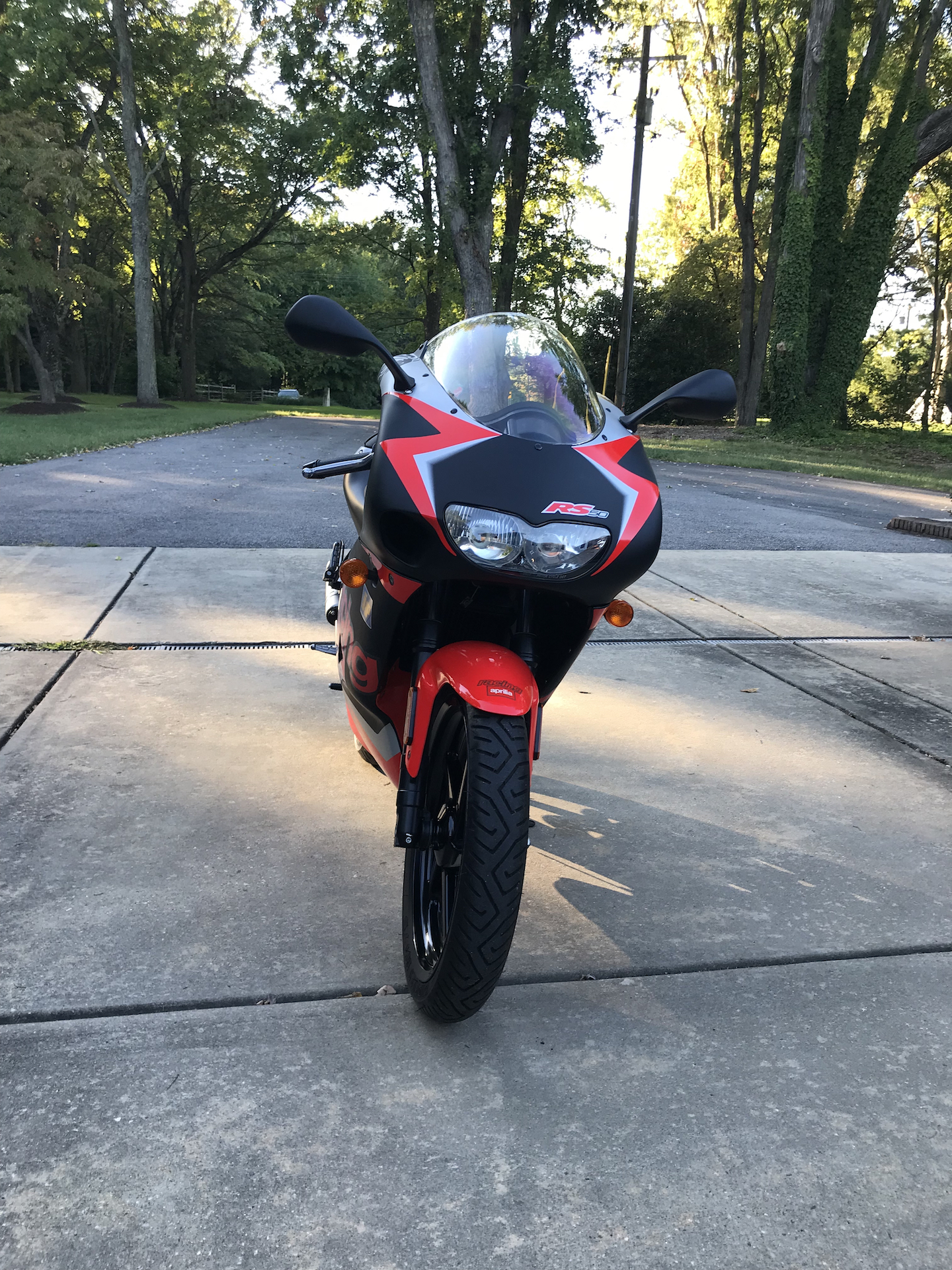 2001 Aprilia RS 50 racing replica sport motorcycle for sale: $2,950.
Diablo black/silver/red Grand Prix color scheme. Original owner, clear title. 968 miles. Mint condition, never mechanically modified. Always garaged. World Championship Aprilia race bike inspired technology, design and construction. Wind-tunnel defined aerodynamic body panels. Ultralight weight rigid space-frame. Exceptional handling and safety.

In addition to having several features that are historic firsts in this motorcycle class, the Aprilia RS 50 is one of the best motorcycles ever made for learning to ride. All controls are identical to those of full-size motorcycles, but its low weight and superb handling assure positive experiences that quickly build rider skills and confidence. In contrast to learning to ride a typical, more formidable motorcycle "cold", transitioning to heavier, more powerful bikes from the RS 50 is smoother, safer and far less intimidating. High resolution photos available on request.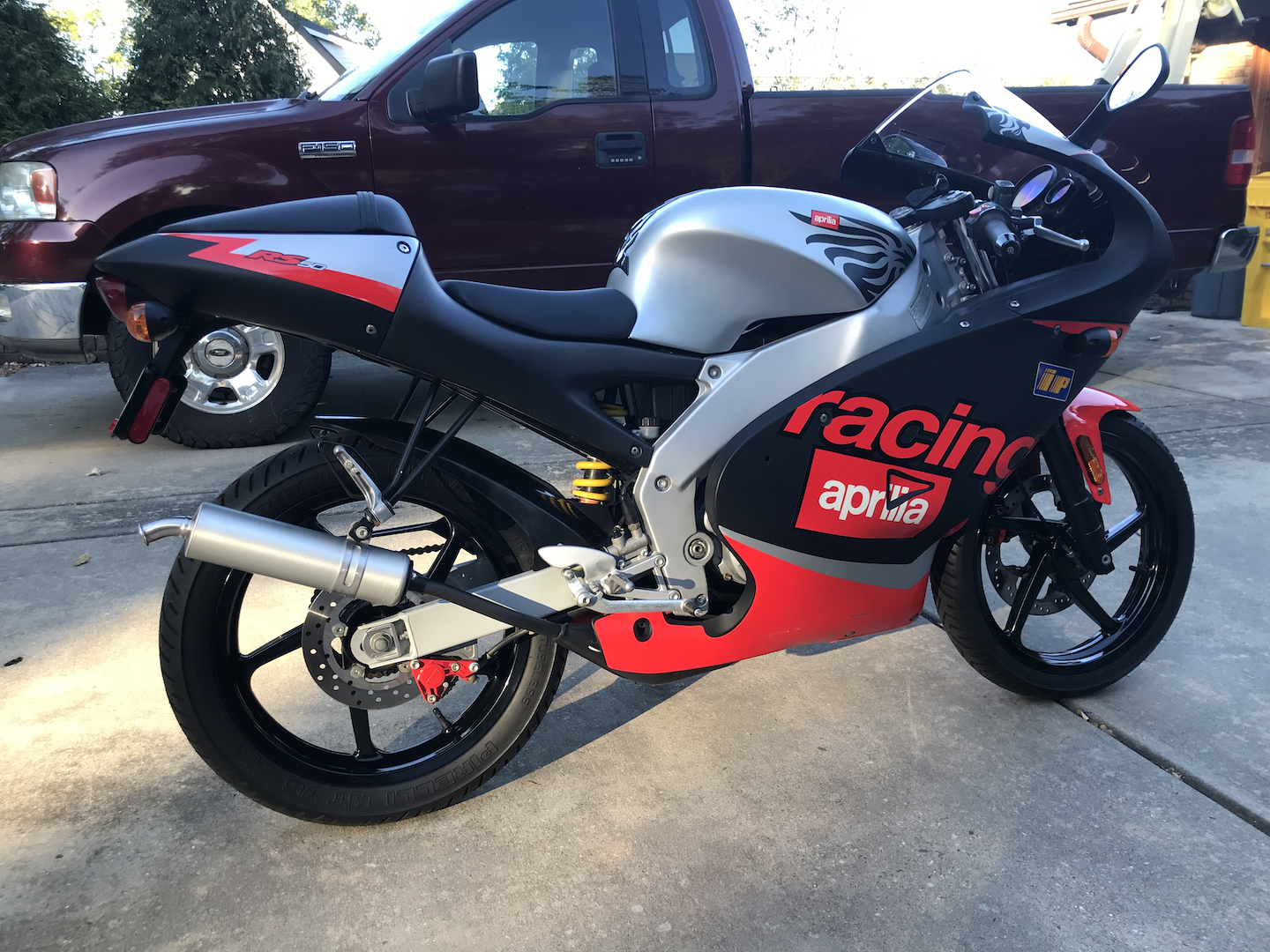 2001 Aprilia RS 50 specifications:
Dry weight: 89 kg (196 lbs). Fuel tank capacity: 13 L (3.5 US gal), reserve 2.6 L (0.7 US gal).

Engine: Single-cylinder, two-stroke, liquid-cooled. Light alloy cylinder with Gilnisil superficial hardening, reed valve induction, counter-balancing shaft. Compression ratio: 12:1. Electronic CDI ignition. Dell'Orto SHA 14/12 carburetor with heating system on the collector. Electric start. 12V, 105W generator. Variable rate 2-stroke oil injection.

Transmission: Wet, light alloy multi-disk clutch. Six-speed gearbox with helicoid tooth gear primary and chain secondary.

Frame: Twin spar beam frame in cast aluminum with thin-walled cross-rib reinforcements, completely polished. Seat height 810 mm (32").

Suspension: Telehydraulic front fork with central pin (35 mm), travel 110 mm (4.3"). High-resistance steel rear swing arm with mono-shock, travel 120 mm (4.75"). Wheel base 1280 mm (50.4").

Brakes: Front: steel single disk 280 mm, caliper with two 25 mm pistons. Rear: steel single disk 220 mm, caliper with single piston 28 mm.

Wheels: Tubeless radial tires, front 90/80 ZR 17, rear 110/80 ZR 17. Light alloy rims, 5 spoke, profiled for tubeless tires, front 2.50 x 17, rear 3.00 x 17.
These coveted bikes do not come to market regularly.  The few that do come up for sale often have lived a hard life, with the bumps, bruises and rash to prove it.  This example has under 1,000 miles and the single owner has obviously lovingly cared for it.  While well suited to a collection, one could also imagine this being an amazing alternative to a Grom as the local run around bike.  The Aprilia community is strong and parts are readily available, making the ownership experience just as appealing as the bike.