Update 11.2.2016: Sold in just one week. Congratulations to buyer and seller! -dc
In the early 1990's Kawasaki and Team Muzzy found the handle to AMA Superbike racing and won championships with Doug Chandler and Scott Russell.  And while the Sunday wins sold a lot of ZX-7R's later in the week, Kawi also brought in a few hundred homolagation specials for AMA approval of "production" techniques with racier components.  The -K and -M variants are mostly hidden away, occasionally popping up tired and worn, but the 1992 -K presented here is very clean with low miles, and appears the real deal.
Kawasaki's 749cc straight four used 39mm Keihin carburettors, and made 123 horsepower.  The stamped and welded aluminum frame weighs 9 lbs. less than the 1991 model, and lightness has been achieved in the 41mm front and Uni-Track rear suspensions as well.  The swingarm is fabricated similarly to the frame, and though the rear spring rate reviewed as too stiff, the adjustable remote-reservoir monoshock and slipper clutch almost made up for it.  The endurance fairing has fresh air intakes, and the rear seat frame is a light and easy to repair hybrid.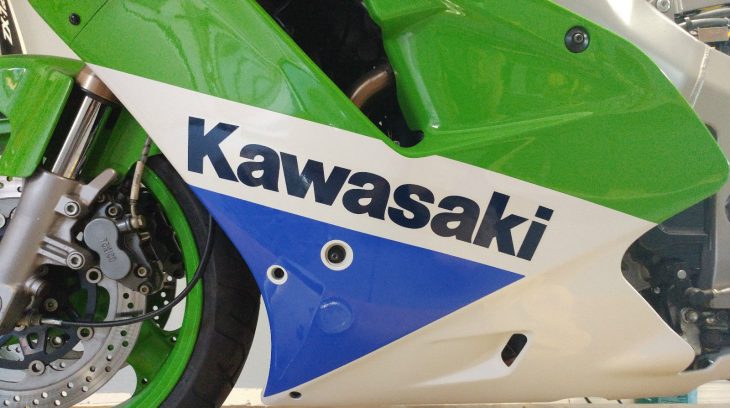 Recently returned to running condition, this ZX-7R looks great for its nearly 25 years, and has under 5,000 miles.  Modifications are very limited and tastefully done – no green windshields or Supertrapp exhausts here.  Paintwork is almost too good to be true, and has drawn comment on a ZX-7R owners site as missing an access hole, but there was some cross-compatibility between -J and -K models.  Here's what the Arizona owner says in the eBay auction:
Kawasaki Ninja ZX7R 1992.  Rare in this condition.  Super clean with only 4890 miles on it.  Been in my collection, and thinning out some bikes.  This is a limited run for the ZX7 in 91 and 92 as this is a homologation R model for the U.S. market.  I believe we only received 1000 units for both years.

Plastics are OEM and as close to perfect as possible for a 25 year old bike. No rash. Stored correctly.  Just changed the oil and fluids.  Cleaned the Flat slides and new battery again.  Starts right up.  Some period correct modifications with a full Muzzy Exhaust system, steel braided brake lines, fender eliminator.  Airbox has a New UNI High Flow air-filter in it, pictured.  Plus I am including another new OEM Kawasaki Air-Filter.  Clean and clear AZ title.  I do have more pics than what I have on ebay so let me know if you need more.  
The 1990's were some great years for superbikes that were maintainable and affordable, and Kawasaki achieved the right combination with the ZX-7R.  The -K's were a significant upcharge from the base model and were largely spared the perils of multiple owners and boulevard racing.  Performance with the bigger carbs, alloy fuel tank, and fully adjustable suspension was not to be denied.  The owner gamely presents his bike unfaired, and it appears undamaged, maintained, and without shade-tree modifications.  Quite rare as while up to 1,000 units may have been required for homolagation, most sources indicate that just low hundreds actually made to a U.S. showroom.  Bidding is active but there are still a few days to go.  
-donn