Warning!
This post is in our archives. Links in this post have been updated to point to similar bikes available to bid on eBay.
Every post will be sent right to your inbox every morning when new posts are made. We will never sell our list or spam you. Plus you can click links to bid or buy right from the email and skip the site entirely. Subscribe to Rare SportBikes For Sale today!
Since the dawn of internal combustion there have always been those independent spirits with a vision of speed. The recipe is age old and time worn; take a small vehicle and stuff a big motor into it. The engine swap shuffle has been played many, many times, to vehicles too countless to note. The quest is always the same: start with something good, add more power, and make it better. Manufacturers are not ignorant of this magic spell either – the original Honda CBR900RR is the perfect example of what happens when you take a CBR600 and stuff a 900 into it. Bingo! A factory hot rod is born. What happens when someone takes that hot rod and ups the ante? You get an even hotter hot rod, such as this CBR900RR with motivation from a 954RR mill.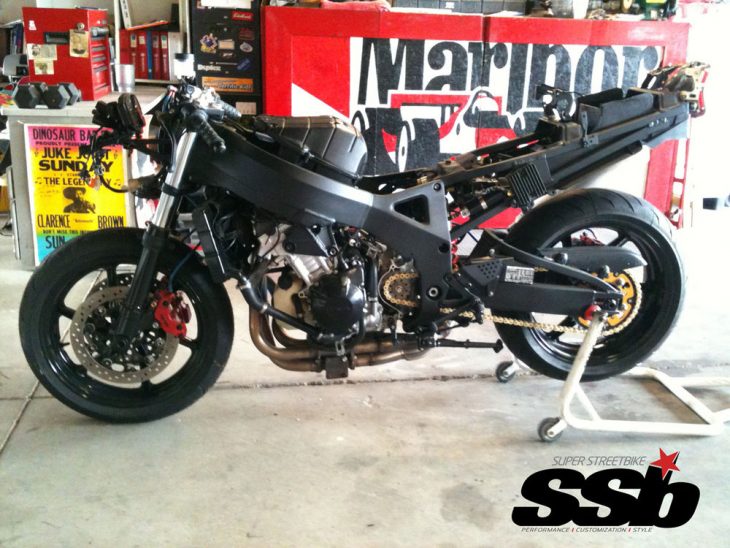 Countless engine swap projects end in a pile of parts. Fewer actually make it to running status, despite looking rather Frankenstein. Fewer still manage to pull off the swap with good looking results. Chris Perkins – the man with the vision and the 900RR – wanted to reach this rare level and beyond. Chris wanted it to look factory – a true sleeper. Look closely at the photos, as "sleeper" is exactly what this builder pulled off. Integrating the best of the 1993 900RR qualities while taking advantage of the performance and electronic enhancements of the 2003 954RR model, this hybrid spans ten years of engine development without changing the overall stance of the original 900RR.
From the seller:
1993 Honda CBR900RR Chassis with a 2003 CBR954RR Fuel injected engine and electronics.
Custom built, one off bike featured on Superstreetbike.com
The bike was built with the intent to make a "Pro-Touring" style bike that sheds old technology and be ridden like a modern sport bike, sans the carburetors and jetting issues usually associated with older bikes.

Top quality products were used in the build, such as:

Ohlins rear shock
Two Brothers Carbon canister on a stock CBR954RR exhaust header
Dunlop D208 Qualifiers front and rear
RK chain
Supersprox Chain wheels
EBC HH brake pads
Servo Buddy to eliminate the exhaust valve
NGK plugs
K&N filter
PPG DCU 2 stage paint buried with liberal amounts of PPG 2021 clear
Ballistic lithium battery

Bike presents as new, and has been started then drained of all fuel.
Fresh oil and filter. Thermostat and coolant have been changed..

Asking $9800
Leafing through the swap info reads like a never-ending set of challenges and innovative solutions (you can read the article at SuperStreetBike.com). The 900RR frame needed to be modified due to the changes in how the 954RR motor was mounted. Solution: A CBR1000 front mount fabricated onto the chassis, with older tabs and mounts removed. The 954RR motor is fuel injected, requiring a change to the fuel tank. Solution: Graft the bottom a 954RR tank into a 900RR tank. Similar challenges were presented with the electrics (a lithium battery makes room for the 954RR ECU), gauges (custom mount to make the 954RR cluster fit in the stock location) and exhaust (modified 954RR pieces). What sounds so simple – stuff a big motor in a small bike chassis – can be tremendously complicated. Chris methodically worked his way through each of these issues with ingenuity and innovation. The resultant machine looks absolutely stock, yet is unique unto itself.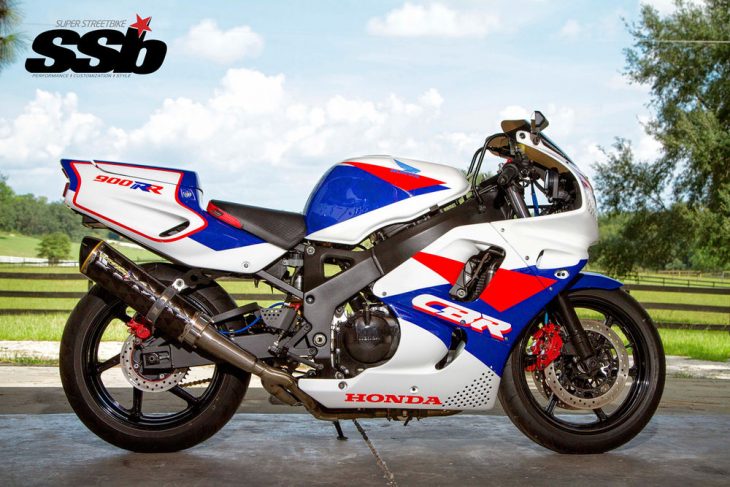 This fantastic melding of old performance into a new hot rod is available directly from the builder. With stock looks and a healthy bump in power, it is sure to be a screamer. So roll with the old-school cool that is the original double R, knowing that beneath the skin you have what it takes to hang with much newer machinery. Your sleeper awaits you – just contact Chris for details!
MI